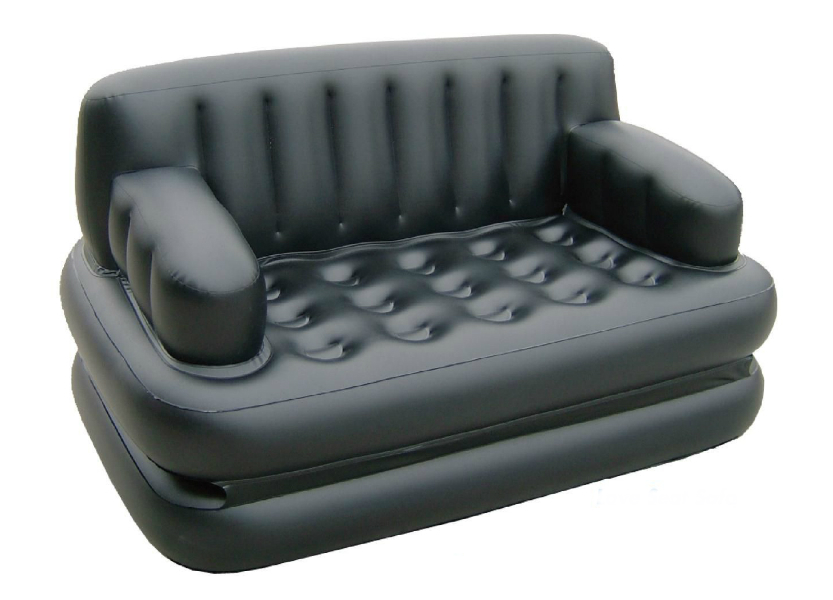 Sofas are immensely popular items of furniture, on which people can sit. Generally intended for relaxing, most traditional sofas are constructed from heavy, solid materials, and are intended for permanent instalment. However, the advent of inflatable furniture allowed the creation of more temporary, much lighter sofas, with a number of practical advantages over their solid predecessors.
Knowing what to look for in an inflatable sofa can be surprisingly difficult for consumers new to the concept; it is the intention of this guide to provide all of the details necessary for a prospective buyer to make their own, well-informed choice. This guide will also examine the various advantages of using the online auctioning platform eBay to shop for inflatable sofas.
Important Factors to Consider when Buying an Inflatable Sofa
This section of the guide will cover the most important elements of the inflatable sofa to think about when considering purchasing one. The five factors identified in this guide are:
Colour
Features
Size
Purpose
Price/ Condition
Colour
Perhaps the most identifiable and noticeable feature of an inflatable sofa is its colour. Since they tend to be made of one uniform material, the colour of an inflatable sofa tends to be a solid, unchanging block. This can create a very powerful visual impression. As such, it is of vital importance that it be carefully considered; the wrong colour can be disastrous in terms of the aesthetic of a room. Many inflatable sofas will simply be black, which is difficult to get wrong, and a relatively safe choice. Many other colours are also available. Some inflatable sofas will feature patterns or designs; these are rarer than plain colours, but can be better for a room.
Features
Inflatable sofas can come with many additional features, which enable them to be used in increasingly versatile situations. The following is a list of frequently included special features:
Multifunctional – many inflatable sofas will be designed in such a way that the various segments that compose them can be rearranged into another form of furniture. Most commonly, inflatable sofas can be rearranged into beds, recliners and lounge chairs.
Air Pump – many inflatable sofas will come fully equipped with an air pump. Without an air pump, inflating a sofa can be an incredibly long and tiring activity. Air pumps allow rapid and efficient inflation of the sofa.
Travel Bag – a travel bag allows a deflated sofa to be compactly stored and easily transported to another location, where it can then be set up and used.
Repair Kit – useful for fixing damage.
Size
It is a good idea to think carefully about the size of the area in which the inflatable sofa is intended to rest. Naturally, inflatable sofas come in a variety of shapes and sizes. Buying a sofa that will not fit its intended space is obviously a waste of money. It is advisable to measure the space before making a purchase, and comparing the data to the information provided about the sofa.
Purpose
Before buying an inflatable sofa, it is definitely worth considering exactly what it is intended to be used for. Inflatable sofas do have numerous advantages over fixed, solid sofas, but also fail to measure up in a lot of ways. As such, careful consideration should be given to the exact reasons for owning an inflatable sofa. The advantages are as follows:
Price – inflatable sofas are much cheaper.
Practicality – the ability to take an inflatable sofa down and store it away makes the business of transportation immeasurably easier.
Repurposing – many inflatable sofas sport numerous functions; they can be used as beds and the like.
Weight – inflatable sofas are a great deal easier to reposition and move around the living space, due to their lightness.
However, they also have various disadvantages, which make them unsuitable for permanent installation. These are:
Frailty – consisting of little more than a thin membrane and air, inflatable furniture is much less sturdy and resistant to damage.
Comfort – whilst they are still comfortable, inflatable sofas are generally understood to be less comfortable than conventional sofas.
Longevity – a traditional sofa will last much longer than an inflatable one.
These characteristics make inflatable sofas more suitable for temporary situations, and less suitable for permanent ones.
Price/ Condition
As with any item being bought, the price of an inflatable sofa should impact upon the decision making process of a potential buyer. The older an item is, the cheaper it becomes, making buying second or third hand a useful option. However, there is a proportional payoff in terms of quality and longevity, as pre-owned items are exposed to wear, tear and deterioration. It is a good idea to balance the need for an inexpensive item against the desire for a new one when buying inflatable sofas.
How to Buy an Inflatable Sofa on eBay
The bidding website eBay has become an online phenomenon. It is used for its many simple, user-oriented design features, as well as its tremendously large selection of available products. This section of the guide will focus on how to use eBay to buy an inflatable sofa.
To begin, it is a good idea to start from the eBay homepage. The first way of navigating the website involves following links to categories and sub-categories. Selecting the Home & Garden category will open up a new list of links from which the user can choose. From there, the Furniture category should be selected, followed by the Sofas & Couches sub-category, and finally by the Inflatable Sofa link. Alternatively, the second, faster option is available. This is the search bar; simply type the phrase 'inflatable sofa' into the bar and press enter.
Whichever means of navigation was implemented, the item listings (the main body of product information in the centre of the page) should now display only products meeting the description 'inflatable sofa'. The listings can be further customised to match the user's requirements, by using the 'filtering options', found in the page's left-hand margin. These options impose parameters on the search, allowing only items matching these parameters to be displayed. The 'filtering options' include price, condition, and seller's location, as well as 'auction', which relates to items which can be bid upon, and 'buy it now', which has the same effect on items which can only be bought for a fixed price.
Items are represented in the listings by a thumbnail image and a short description. Clicking on either of these will relocate the user to that item's individual information page, wherein such details as product specifications, user ratings, user feedback and seller's contact information can be acquired for reference. This further enables users to make a well-informed choice, based upon multiple factors.
The deals section of the website, which is constantly being updated, allows users to check for special offers and one-off prices on a huge variety of products, including inflatable sofas.
The excellent array of available items, intuitive user interface and regular special offers that eBay offers combine to make it a genuinely brilliant place to shop for inflatable sofas online.
Conclusion
Inflatable sofas are extremely comfortable, affordable, and practical furnishing solutions, offering a perfect balance between functionality and practicality. This guide set out with the intention of providing the user with detailed information about inflatable sofas, so that they may make the right choice when it comes to purchasing one. Five main factors to consider were identified and explored; these are:
Colour
Features
Size
Purpose
Price/ Condition
This guide concludes that eBay, the online auctioning platform, is a great tool for buying an inflatable sofa, thanks to its range of choices and its helpful features.