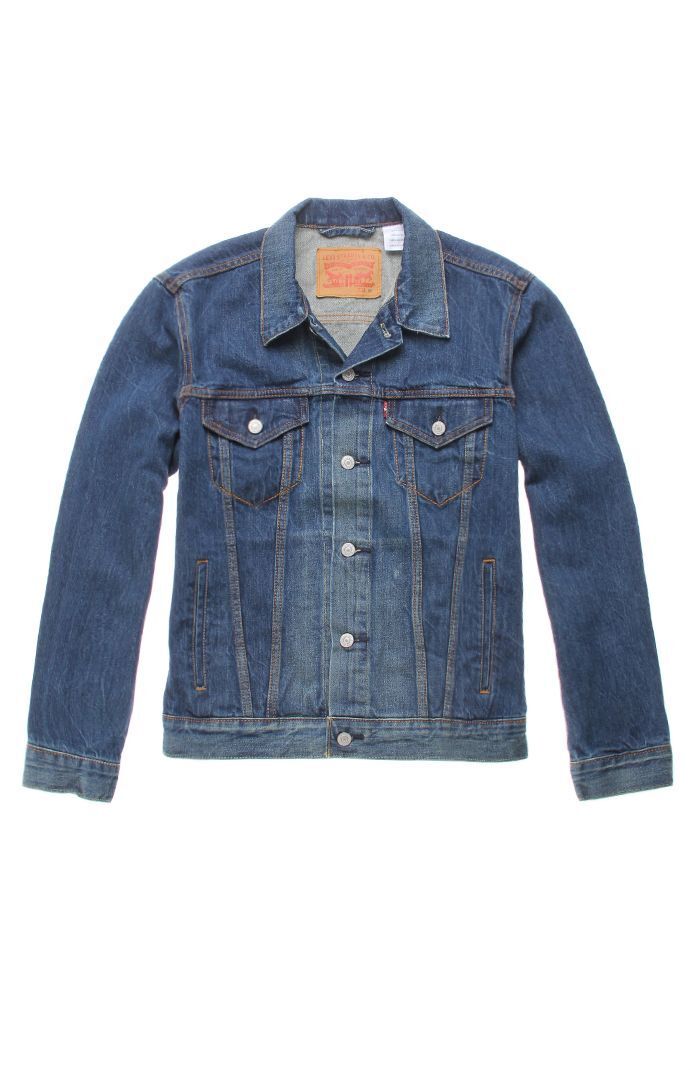 The Levi's brand seems synonymous with denim jackets in the minds of many consumers. It is so iconic, in fact, that when speaking about or shopping for a denim jacket, many people immediately assume it is a Levi ' s jacket . Moreover, when someone mentions a Levi's jacket, most people imagine the brand's classic trucker jacket that the company has such a name for producing. Many people do not realize that the company does make other jacket styles, so when shopping for a Levi's jacket, know what size to look for and check out the variety of different styles available.
The Different Styles of Levi's Jackets
The designation "Levi's Jacket" typically brings to mind a very specific, iconic look of a rugged man wearing the classic denim Levi's trucker jacket. There are certainly a number of these types of jackets available for adults and children, as well as many other jackets that model that classic look. It is, after all, a wardrobe staple that looks great with many different fashions that people pair it with.
Stepping away from the traditional, however, the Levi's brand also regularly produces quite a number of different styles for women. Some break with the denim that the brand has a name for, with styles constructed from quilted material, wool, and even leather. Other styles keep the denim and apply it to looks that are not tradition denim fashions.
The Classic Levi's Trucker Jacket
Besides the celebrated s 501 jeans, the Levi's trucker jacket is probably the most iconic garment associated with the brand. The look of this jacket has changed very little over the last 100 years or so, and it is so popular that it seems that just about every coat-closet houses one.
This slim cut jacket ends at the waist with the classic 'V' shaped flaps on the breast pockets and cuffs on the sleeves. These jackets are durable and great to wear in a number of different rugged conditions. They are also very fashionable and many people wear them to accentuate a variety of different fashion styles.
Non-Classic Levi's Jacket Cuts
The trucker jacket is not the only style that Levi's produces. Each year, the brand releases a number of different cuts, including moto jackets that mimic the cut and styling of traditional leather motorcycle jackets and longer overcoats suitable for wearing over many fashionable ensembles. These non-traditional Levi's looks come with the trusted durability the brand has a name for, whether styled from denim or an alternate material type.
Vintage Levi's Jackets
Shoppers who set out to specifically buy a Levi's jacket often have a particular look in mind, and that look is generally the traditional vintage trucker jacket look. For those consumers who are not interested in vintage, rest assured, the company still manufactures new trucker jackets that have very little differences from the iconic look. Many shoppers, however, are thrilled to own a vintage item and prefer such a novelty to buying new. These shoppers are wise to research vintage Levi's jackets before shopping in order to be aware of what to look for on a vintage Levi's garment.
Several key indicators can alert the shopper to the vintage nature of the item and can even help date it. For instance, for the Levi's brand in particular, the word vintage generally designates items that pre-date the company's logo change in 1971. This is when the lettering on the red tag on all of the brand's garments changed from all capital letters (LEVI) to a capital 'L' with the rest of the letters lower case (Levi). Collectors refer to vintage items that predate this change and have all capital letters on the logo as "Big E".
Another key indicator that a Levi's trucker jacket in particular is vintage is whether it has hand pockets on the front. Vintage jackets of this style only have the two breast pockets and do not include hand pockets at the waistline. This change occurred mid-80s, and Levi's brand trucker jackets without the extra pocket are generally vintage.
Choosing the Right Size Levi's Jacket
The following size chart represent how Levi's currently measures their sizes. Take the hip measurement at the fullest part of the hips. The same is true for the bust measurement. Take the waist measurement where the body bends when twisting to one side.
| | | | |
| --- | --- | --- | --- |
| Size | Waist | Hip | Bust |
| Extra Small (XS) | 24½-26½ in | 33½-35½ in | 31-32 in |
| Small (S) | 26½-28½ in | 35½-37½ in | 33-34 in |
| Medium (M) | 28½-30½ in | 37½-39½ in | 35-36 in |
| Large (L) | 30½-33 in | 39½-42 in | 37½-39½ in |
| Extra Large (XL) | 33-36 in | 42-45 in | 40½-43½ in |
These are adult women's sizes. When shopping online, especially , it is important to determine if the sizing of the item is formen,women, or children.
How to Buy a Levi's Jacket on eBay
Shoppers who are in the market for a Levi ' s jacket have a number of different places to shop for them from, including department stores and online marketplaces. It is easy to find a wide variety of new, used, and vintage jackets on eBay, including a broad selection manufactured under the Levi's brand. When shopping eBay, remember to check out the Deals page for great bargains on many apparel items, including jackets. You can also use the search bar found on every page of the eBay site to locate exactly what you are looking for. Simply enter relevant keywords, such as " women's Levi's jacket" to bring up a list of all the options available.
The classic, iconic Levi's trucker jacket is so recognisable and so popular that it seems like everyone owns one. When shopping for a Levi's jacket, though, keep in mind that the company actually produces many different styles of jackets, particularly for women. These jackets are both fashionable and long lasting.