Inflatable Outdoor Projector Screens vs. Stretch Projection Outdoor Screens
Home theatre in the Backyard is becoming more popular these days particularly in warmer climates where you spend much of your leisure time outside. Most internal home theatre projectors are suitable for outdoor projection; it is the choice of screen that requires careful consideration.
If you already have a large area undercover and the luxury of an existing wall you can fix either a pull down projector screen, electric projector screen or a fixed frame projection screen and your overall costs to create an outdoor movie experience is going to be minimal, extra cabling will be your only real expense.
If you don't have the available area to project images undercover and want to have a backyard theatre you now have options to project into your backyard using a purpose built outdoor projection screen that is weather proof and designed for the job.
A screen that is setup in the backyard away from your home also does have advantages over a screen setup undercover. By having the screen outside in the open and under the stars you will retain your undercover area for what it was designed for, entertaining and seating. With most undercover outdoor cinemas you will see wasted space with a row of people sitting at the edge of the undercover area looking at the projection screen on the far wall, all the valuable entertaining area is being used to throw the projection.
The Options…
If you want to buy an outdoor projection screen the two most popular choices are an Inflatable Projector Screen or a Stretch Fabric Projection Screen.
Buying a Inflatable Projector Screen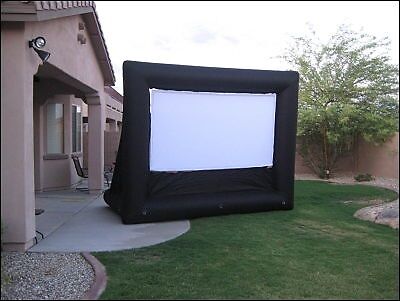 Inflatable outdoor screens are becoming more popular, you plug them into a power point and the blower inflates them. The advantage is that they are quite easy to set up.. Wind can be a problem, if you don't tether them with ropes they may blow over. The size of the inflatable screen will dictate how much you will notice the fan motor noise, the bigger the screen the greater the fan noise as a larger fan is required.
Wrinkles are an issue with the cheap inflatable screens, they can be quite noticeable. The manufacturers claim that the wrinkles come out after a short time but you will find this not to be the case. Aesthetically, inflatable screens can be seen as an eyesore as they are quite bulky.
With a price tag of between a few hundred dollars up to thousands of dollars an inflatable projection screen may be ideal, you do get what you pay for so it is advisable to steer clear of the cheaper versions.
Buying a Stretch Fabric Projection Screen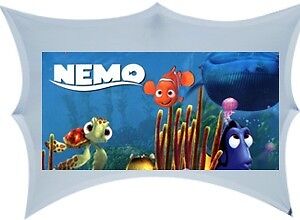 The latest innovation for creating a backyard theatre is a fabric projection screen. They are professionally cut and sewn using a special stretch fabric material. They are fire retardant, machine washable and pack away into a small throw bag they are becoming the ultimate in portable projection screens.
The unique cut of the fabric gives you a shape that is very pleasing to the eye, with plenty of fixing points the shape of the screen will morph depending on the fixing points you connect the bungee cords to. The disadvantage of a stretch fabric screen over an inflatable screen you will need a structure or existing structures to support the screen.
You can buy an inexpensive lighting truss stand or you may have trees, edges of buildings or even pool fences that offer fixing points.
One major advantage of a
stretch fabric screen
over an inflatable screen is that it is very flexible; it will flex in windy conditions and can be stretched to any size to suit your setup. If your projection distance is further you stretch the screen to the maximum, if you have a short projection distance you stretch it less.
Another bonus is you automatically have front and rear projection; the fabric is designed for two way projection. With a large number of people over to watch a movie or sports the image can be viewed from both sides of the screen without loss of picture quality.
For an investment of about $150 a stretch screen is a worthy addition to your home theatre setup, you may also find it very useful for those special occasions where you want a screen that looks high tech and funky.