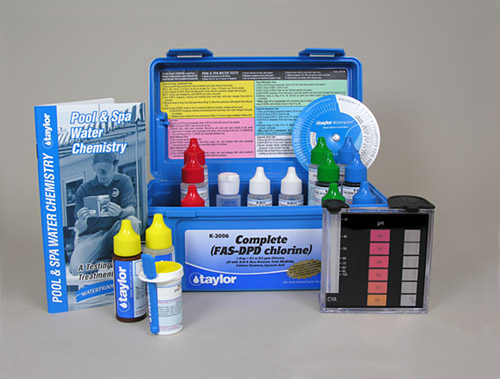 During the summer months there is nothing more enjoyable than a relaxing swim. The task comes in getting a pool safe and ready for use, for when the warmer months come around. After the winter months have taken their toll, it isn't as simple as just jumping in the pool, it needs to be cleaned and re-balanced in order to be safe.
In order to do this, people need to utilise a suitable pool test kit to get readings on elements such as pH, alkaline and sanitiser. After deciding what pool test kit is applicable, check out eBay's deals section to get the best prices on a whole host of swimming pool accessories.
Types of Test Kit
The market for test kits has risen in the past few years, due to the ease in which they test both home and communal swimming pools. When looking to buy one, shoppers are likely to come across the following in the marketplace.
| | |
| --- | --- |
| Types of Test Kit | Description |
| Test Strip | Test strips are extremely popular and the most basic form of pool test kit. Even though they don't offer the same level of precision as other test kits, they are by far the most affordable. In order to get the best results, be sure to follow the manufacturer instructions. Test strip kits usually venture around $10 to $15 and come in bottle packs of fifty. |
| Digital Test Strip Reader | When partnered up with a test strip, a digital test strip reader will remove any inaccuracies from the results. Since entering the marketplace, they have become common due to their affordable nature. They can be found at retail for around $50, with the actual test strips being sold separately. |
| Wet Chemistry Kits | Wet chemistry kits are perfect for when more specific testing is required. They provide accurate results by utilising a colour comparator block, which filters the water from a plastic vial. They come in two forms, OTO and DPD, and are classed as the most advanced way to test a pool. |
| OTO Kits | The least expensive form of wet chemical pool test kit. This is because it can only test a pool for the amount of total chlorine and not the amount of free chlorine. Even though knowing the amount of total chlorine is interesting, it may not necessarily helps users figure out how much sanitiser needs to be used. |
| DPD Kits | They cost about $40 and are able to measure the amount of free chlorine in a pool, amongst other elements. Simply take a water sample, add several drops of reagent and wait for the outcome. When used efficiently, DPD kits can outperform test strips in terms of detail and return more enhanced feedback. However, DPD kits can be inconvenient and time consuming to use. |
Test Features
Even though test kits come in a variety of different forms, at their core they should all be attempting to check for certain elements in a swimming pool. Always bear in mind that the following are elements that can be part of a swimming pool, and thus can be tested for.
· pH
· Alkaline
· Sanitiser
· Calcium
· Bromine
· Magnesium
· Cyanuric Acid
· Chlorine
After buying a kit, it is important to understand what elements mentioned above it can test for. The most basic test strips (sometimes labelled as three-in-one strips) should be able to measure sanitiser, pH and alkaline levels. Advanced versions of test strips will test for more including bromine, cyanuric acid, whilst detecting the amount of both free and total chlorine. Test strips can be used regularly (as much as everyday if needed), in order to monitor a pools substance level and condition.
Other test kits can determine all the above in a far quicker and more detailed manner, but are only suitable for use once a week. Those who have an expansive budget may wish to use a combination of different pool test kits, to get more in-depth results. Remember that a pool can become hazardous due to the overuse of regular chemicals, so it's important to get the right balance; a pool test kit is the only way to do this.
Storage
Heat and moisture can damage and degrade a test kit, making its results inaccurate. Excessive sunlight exposure can also cause fading to occur on the colour compactor, which is obviously a crucial part of the testing process. In between uses, keep test kits in a dry and preferably dark place. Also make sure that it remains at a low temperature at all times, to ensure that heat damage cannot occur.
It is usually acceptable to use a pool test kit after its expiration date, for a period of up to two years. However, it is recommended that people purchase a fresh kit each summer just for cleanliness reasons alone.
Testing Tips
The most important thing to make sure of is that a pool test kit provides accurate readings, making the purchase worthwhile. The following tips will ensure accurate results time after time.
· Read the pool test kits instructions and follow them carefully.
· Wait the recommended amount of time before checking results.
· Wash and dry hands before handling any test strip equipment, to avoid spoiling the results.
· Use the recommended amount of water in a sample and don't test water that is around the return line. Doing this can produce misleading results when it comes to sanitiser levels.
· When looking for samples, it is advised that people take one that falls between the deep and shallow ends of the pool.
· Don't overexpose test results to sunlight, as it will effect the quality of results produced.
How to Buy a Pool Test Kit on eBay
Home swimming pools are now a common part of Australian interior design, but require regular maintenance in order to remain useable. To get a better understanding of what needs to be done in order to keep one in good condition, a pool test kit should be used.
To find a pool test kit at the best possible price, start looking at eBay's wide selection. Firstly, click on the home and garden category when on the homepage, before selecting the outdoor living and pool, spa, beach sub-categories. This will bring up all related auction listings, and allow shoppers to browse through them at their own leisure. For more detailed results try using the keyword search bar, that is found at the top of every eBay page.
For added peace of mind, pay for any items on eBay with PayPal. Their buyer protection program is world renowned for protecting shoppers, in the event that something untoward happens to an order.
Conclusion
There are fewer items that are more important to swimming pool cleaning and preparation than a high quality pool test kit. It is the link between the user and the water, and provides information on the substances featured. The key is finding the right type of kit for the pool at hand, and learning how to use it efficiently.
When looking to buy a high quality pool test kit, eBay should be considered the retail website to visit. With new listings constantly being added, shoppers are sure to find one that is both affordable and functional.