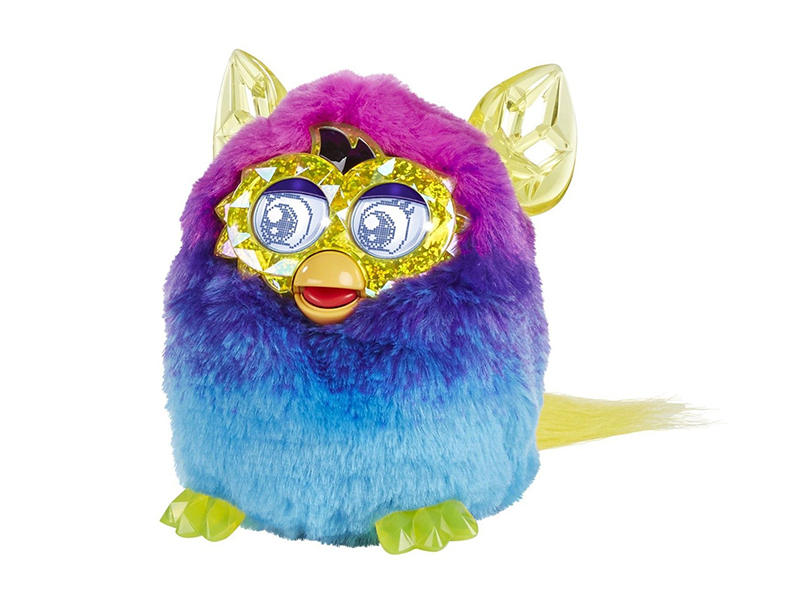 Since its launch in 1998, the Furby has evolved through several generations. The Furby Crystal Series is just as intelligent as its predecessors, but comes with added bling. This Furby is one of the most visually exciting thanks to its psychedelic colours and crystals around the eyes and ears.
Furby Crystal Design
Like previous versions of the Furby, the Furby Crystal Series toys are cute and cuddly with the main body covered in soft fur. This generation of Furby toys features fur that is bright and multi-coloured. In addition, they have crystal-style ears that coordinate with the luminous crystals around the eyes.
The Furby Crystal Boom is around 23 centimetres tall and weighs less than a kilogram, making it an ideal toy even for a small child. The smaller Furby Crystal Furrblings are just over 15 centimetres, offering even more compact Furby fun. Although it is not suitable for children under three due to its small parts, primary school children often get a lot of joy out of caring for a Furby.
Interacting With the Furby Crystal Series
All the traditional real-world interactions between humans and Furbies still exist. Tickle its tummy to make it chuckle with delight, feed it by putting a finger in its mouth, or pull its tail to put it to sleep. While it is awake, a Furby will speak in Furbish, its own language, although it can gradually learn English words in response to hearing people speak around it. A Furby also reacts to being picked up, held, shaken, or tilted. Be warned - the Furby Crystal Series toys do not like being turned upside down, and they will express their displeasure very vocally.
Furbies learn from their owners. Each one can have a different personality depending on how the owner treats it. As well as speaking to the toy, owners can also play music to the Furby to see what its response will be. Furbies also like to meet others of their kind, including those from the Crystal Series and earlier generations of the popular toy.
The Furby Crystal Series also comes with a free app, available for Apple as well as some Android devices. This app allows the Furby and its owner to enjoy having adventures together. One goal that owners can pursue using the app is to collect digital Furby eggs, then care for them until they hatch. The owner can then raise the resulting Furrblings to create a virtual family of Furbies. This app is compatible with Furby Boom toys, which were first released in 2013. The Furby Crystal Series is part of the Furby Boom generation.
Considerations When Buying a Furby Crystal Series
Each Crystal Series Furby requires four AA batteries, which are not included with the toy. This toy does not require any assembly beyond inserting the batteries, but play is enhanced when using the compatible app.
Conclusion
The Furby Crystal Series was released in time for Christmas 2014. This latest generation of Furbies looks different from previous models, but they interact in much the same way. Both the Crystal Boom and Crystal Furrblings are available for sale on online marketplaces such as eBay.