Recent changes made by ebay Australia have seen the introduction of many additional oversea's listings on the ebay.com.au.
Whilst the changes made by ebay were intended to fill product gaps, the reality is local Australian products have been impacted by the changes (i.e. lower ranked listings & additional pages of listings to search through).
If you prefer to purchase from Australian Sellers below are some quick tips to return results in your searches from Australian Sellers to save trawling through pages of listings on ebay.com.au.
When searching for products on ebay.com.au in your search results perform the following:
1. In search bar enter your search details e.g Wood Wall Clock (see below)

2. Scroll down the results page and locate Location and just select "Australia Only" as per the picture below.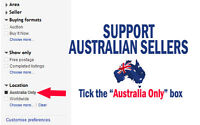 3. This will then return products sold only by Australian Sellers.