Protecting yourself and your children from the sun is more than just putting on sunscreen and there are better ways to do it saving you sun damaged skin in later life.
How though, when we are active and need to be in the sun in order to participate in all the activities we love and enjoy.
The full one piece swimwear Stinger Suit could be the answer for you. It gives full sun protection from the neck down to the ankles and is so comfortable, lightweight and breathable that you will hardly notice it on.
Come and see our great range of colours in Unisex suits Size 2-8
Come and see our great range of colours in Unisex suits Size 10-14
At Sun Protection Oz we offer a unique chlorine resistant Italian fabric made with 53% Polyester and 47% PBT. There is no lycra in this material and that is our point of difference. These suits will not break down. The UPF50+ is achieved by the tight weave of the fabric. You and your children will be protected from 97.5% of the sun's UV radiation.
You will have peace of mind that you are investing in a quality UV protective product.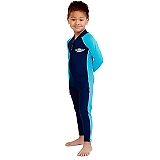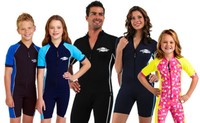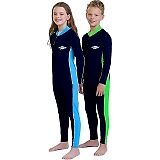 Can be used for a wide range of sports including: Swimming, diving, snorkeling, boogie boarding, wake boarding, surfing, cycling, water skiing, surf life saving, little nippers, lazing on the beach or playing outdoors. Can be used in and out of the water. From Babies to Adults there is something for everyone to protect the whole family.
Come and visit us at our eBay store - Sun Protection Oz