Designed and Made in Australia by innovative West Australian Engineering Company.
SILICONE repair buttons to fix worn Toyota remotes models: RAV4, Hilux, Corolla, Camry Avalon, Grande, Altise, Camry, Sportivo, Conquest, Land Cruiser, Hilux, Lexus, Supra, Soarer, Yaris, Avensis and more...
Original buttons and some replacement buttons are made from elastomers that break down as they age. The oily substance that is released over period of time clogs up switches in remotes and makes it difficult to use. Buttons we sell are made from German medical grade LSR that does not degrade over time. You can be sure it is Silicone (not rubber) Buton as on touch with very hot object it does not melt.
Button Replacement is the fastest and Most Economical way of fixing your remote. If your remote is working and your buttons simply disintergated over period of time, We have very cheap solution.
Follow very simple replacement procedure please visit our store
Below we are showing you how to replace worn remote key buttons in Toyota Avensis remote key.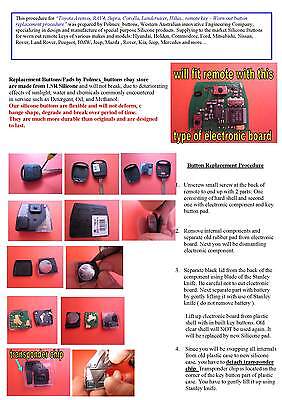 No programming is needed.