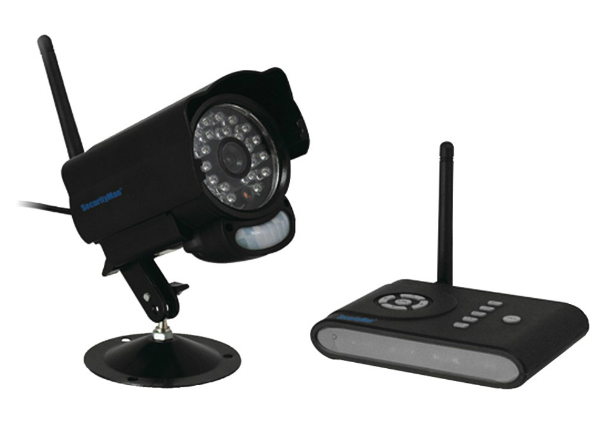 It is almost impossible to overestimate the importance of home security. A Wi-Fi security camera goes a long way to adding that sense of protection. These cameras let the homeowner see who is on their property from the comforts of any room in the house or even anywhere in the world. However, not all cameras are created equal, and having a true sense of comfort depends on having a camera that provides it. For many people, the key lies in installing the best possible Wi-Fi home security camera. To make a wise purchase, buyers need an understanding of how these cameras work, the sensors they use, and their various features, such as strength of Wi-Fi connectivity and clarify of video images.
Understanding Home Security Cameras with Wi-Fi Access
At the most basic level, a Wi-Fi home security camera consists of an electronic image sensor combined with a wireless network interface card, allowing it to transmit the image to a nearby computer or data storage device. Different cameras can operate in varying light levels, with some even offering infrared or low light capability. The network interface card lets the security cameras connect to a standard network without difficulty. In many cases, a security camera is a vital part of any alarm system.
Home Security Camera Image Sensors
There are two main types of image sensors used in home security cameras: CCDs, or charge-coupled devices; and CMOS, or complementary metal-oxide semiconductors. CCD-based sensors are more expensive to produce than CMOS-based sensors but have better light-gathering power and create a cleaner image. CMOS-based sensors also require less power to operate, which can be an important factor for some buyers.
Determining the Best Home Security Cameras with Wi-Fi Access
When looking for the best Wi-Fi home security cameras, there are a number of features for a buyer to keep an eye out for. One clear feature to separate the best from the rest is optical zoom, which provides a clear image with increasing zoom levels as opposed to a digital zoom, which gets blurrier with magnification. Other features to consider whether the security camera has local as well as cloud storage and what controls it offers to avoid false positives from the motion detector.
Setting Up a Wi-Fi Home Security Camera
Every Wi-Fi home security camera requires a power point and access to the network. Locating a power point is relatively easy as most houses have several outdoor power points, but it does limit the potential placement of the camera. The other thing to remember is that the camera needs to be configured for the network, so that means in many cases they have to be plugged physically into the router for initial setup before they can connect wirelessly.
The Best Wi-Fi Cameras
While there are a very large number of cameras available on the Australian market, the best always stand out. These cameras combine image quality and Wi-Fi connectivity to create a sense of security in any home. One thing that buyers should be aware of is that the very highest video quality is often limited to wired security cameras as not all wireless connections have sufficient bandwidth. However, the flexibility of wireless often outweighs these limitations, and the best cameras employ compression to maximise image quality and minimise network impact.
Panasonic BL-C131A Network Wireless Camera
This Panasonic camera is an excellent option for in home monitoring. It offers full pan and tilt with a heat sensor and email capabilities. It offers direct uplink for streaming to a smartphone, as well as the ability to view from a PC with the appropriate credentials. This camera offers both still picture capture and video streaming, and the software supports viewing multiple cameras through the same web interface.
Wansview NCB543W
The Wansview NCB543W, an outdoor wireless IP camera, offers both infrared and motion detection at a range of up to 20 meters. It brings full night vision support and an integral web server for mobile phone monitoring while on the go. With this camera the security conscious owner can count on being able to monitor the area outside their home at any time and from any location. As an outdoor camera it is weather-resistant and able to resist conditions that would render an indoor camera unusable. It does require power, but the wireless connection can be a benefit for those not wishing to allow external physical access to their network.
D-Link DCS-942L
The D-Link DCS-942L combines both day and night vision capabilities with cloud based storage to allow monitoring from any iOS or Android device. Data can be stored either in the cloud or by using the device's own on-board microSD card reader. Wireless-N capabilities allow for high quality streaming, making this an excellent choice for indoor home security. Indoor cameras have a great advantage for wireless operation as they are able to take full advantage of the owner's home networks for high speed streaming.
Cisco Video Surveillance 2500 Series IP Camera
The Cisco 2500 series video surveillance camera offers the flexibility of both wired and wireless operation in a camera designed with Cisco's commitment to open source and interoperability. This model supports both colour and monochrome video streaming in both NTSC and PAL formats as well as two-way audio for those who need that feature. IR capability adds a night mode when necessary, and it supports two simultaneous video streams. Buyers can use this camera with either Cisco's own supplied software or with their own software, whichever they prefer.
ADS-450 SwannSmart Wi-Fi Network Camera
The ADS 450 SwannSmart Camera from Swann offers both infrared night vision capabilities and storage in a secure cloud in a compact package. One of the best features of this model is its support of completely wireless setup. It does not have to be physically connected to the router for the initial setup and can be completely configured wirelessly. This camera is designed for both home and business security, and apps are available for most mobile devices. Everything is designed for ease of use and access.
Buying Wi-Fi Home Security Cameras on eBay
One of the best places to buy home security cameras with wireless access is eBay. The site offers a wide variety of cameras for all needs and situations. All you need to do is put in keywords into the search bar, such as "security camera", to assemble all available listings. Then, you can use the filters to narrow them down to just the cameras you want in terms of brand, condition, and price range for instance. Once you find some potential purchase, simply check out the profile pages of the various sellers to see feedback from previous feedbacks. Some sellers may offer bundles of multiple cameras, while others may even offer local buyers the opportunity to pick up their cameras in person. Lastly, for potential savings, be sure to check out eBay deals.
Conclusion
Buying a wireless home security camera is an investment in peace of mind. A home security camera provides the knowledge that there is nothing going on inside or outside the home, even when the owner is not present. Cameras can operate both indoors and out, and wireless cameras can be mounted anywhere a person can find a power source.
Setting up wireless connectivity can require a little more effort than just plugging in a network cable, but the overall flexibility is worth the extra effort. Another benefit of wireless home security cameras is that many can stream directly to the owner's mobile phone, allowing them to monitor things from anywhere in the country. Spending a little money for the best wireless security cameras is something that pays an immediate emotional dividend.
Wi-Fi Security Camera|Wi-Fi Camera|Home Security Camera|CCTV|Surveillance Camera