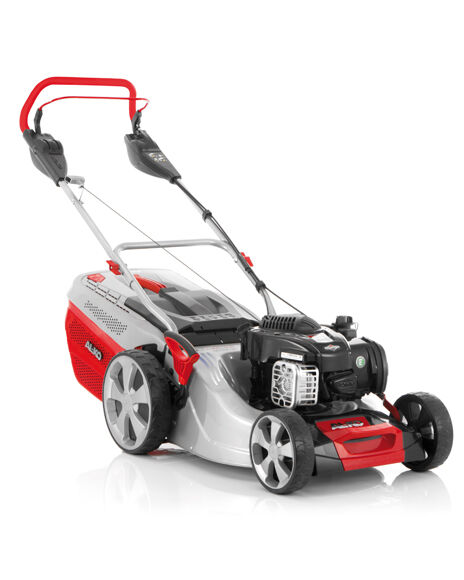 Mowing the lawn can be a pleasurable and rewarding experience, but if the operator selects an unsuitable mower, it can be an annoying, labour intensive, and frustrating test of endurance. Selecting the correct lawnmower depends on factors such as lawn size, grass type, and the general terrain of the lawn. A gardener does not want a ride-on mower if he or she only needs to cut a small nature strip, but on the other hand, a manual push mower is not ideal for a large grassy area. After reviewing the best push mowers for a small space, a buyer can select the most suitable push mower to suit his or her mowing needs.
Size of the Lawn
The lawn size is often a key determining factor in purchasing a mower. If the user is unsure of the lawn size, the following table provides a rough guide to use as a reference to select the most appropriate mower. The cutting width of the apparatus is also included.
Size

Square Metres

Recommended Mower Type

Cutting Width

100 or fewer

Electric

Manual

300-350mm

Medium

100-250

Electric

Petrol

350-400mm

Large

250 plus

Petrol

400mm plus
For the purpose of mowing a small or medium sized lawn, it is recommended that the user select an electric or manual mower. These mowers come with varying cutting widths.
Types of Mowers
The first stage of the selection process involves learning about the different types of mowers that are available. There are three basic types of push mowers.
Manual Push Mowers
A manual push mower is propelled manually and requires no other method of power other than pushing strength from the user. This mower is quiet, inexpensive, easy to maintain, and simple to store. The operator does not need to worry about the inconvenience of petrol or the annoyance of finding a nearby power outlet and extension cord. Manual mowers are great for small lawns and tiny spaces where a close, fine cut is required. Because of the manual push, the user must be generally physically fit, but this can be turned into a positive, and mowing can become a form of exercise.
Petrol Push Mowers
Petrol mowers are more expensive and require upkeep and maintenance, and the operator needs petrol stored nearby. Petrol mowers are used for larger lawns and gardens where extra power is necessary. However, they are more dangerous because of hot surfaces and exhaust fumes. For a very small space, petrol mowers are not recommended.
Electric Push Mowers
The electric push mower is lighter and cleaner than a petrol mower, and it requires less maintenance. This mower is a happy-medium between a petrol powered motor and a manual push mower. Electric mowers offer more power than manual push mowers, but they are also heavier. Also, a power source must be close by, and the cable required can be a safety hazard. Finally, the operator cannot mow the lawn when it is wet because electricity is used.
The Best Mowers for Small Spaces
The following mowers are recommended for use in small spaces. Each includes different pros and cons, and it is up to the consumer to select the most appropriate model.
Flymo H40
The Flymo H40 is appealing because of its simplicity. Being a manual push mower, it is an easy and environmentally friendly way to cut a lawn. The machine has a cutting width of 40 centimetres, and its five metal cutting blades can be manually adjusted to four different heights, ranging from 12mm to 38mm. It is not heavy, weighing a mere 7.9 kg, and combined with 22cm wheels, it allows for easy control. Its simple, efficient design allows for easy storage when not in use. The product does not contain a grass catcher so the user must collect the cuttings after use.
McCulloch H350GC
Another manual push mower, the H350GC has a tough and rugged design. Slightly narrower than the H40, the McCulloch has a cutting width of 35 centimetres. The five self-sharpening steel blades adjust between 15mm and 32mm. It weighs slightly more than the Flymo, but it is still relatively light at 8.5 kg. The H340GC has ergonomically designed handles to provide a comfortable grip and can be easily removed for storage. Finally, the product has a removable, large volume grass catcher that simplifies the cleaning process.
Ozito Eco-320
The Ozito Eco-320 is an electric lawn mower designed for small to medium sized lawns. The 1100W motor provides plenty of power and runs at a quiet volume. The product itself does not require much maintenance, especially when compared to a petrol mower. It has three adjustable heights for cutting, 31mm, 47mm, and 63mm, and the height is easily adjusted by a spring mechanism. The cutting diameter is 32cm, narrower than both the McCulloch and the Flymo. It weighs 10.25 kg and is slightly heavier than the previous two, although it is still reasonably lightweight. Moreover, because of the powered engine, the heavier weight compensates for less overall effort required. A dual step safety switch prevents accidental starting of the motor, making the product safe to use. Finally, a cord retainer holds the extension lead in place, stopping it from being accidentally unplugged while operating.
Homelite 1600W
Another electric mower, the Homelite 1600W has a slightly more powerful engine than the Eco-320 at 1600w, but it is still a quiet machine. The machine has eight height settings that adjust between 20mm and 75mm and a blade length of 42cm. The ergonomic handle is foldable and handy for storage. The cord length extends up to 20 metres, providing ample space for usage, and it has a cord lock for safety. This product can be used for small lawns, but its adaptability means it can be used for medium sized lawns, as well.
Flymo TL350
The TL350 is an electric hover mower, meaning it does not have wheels. Instead the mower floats on a cushion of air as it cuts the grass, making it easy to use and manoeuvre around slopes, lawn edges, and flower beds. It contains an ABS base that ensures maximum durability and extended use. The engine operates at 1400W, providing ample power to make grass cutting easy. The product has a cutting width of 35cm and is adjustable to five cutting heights, ranging from 15mm to 41mm. It is a quiet mower, simple to use and maintain, and is ideal for small spaces. The adjustable handle folds away for easy storage, and because it weighs 7.7 kg, it is easy to transport. It is a safe product that uses a fast and efficient safety blade brake designed to instantly stop cutting blades for operator safety. The Flymo TL350 is a happy medium between a more powerful mower and a manual push mower.
Buying a Push Mower on eBay
To purchase a push mower on eBay, the consumer only needs to follow a few easy steps. To search for the product, the user can enter some keywords, such as push mower or flymo, into the search bar. This produces a list of results corresponding to the search term. By selecting a particular product heading, the user can navigate to the product information screen, which contains a detailed product description, pricing information, payment options, and delivery methods. To review the seller or to contact him or her with questions, the user can select the username of the seller to navigate to a screen containing the seller history and buyer reviews from previous customers. Also, the user can visit look for a bargain on a mower in the gardening section of the eBay Deals page.
Conclusion
Purchasing the correct lawn mower is important. For a small lawn, there is no point in purchasing a petrol powered mower. The excess maintenance, cost of petrol, noise, and exhaust are not worth the extra power of the mower. A manual push mower that requires no power other than the muscles of the operator is a good choice for a small lawn. Another good option is the plug-in, electric motor. Although these machines weigh a little more than manual models, they require less user strength to operate and are a good option for a small to medium sized area.
To purchase on eBay, the buyer can run a search using keywords, investigate the product by selecting the heading, and review and communicate with the seller. Alternatively, the buyer can search locally in gardening and home improvement stores to find a selection of mowers. Either shopping method ensures a user can be enjoying the benefits of a push mower for a small space in no time.
Push Mower|Manual Mower|Electric Mower|Petrol Mower|Lawnmower