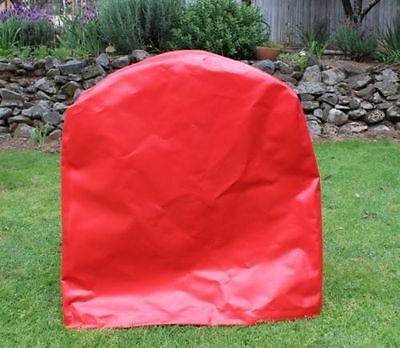 Red BBQ Cover
Covers are made from tough 630gsm PVC industrial fabric.
These covers are made SUPER tough and welded together for a solid construction.
Australian Made.
We wanted a tough & bright coloured BBQ cover for our new Weber,
We could not find anything but BLACK and they were only made from light weight nylon materials.
So we went to an Australian manufacturer and got these made.

Shaped to suit either the Weber Q 200 or Weber Q Family BBQ.
Including a solid webbing strap and securing buckle at the base.

A great gift that will be a talking point in your back yard this summer.
Dress up your outdoor entertaining area with style and colour.
Are you tired of the old black nylon cheapo versions available? Which break down, crack and do not last very long.

Looking for a great Christmas gift? This will compliment your BBQ for sure.

Impress your friends and make your industrial strength RED BBQ cover a feature of your entertaining area.

Made in Australia by a local manufacturer.
You will not find these in any shops.