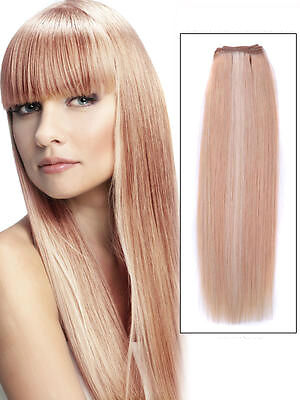 Hair extensions are more popular nowadays than ever before, as more women look for a quick way to have longer more lustrous hair without waiting for it to grow. Choosing the right type of hair extensions can be a minefield, with so many different types and styles available. Human hair extensions are the most expensive but also the most beautiful and durable, and Remy (or Remy) extensions are the best quality hair extensions on the market.
Shopping online, on websites such as eBay allows Remy hair extensions to be purchased at a competitive price compared to buying from a salon or store. It is possible to buy clip-in extensions for applying at home or tipped extensions with a micro-ring or bond that can be applied by a professional at a salon.
What are Remy Hair Extensions?
Remy hair extensions are the finest hair extension grade you can find, although Remy hair comes from a variety of sources. Here are some of the different types of Remy hair extensions you can find:
Chinese hair is the cheapest as it is usually very smooth and dark – it is of a coarser and thicker texture than most hair so is not recommended if natural hair is smooth and silky. It is also harder to dye than other Remy hair due to its deep colour. Brazilian Remy hair extensions are usually made with 'virgin' hair that has never been dyed, chemically treated or curled/straightened. This means it is natural and beautiful and can be styled in a variety of ways to suit the individual. European Virgin Remy hair generally still has the cuticle intact, which means that all the roots are pointing in the same direction – much like naturally growing hair.
Why Choose Remy Hair Extensions?
Remy hair extensions are beautiful, natural and unprocessed, so they look like the individual's own hair. Whilst it might cost more to invest in Remy extensions, the results achieved are far more stunning and long lasting than by using synthetic or lower grade hair. Remy hair extensions can be styled using straighteners or curling tongs, but heat protectant must always be used to protect the hair. A great deal on hair styling appliances can be found on eBay.
Clip-in Remy extensions can be easily applied and removed at home, thanks to an easy clip mechanism that snaps into the hair at the root. Whilst the grade of hair is the same as with professionally bonded extensions, clips can add bulk so are not ideal for fine hair.
How to Choose the Right Length of Remy Hair Extensions
When choosing Remy hair extensions, websites such as eBay stock a wide range of lengths, from 14 inches to 28 inches. Whilst it can be tempting to opt for Rapunzel-like 28 inch locks, these extensions will not only look the least natural but could also damage existing hair as they will be very heavy and could put strain on hair roots.
It is best to choose extensions that are a few inches longer than the natural hair – a popular length for women is 16 inches. This ensures that the hair is long enough for a variety of styles but not so long that it looks fake.
Clip-in or Salon Extensions?
Whether to opt for clip-in Jessica Simpson hair extensions or micro-ring extensions to be applied professionally is a personal choice and will depend on budget and the desired result. Here are some of the different options for Remy hair extension application:
| | |
| --- | --- |
| Fitting | Features and Benefits |
| | Easy to clip-in and take out at home. Provides a fairly natural look but may be too bulky for those with fine hair. A great way to change hair temporarily at a more affordable cost than salon extensions. |
| Clip-in hairpieces | This is usually a single hairpiece rather than individual wefts of hair and allows the wearer to apply the hairpiece using the clips for a quick, easy way to add length or volume. |
| | Micro-ring extensions come with a small ring on the end. They require to be fitted at a salon where natural hair is passed through the ring, which is then squeezed shut for a secure fit. These are safe to wear and kind to the wearer's natural hair. |
| Wefts | Hair wefts can be purchased which need to be glued or sewn into the hair by a professional. |
| Pre-bonded or pre-tipped hair extensions | These can be applied via hot fusion (where a heat gun melts the keratin tip, fusing it to the natural hair) or cold fusion, where infrared or ultrasonic devices are used to melt the tip, bonding it with the hair but can be damaging to natural hair. |
The type of Remy hair extension chosen will depend on several factors including budget. It is far more affordable to buy clip-in extensions than pay for extensions to be fitted professionally, which can costs thousands of dollars, although significant savings on the Remy hair itself can be found on eBay.
How to Choose the Right Type of Remy Hair Extensions
The following factors need to be taken into consideration when choosing the perfect Remy hair extensions:
Budget
Desired method of attachment to the hair
Length
Colour
Grade of hair (such as Brazilian or European Virgin)
Every individual's hair is different, so if opting for professionally applied extensions, it is often best to visit a salon or extension specialist before purchasing hair online – eBay has a wide range of Remy hair extensions to choose from.
Choosing the Right Colour of Remy Hair Extensions
It is important to match hair extensions to the existing hair for a seamless, natural look. When shopping for hair extensions online, a wide selection of colours is usually available, and because Remy hair extensions are made from natural human hair, they can be dyed to match the wearer's existing colour. It is also possible to find sellers on eBay who will offer a colour-match service if a swatch of hair is sent to them before purchase. Hair extensions can also be used to add streaks of different colour to hair, whether looking for a vibrant pop of colour or more natural highlights.
How Buy Remy Hair Extensions on eBay
eBay is the best place to head if looking for Remy Hair Extensions at an affordable price. Visit eBay and click on the drop-down menu 'Shop by Category' at the top left of the page. This will open up a category list - scroll down to click on 'Fashion'. In the left-hand menu, hover over Women's Accessories' and click on Wigs, Extensions & Supplies. From here the desired item can be typed into the search bar, such as '14 Inch Remy Extensions'.
Because there are so many different styles and colours of extensions available to choose from, it can be helpful to narrow a search using a certain term if looking for something specific. By typing the words related to the search, such as '18 Inch Blonde Remy Extensions' into the main search box, a list of all the available items will be shown.
Conclusion
As the world continues to grow more fast paced and we all have less patience when waiting for our hair to grow long and beautiful, hair extensions will continue to grow in popularity, with Remy extensions leading the way. Because Remy extensions are made from high quality human hair, they can be treated like natural hair and worn in a variety of styles, making them an appealing option for many women.
eBay has a wide variety of Remy hair extensions to choose from, from 14-inch wavy red extensions to 28-inch blonde extensions, there are plenty of different options at affordable prices.