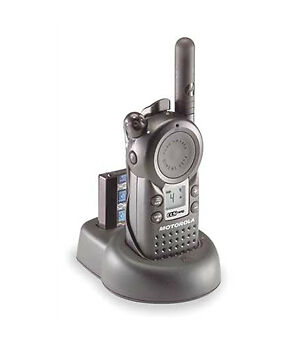 UHF radios are used as an alternative means of communication to mobile phones, and they are widely used due to their cheap and inexpensive nature.
They are commonly used by those who may not get mobile phone signal in certain areas of the country, as well as those who enjoy the lack of restrictions put on their use (in that they do not have tariffs included as part of their use).
The 'UHF' in UHF radios stands for 'Ultra High Frequency' and they work on the premise of transmitting audio via radio waves that match the frequency of other UHF radio users.
UHF radios are easily found on the likes of eBay at reasonable prices, an ever-popular advantage for their users.
UHF Radios: A Background
· Ultra High Frequencies were originally used as a means of broadcasting television in the early to mid-20th Century.
· The versatility and easy to use nature of Ultra High Frequencies then became popular for use alongside radio.
· From then, they became popular amongst those wishing to communicate in a free environment, as well as by those in industrial, commercial and even military settings.
· The frequency of UHF radios is measured in Megahertz (MHz).
· In Australia, the frequency allocation for the use of UHF radios is between 476 and 477 MHz.
Components of a UHF Radio
Whilst UHF radios are simple to use and efficient in their manner, there are many different components used in to make them work so well.
It is vital to know and understand the basic components that make up a UHF radio, because if one part needs replacing a buyer will know what to look for and can gain an idea of how to fit the replacement piece. It is also important to know of these components when purchasing a UHF radio, as one can understand what to look for if there is a specific use or purpose for the radio itself.
Here is a table determining and explaining the basic components of a UHF radio:
UHF Radio Components

Information

Base

The base of the UHF radio is the component that controls the overall usage of the radio. It is home to a number of other important parts of the radio. The base will come in a variety of different sizes, depending on the preference and experience of the user. They are usually box or cuboid shaped, but shape can vary depending on where the UHF radio is supposed to be used.

Antenna

The antenna is one of the most important components used to make up a UHF radio. This is the part of the radio that sends and receives the radio waves. Again, an antenna is available in a variety of different sizes, which normally affects the range at which the radio waves can be sent and detected.

One of the advantages of using an antenna in a UHF radio is that they can easily be replaced and it is affordable and simple to do so. Most antennas will be screwed into the base of the radio, and unscrewing is a simple task.

Tuner

The tuner of the UHF radio plays the role of finding the frequency so one can use the radio to communicate with other users. It is usually situated on the base of the radio and is controlled by either a wheel or a knob.

Display

The display simply shows the vital information that is necessary to the user of the UHF radio. It will show the frequency of the radio. Displays are usually LCD and will often feature a backlight for use in darker conditions.

Handset

The handset is home to both the speaker and the microphone. Most handsets will be small enough to hold in the palm of the hand and will be connected to the base of the radio via a cable that may vary in length. The handset will have a switch that the user will press down to allow for other UHF radio users to hear their voice, and will release it to listen to responses.

Controls

The base will be home to some important controls, including volume control, channel control and tuning control. It is important to understand these controls before getting full and proper use of a UHF radio.
Types of UHF Radio
There are three major types of UHF radio. When searching for a UHF radio, it may be easier to look for 'CB' radios that are fitted for use as UHF radios, because this is what they are most commonly known as.
The three types of UHF radio are as follows:
Base Station Radios
Base Station UHF radios are used by those who will be using their UHF radio from one place and will not be moving them around often. They are usually fairly large in size and are often able to cover larger signal distances. Base Station UHF radios are commonly used by those who like to or need to interact with other users of similar equipment and were extremely popular in the 1970s.
Mobile CB Radios
Most mobile CB radios will use a UHF frequency. The difference between base station and mobile UHF radios is that those of the mobile variety are frequently kept in vehicles, such as 4x4s and trucks. Whilst they are not especially portable, they are able to be used in a variety of different areas and are mainly used as a means of communication where mobile signal is unavailable.
Portable CB Radios
As the name suggests, portable UHF radios are designed to be able to be carried around and used in a variety of different situations. They are generally the smallest out of the three types of UHF radio, a feature that allows for their portability. There are portable radios of this nature that are designed with the intention of being able to be fitted in vehicles, as well as those that are handheld and feature their control centre, speaker and microphone all in one handset.
Buying a UHF Radio on eBay
There are thousands of items listed under the label of 'Radio Equipment' on eBay and the site offers the chance for buyers to purchase their radio-based goods at inexpensive prices, especially in comparison to various other online retailers.
To see eBay's range of UHF radios, head to the Electronics section of the site and select the Radio Equipment link. From there one will be confronted with a list of different refinement tabs for varying radio equipment products. Select the CB Radios tab, and on the next page select the UHF tab.
Once a suitable UHF radio has been found, one can begin to purchase the selected item using eBay's three main buying options:
- Bidding
- Making a Best Offer
- Using Buy It Now
When used in conjunction with PayPal, one can take part in an honest, secure and sensible transaction.
Conclusion
Whilst not as popular as they used to be, and damaged by the introduction of mobile cellular technology, UHF radios are still appreciated as an affordable communications alternative.
When planning on purchasing a UHF radio one should considered the type of radio that is required, as well as taking into consideration the circumstances and settings under which it will be used (Some UHF radios struggle to send and receive radio waves when there are large mountains or buildings in the way).
Having a full understanding of the ins and outs of UHF radios is the best way of securing one on eBay at a reasonable rate.