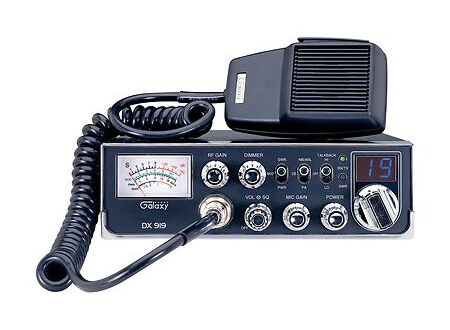 For short distance radio communication between individuals, citizens band radios (or CB radios as they are commonly abbreviated to) are used as a two-way communication method. Although there are different brands of CB radio available on the market for consumers to acquire and use, this guide however will focus solely on Uniden products.
When it comes to making a purchase, using auction website eBay is a recommended way of searching different types of CB radio at reduced prices. Many people use the site as a platform to sell off their radio software, meaning some great finds can be presented at reduced values.
A Look at CB Radios
Amateur radio enthusiasts can use CB versions to communicate with each other for either personal or professional reasons. Although it is a two-way system, various people can use it at the same time. This is one of the main features that distinguish it from traditional walkie-talkies.
The majority of day citizen band radios have a selection of 40 channels or 80 channels in which people can communicate over. This is an increase from the original 22 channels that came with early American models during the 1950s.
During the 1960s and 70s, the popularity of them improved considerably, with youngsters, hobbyists and small businesses using the radios for quick contact. Inevitably, the CB radio has fallen in popularity due to the onset of the modern technical age. Mobile phones and tablets with quick communication capabilities have not helped either.
However, they are still used by some lines of work today, such as electricians and plumbers. Truck drivers can still be found to communicate via CB systems also, along with motorway users and budding radio disc jockeys.
Australian CB Radio
Australians began to import CB radios from the United States during the 1960s and 70s. This was because they were illegal products in the country up until 1977. The 40-channel band plan was adopted three years later. As of 27 May 2011, this number has doubled from 40 to 80 channels that are available, although channels 61, 62 and 63 are reserved.
Different countries use varying frequency services; in Australia, this is the UHF CB service on the UHF 477 MHz band. It is state operated and users do not need to obtain a license or pay a license fee. Other services may be illegal, however, as they interfere with the UHF CB frequency. Watch out for this when coming to make a purchase.
Uniden Corporation
Uniden is a Japanese company that concentrates on wireless communication services. It made its name in Asia, North America and Australasia with cordless telephones, and is currently a leading manufacturer of GPS satellite systems, as well as CB radio software.
The Uniden Company also releases CB radios onto the Australian market under the separate brand names of Cobra and Realistic. They have numerous products available on the market and are popular items sold on eBay.
Why Use a CB Radio?
The points below outline the advantages of using CB radios even in the modern era, with the various other methods of communication available.
- The cost of CB radios is on the low side, especially as the system can be used for a long time after initially purchased. No extra charges will be added when communicating with other people, unlike with mobile phones and similar devices.
- For budding radio enthusiasts it can be constructive, as using the CB radio allows one to practice speaking to quantities of unknown people.
- For regular car users, the CB radio can come in extremely useful. Reports of any accidents and traffic jams can be broadcast across particular channels to warn other motorists of potential delays.
- In some parts of the Australian outback, having contact with the outside world via CB systems can enhance the safety of travelling alone considerably.
Buying Considerations for Uniden CB Radios
This section will look at a few of the simple aspects to consider before a purchase is made. Remember to do as much research as possible of specific types of radio software online and their compatibility capabilities before committing to buy.
Size
Generally, people will look for streamlined models of CB radio that can be easily transported or fit comfortably inside a vehicle. The vast majority can be attached nicely onto the dashboard on the inside of a car and be used safely whilst driving.
Range
Some users will require strong antennas and powerful transmission capabilities with their CB radio purchase. The bigger the antenna will usually mean the stronger the signal, although much larger versions sometimes aren't practical.
The range of CB radios can generally begin at less than a mile for lower standard models, although this isn't viably going to be of much use. Other mobile units can stretch from around 1 mile to 15 miles in range, whilst base units can often go twice this range.
Older Models
When shopping on eBay, some older versions of CB radios can be found within the listings page. There is nothing wrong with coming to buy one if it is in working order, but be more aware that some may not be upgradeable to newer standards.
Features
The majority of modern-day UHF CB systems will be 80-channel ready with an LCD screen to let you know important information at a glance. Look out also for range extenders (Duplex systems) that can help transmit broadcasts over larger distances and also interference eliminators that can block out any unwanted conversations.
Other useful features include the chance to check out important radio stations for weather reports and any emergency travel news. Squelch control helps transmissions become clearer, reducing the effects of static.
Price
Setting a budget is important before making a CB radio purchase, although trying to cut corners can actually make the acquisition of one a waste of money. The top of the range CB radios can be found for up to $500 although many decent ones can be bought for less, especially if shopping on eBay.
For further deals then look at using the eBay Deals website. Here, further reductions can sometimes be found for CB radios with free postage included also. Look under the 'Electronics' section for any potential deals.
Using eBay to Find a Uniden CB Radio
This section will look at how to search for a CB radio easily on eBay, with links provided to the relevant sections.
- From the eBay home page, select the Electronics link from the categories section. Then choose Radio Equipment from the left-hand side of the page and then CB Radios. Underneath the 'Brand' title, select the 'Uniden' selection to reveal the relevant listings.
- Other refinements include the chance to determine the desired condition of the radio, along with the most appropriate price range. Choose also between auction and buy it now buying formats.
- Once a product has been selected read its description carefully, including the postage and payments details, before making the bid or committing to buy.
Conclusion
Although more popular throughout the late 20th century, CB radios are still used today mainly in vehicles as a way of communicating with other drivers. They can differ in size and the features they include - some being suitable for certain use than others.
Before coming to buy, look at the options that are presented on eBay, as deals can be found at competitive prices. Ensure to remain careful when using the site, being in tune the company's safety regulations before parting with money.