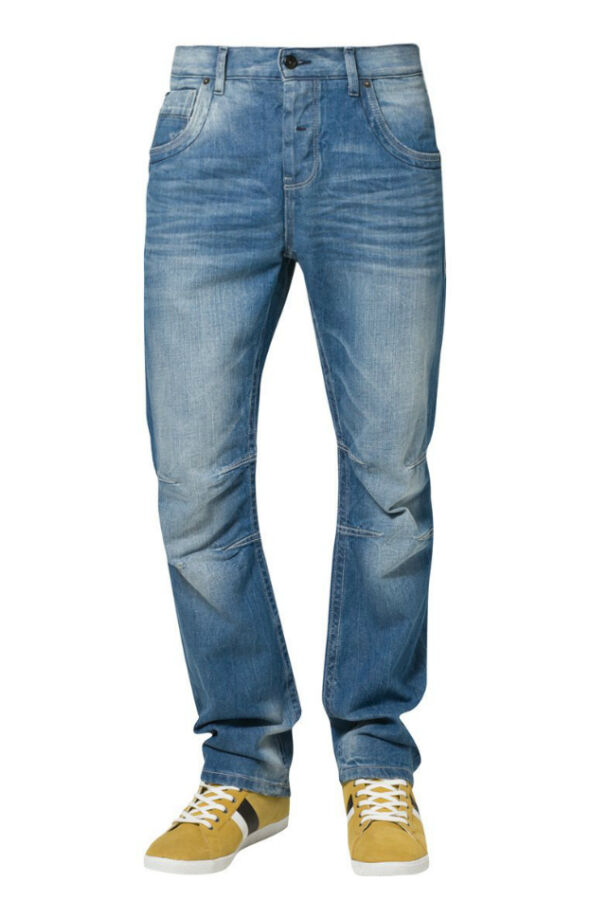 Designer jeans stand out from other forms of denim clothing because of the manner in which they are finished and washed. The type and quality of the denim used in designer jeans is also a contributing factor that designates them as something other than a normal pair of jeans. Because designer jeans are made with higher quality denim, and they fit differently, they naturally command a higher price tag than standard denim jeans.
Designer jeans are not meant for all body types, and they are usually targeted towards fashion-conscious individuals. Men can choose from different brands of designer jeans, but the following 10 brands stand out as the more popular versions. Although one can find designer jeans at department stores and boutiques, a large selection of this type of jeans is available on eBay.
About Designer Jeans
Both designer jeans and regular jeans are manufactured from denim. The main difference between the price tags of regular and designer jeans is the quality of the denim and the amount of effort that goes into the preparation of the material. Designer jeans utilise higher-quality hardware such as rivets and zippers that tend to last for long periods of time, even though these jeans are not meant to be used as work pants.
The feel of the denim is affected by the number of washes as well as the amount of abrasions used to distress the fabric and make it softer and give it a broken-in texture. Designer jeans also feature intricate designs and patterns that are more time consuming to achieve. The additional labour needed to perform several washes and abrasions to achieve the right feel is the main reason designer jeans can cost more than a simple pair of denim jeans.
1. Gap 1969
Gap is one of the big producers of jeans, and this was the first company to offer small boutiques that specialised in selling denim jeans, beginning in 1969. At that time, Gap marketed its jeans to younger people as normal everyday clothing at reasonable prices. In 2009, Gap began to market designer jeans to the same demographic with the philosophy of providing high-quality pairs of designer jeans at reasonable prices.
2. Levi's
Levi Strauss was founded in 1853 as a dry goods wholesaler, but it soon became known as the producer of the first denim jeans. They were designed as rugged clothing for miners and ranchers who demanded a fabric that could stand up to rugged use. Since then, Levi's has been the standard against which jeans are measured. Levi's produces different versions of designer-type jeans at reasonable prices that give the jeans mass market appeal.
3. Seven For All Mankind
Seven began creating designer jeans for men in 2002. Seven jeans are heavily distressed to the point of having holes in them. Seven jeans are known for their tight fit and low-rise appearance as well as a characteristic swoosh embroidered into the back pockets.
4. Express
Express was founded in 1980 and has grown to approximately 600 retail stores. Express jeans are known for the line of skinny and slim-fit jeans that feature heavily washed and distressed denim. All lines of Express jeans are considered designer and feature unique patterns on the back pockets of the jeans that help them stand out.
5. True Religion
True Religion was founded in 2002 and boasts nearly 900 boutiques in over 50 different countries. True Religion is known for the premium denim that is utilised in the manufacturing of the jeans. This denim is made by hand and is labour intensive, which accounts for the high price tag associated with the brand. True Religion is a very popular brand around the world because of its well-made clothing that uses high-quality materials.
6. Lucky
Lucky Brand jeans is a subsidiary of the Liz Claiborne Company and began operation in 1990. Lucky jeans is well known for the customised process of distressing jeans, which includes wringing, ripping, fraying, sanding, patching, and hand washing. Lucky jeans is also known for the use of playful stitching and small details that allow the jeans to stand out in the crowded designer marketplace.
7. Diesel
Diesel is an Italian company that was founded in 1978 and has become known worldwide as a luxury clothing maker geared towards young adults. Diesel is well known for producing fine denim products, and the company's designer jeans are descended from the philosophy of luxury clothing that has built the company. Diesel has also linked its designer jeans with creative art forms that are embraced by young adults all over the world.
8. Tommy Bahama
Tommy Bahama jeans are a very popular brand for older and more mature adults. They are sold in upscale department stores at over 80 retail locations across the United States, some of which even include a restaurant and bar, as well as its own line of rum alcohol. The connection developed between the Tommy Bahama brand and tropical locations lends a casual and hip nature to the designer jeans produced by the company.
9. LRG
The Lifted Research Group was formed in 1999 and produces a broad range of unique clothing as well as outdoor equipment and electronic accessories. LRG is known for designing unique styles of designer jeans in different colours that are associated with the company's underground urban theme.
10. Evisu
Evisu is a Japanese clothing company that was formed in 1991. At the time of its introduction, the company produced 14 jeans a day, with each pair of jeans featuring a seagull personally painted on the back pockets by the founder. Evisu jeans are known for their relaxed fit that falls in between baggy and slim-fitting, making them comfortable and stylish for a wide variety of fashion applications.
How to Buy Designer Jeans for Men on eBay
Settling on a pair of designer jeans can be a difficult process. Trying on several different brands and styles of designer jeans is a great way to get a feel for which type and size fit you best. However, if you have already determined your favourite brand and style of designer jeans, the next step is to utilise the powerful search tools available on eBay to find and purchase the right pair of jeans for yourself.
Begin by entering a keyword, such as "mens designer jeans", in the search box on any eBay page. A list of available jeans is displayed for you to browse through. If you want to search by brand or style, simply enter the corresponding keywords into the search box, and eBay then display only the jeans that match your criteria. Do remember to take a look at the eBay Deals section, where it is likely that perfect pair of jeans is on sale at a great price.
Conclusion
Designer jeans come in different styles and patterns and feature unique hardware and stitching that sets them apart from regular denim jeans. Initially, marketing was responsible for inflating the price of designer jeans by making them appear to be an article of clothing that no one should be without. However, the use of high-quality materials and painstaking distressing processes has earned designer jeans a true reputation as quality apparel that is well worth the price people pay for them. A good pair of designer jeans that are properly cared for can last many years.
Finding the right pair of jeans that fit well is a critical aspect of shopping for a pair of designer jeans. Once the right size is established, utilising the advanced shopping tools available on eBay is a great way to find those jeans at competitive prices in a trusted online environment.
Gap|Levi's|Designer Jeans|Denim|Diesel