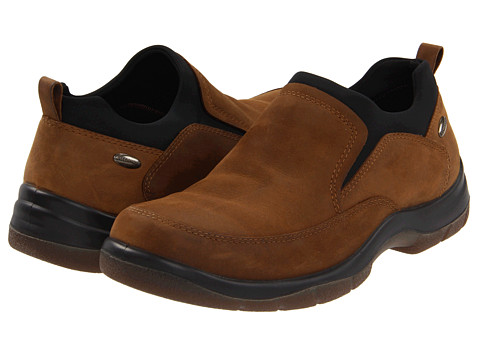 Men are practical beings, and there are not many men who would willingly wear shoes that are uncomfortable just for the sake of being stylish. When shopping for footwear, men place equal value on both comfort and style, and most men's footwear is designed with practicality in mind.
Shopping online on websites such as eBay is a great option for men who do not enjoy heading to the shops. From the comfort of their own home, they can choose the most stylish and comfortable footwear and make great savings compared to shopping at a local shoe store.
The Top 10 Most Comfortable Men's Shoes
Whilst most men's shoes are designed for comfort and practicality, there are some shoes that are simply a delight to wear. Here are the top 10 most comfortable men's shoes, most of which can be found on websites such as eBay:
| | |
| --- | --- |
| Shoes | Features |
| | New Balance shoes are all made to suit different shapes and sizes of feet, so it is almost like getting a custom fit, making them extremely comfortable. |
| Merrell | Merrell create a great range of walking shoes, sandals and trainers, and their Intercept range is exceptionally flexible and comfortable. |
| Nike | Nike are one of the best-selling brands on the planet – all their styles fit differently and there are specific shoes designed for walking, running and other sports. |
| Ecco | Most Ecco shoes have a removable sole, which is great if buying used shoes on eBay. They are extremely comfortable and supportive. |
| | Hush Puppies shoes have super soft rubber soles and are some of the most comfortable shoes around. |
| Clarks | Clarks manufacture a wide range of styles. Their flat pumps are particularly comfortable, made from durable, soft leather with padded insoles. |
| | Keen's range of walking trainers, boots and sandals mould to your feet and are designed specifically for walking and hiking – they also help to keep feet cool. |
| | Aetrex offer a range of running shoes and sandals for men that are extremely comfortable thanks to their cushioned interiors and customizable orthotics for all types of feet. |
| Toms | Toms range of running shoes are made from soft canvas that is extremely lightweight and comfortable to wear. The full range can be found on websites such as eBay. |
| Adidas | The Adidas Adizero Feather shoe features a moulded insole made from lightweight foam which cushions and protects feet, as well as mesh upper to let feet breathe. |
Comfortable Shoes for Outdoor Activities
When taking part in any of the following outdoor activities, it is important to have shoes that are comfortable and protective:
Hiking or walking
Cycling
Fishing
Hunting
Extreme sports
Rock climbing
Abseiling
Some sports, such as rock climbing or hiking, have shoes specifically designed to support the wearer in their activity, and these can be found for affordable prices on eBay. Other activities such as fishing or extreme sports require comfortable shoes that offer the feet protection from the elements. Outdoor trainers and boots by brands such as Merrell and O'Neill are a great option for men looking for footwear which protects their feet whilst being extremely comfortable and durable.
Comfortable Summer Shoes for Men
When it comes to summer time, everyone likes to let their feet breathe, and shoes which allow feet to stay cool are the most popular. Because men are always on the go, they need practical, comfortable summer sandals that are durable and hardwearing. Merell sandals are designed for walking, hiking and outdoor activities but are also great for everyday wear, and can be found on websites such as eBay for a great price. Designed to fit securely with Velcro and ruckstrap buckles, their sandals are made from suede and leather, so the natural materials let feet breathe. Cushioned rubber soles with rugged grips ensure that the wearer is comfortable no matter what they are doing.
Comfortable Shoes for Everyday Wear
It is important for men to have comfortable shoes that they can wear on a daily basis, for example, to work. Some of the most comfortable men's shoes are those which have wider toes, to allow the feet room to expand. It is always best to buy leather shoes, as the material lets feet breathe and has more give and flexibility. Brands such as Clarks and Hush Puppies are great for everyday wear. Hush Puppies Chelsea boots provide a smart look for work, and their cushioned interior ensures that they will remain comfortable throughout the day. Clarks Aston Mind slip on leather shoes are a popular choice with professionals. Their style is easy to slip off in the office and with their soft leather and range of fittings (including extra wide), they are the perfect comfortable shoe for everyday wear. They and can be found for an affordable price on websites such as eBay.
Think about Material
When choosing comfortable men's shoes, it is all about the material. Natural materials such as suede and leather allow the feet to breathe, and they also stretch and expand more over time, moulding to the individual's foot shape.
Synthetic materials are usually harder on the feet and do not stretch. This means that they can be less comfortable when worn for longer periods. Synthetic shoes with a cushioned leather lining can provide an extra level of comfort, but for the most comfortable shoes around, opt for leather and suede. There is a huge range of styles to choose from on eBay.
Accessories to Make Shoes More Comfortable
If shoes are pinching, rubbing or simply uncomfortable, there are accessories available to ease the pain. Here are some of the most popular accessories that will make shoes more comfortable:
Gel insoles
Gel heel pads
Gel toe pads
One of the most common issues with shoes is a torn or slipped lining. This can rub and cause irritation and discomfort. By having the shoe lining replaced or buying insoles for the shoes, they can become comfortable again. Insoles can also help to make shoes fit better, which in turn will prevent slipping and rubbing.
How Buy the Top 10 Most Comfortable Men's Shoes on eBay
The best place to find the top 10 most comfortable men's shoes is on eBay, where there it is possible to find some great deals on men's shoes. Click on the drop-down menu 'Shop by Category' at the top left of the page next to the main logo. A category list will open up, and under Fashion click on Men's Shoes. You can now select the type of men's shoes desired from the menu at the side of the page, or specify a brand such as Clarks.
Because there is such a wide range of men's shoes to choose from, finding the most comfortable pair can be a real challenge. But by narrowing a search using certain terms it is easy for men to find something specific. Just type the words related to the search such as 'Hush Puppies Loafers' into the search bar, and a list of available items will appear.
Conclusion
Because men spend such a lot of time on the go, their shoes need to be durable, practical and comfortable. Finding the most comfortable shoes is easy provided men remember to shop for shoes made from leather or suede, which let feet breathe and expand to fit. It is easy to find a wide range of shoes from different manufacturers online, and eBay has plenty to choose from to suit all tastes and budgets.
Whether you are heading off on a hiking trip, spending the day at work or taking the weekend off to relax, there are comfortable men's shoes available on eBay to suit every need.