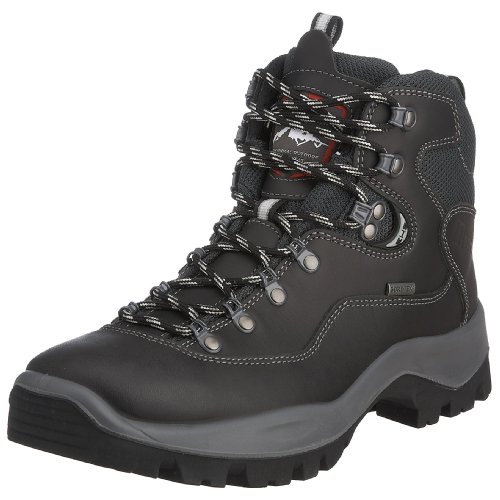 There is a shoe and boot length to suit every man's foot, but footwear width is a different story. The majority of all manufactured footwear has a width standard that is proportional to the average foot. Those with wide feet often struggle to find footwear that is a comfortable width. Worse still, some feet are wide with very low arches. Others are exceptionally narrow but very long. In scenarios like this, many go through life never experiencing properly fitted footwear and have to compensate with inserts and orthotics.
eBay has a good selection of footwear for men with wider than average feet. By knowing which brand names carry boots for wide feet, a customer moves a step closer to matching his feet with his boots.
Boot Width Sizing
Boots are sized according to length, width and depth. However, many customers only consider the length when choosing their boots. This is partly justified because as feet grow in length, they also grow in width and depth. However, this logic is limited because individual cases testify that people's feet develop according to many different proportions.
In some countries, boot widths are measured according to a lettering system. For men, narrow width boots are indicated by the letter B, medium is D, medium wide E, and wide 2E. Those with extra wide feet require size 4E, and it is this size and above that can be difficult to track down. In Australian standards, there is no such measuring system for boot widths. Instead, a half size increase denotes extra width rather than length. Only full size increments denote a length increase. Unfortunately, this system does not cater to those with extra wide feet.
When shopping for wide fitting boots on eBay, a man may find boot measurements according to several different sizing systems. If purchasing from an overseas manufacturer and seller, the customer must not only know his size in his chosen brand; he also needs to accurately convert their boot sizing system into that used in his own country.
Sizing Guide
There is a great deal of letter system variance even among companies that use this method to denote boot widths. The below sizing chart is therefore only a general guide as it refers to a commonly understood system used by the U.K. company Bournemouth Footwear. Yet this is by no means a universal one. The numbers denote shoe size (based on foot length) and the circumference of the widest part of the foot, measured in millimeters.
| | | | | |
| --- | --- | --- | --- | --- |
| Shoe Size | Wide | Extra Wide | Extra Wide & Extra Deep | Extra Wide & Extra Deep Plus |
| | 234 | 238 | 256 | 264 |
| 7 | 240 | 244 | 262 | 270 |
| 8 | 246 | 250 | 268 | 276 |
| 9 | 252 | 256 | 274 | 282 |
| 10 | 258 | 262 | 280 | 288 |
| 11 | 264 | 268 | 286 | 294 |
| 12 | 270 | 274 | 292 | 300 |
| 13 | - | 280 | 298 | 306 |
| 14 | - | 286 | - | - |
Australia uses the U.K. measurement standard for men's footwear sizing. Customers should note, however, that boot depth measurements are not as commonly given as width. Men who choose extra wide boots may or may not gain extra depth. In this case, they should query the depth measurement with their seller once they have conducted an accurate measure-up of their own feet. When taking measurements, a customer should wear the type of socks they intend to wear with their boots.
Boots for Wide and Extra Wide Feet
Boots made for extra wide feet are in limited supply because demand is small, but for those with only moderately wide feet, the options are much broader. Some manufacturers are known for producing boots for wide feet, such as Hitchcock, Rockport, Caterpillar, Brahma, Hunter, and Redback. Below are a list of some of the best boots for wide feet.
1. Hitchcock
Hitchcock is one manufacturer that caters for men with extra wide feet. Their wide-fit boots are perfect for those whose feet exceed the average width by two or more sizes. Hitchcock is an English company whose wide-width boots are available in wide (2E), extra wide (4E), and double extra wide (6E). The wide fit range are available in dress boots, casual wear, trail walking, and rubber pull-ons. Some Hitchcock boots are made especially for cold winters and are shearling lined for thermal insulation.
2. Dunham Addison
The Dunham Addison is manufactured by New Balance. Many of their boots are exceptionally wide-fitting, with some of the largest width ranges available anywhere. These go from a narrow (B) through to a double extra wide (6E). Along with the Hitchcock, the Dunham Addison would be an excellent choice for those with extra wide feet.
3. Irish Setter
Irish Setter produces a combination of casual, hiking and snow boots. Their standard width size is D, followed by medium wide (E), and wide (EE). They offer a wide fit in most of their range, which makes them a highly sought after item. They also make very stylish and tall knee high boots.
4. Steel Blues
Steel Blue boots are known to be some of the widest manufactured Australian boots. Steel Blue specialise in work and safety boots, but they also make hiking footwear. These boots are made to fit men with moderately wide to wide feet. Only those with extra wide feet should choose a pair a half size up.
5. Redback
Redback are another Australian made workwear company whose boots tend towards a wide fit. This is especially the case in the Redback Alpine and the Redback Everest UEPU. All Redback boots are made for tough conditions and are available in multiple varieties to suit specific applications. These include boots for general purpose work and safety, as well as for emergency services.
6. Rockport
Rockport makes wide fitting and very comfortable boots. They gear their boots towards a casual and outdoor/hiking market. Some examples of especially wide Rockport boots include the Rockport Final Approach hiking boot and the Rockport Spruce Lodge casual boot.
How to Buy Wide-Fitting Boots on eBay
If you wish to purchase your boots on eBay, you must first of all measure the length, depth and width of your feet according to a prescribed method. When you know your foot measurements, search for your preferred boot type with a specific search such as "Redback Everest UEPU", or make a general search according to brand, such as "Irish Setter". After gaining all the information you can from each applicable listing, particularly as pertains to item specifications and returns policies, contact each seller for more information if you still have questions, such as boot depth.
Ensure that you feel confident in your chosen item before you commit to buy. Check your designated seller's eBay reputation by noting their customer feedback score.
Conclusion
Having non-standard feet dimensions remains a bugbear for many men who struggle to find boots that fit. However, there are many good online options these days that cater for those with wider than average feet. The listings on eBay and eBay deals change continuously, so it is always worthwhile to check for updates periodically.
Although men with moderately wide feet can now easily find their size online, it is not quite so straightforward for those with exceptional proportions. Such men should source their footwear from those manufacturers who are committed to providing quality footwear for the extra wide boot buying market. In so doing, they secure for themselves a boot they know they can wear with comfort and replace with ease.
boots|men's boots|men's wide boots|extra wide|double extra wide