Monitor arms and stands support computer
monitor
s in a variety of ways. There are clamping, mounting, or freestanding stands and arms to choose from, as well as those which support single or multiple monitors. Those shopping for a monitor arm or stand should know how many monitors they will use, if they want the option of using the stand with a laptop, the weight to be supported, measurements of the screens, and functional features needed. Explore the top 7 most popular monitor arms and stands in this guide.
1
Brateck LCD Monitor Table Stand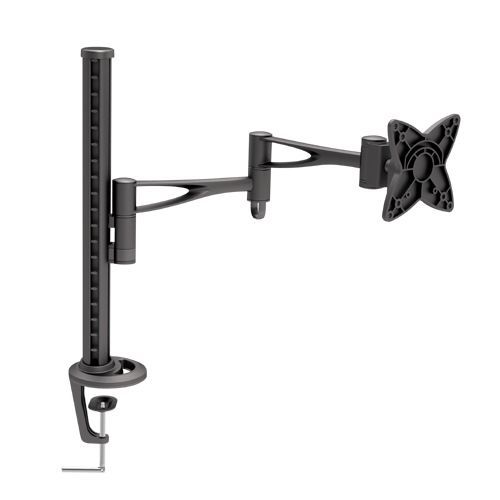 Clamping to a desktop or table, the Brateck LCD Monitor Table Stand can hold a single 13 to 23 inch monitor weighing up to 15 kg. The movement of the arm is what makes this stand so popular, as it can swivel 180 degrees and rotate a full 360 degrees. Adjustable for height and depth, the arm can be folded flat or extended 440 mm.
---
2
Kensington SmartFit Spin 2 Monitor Stand Station
Computer users with limited workspace will find the Kensington SmartFit Spin 2 Monitor Stand Station fulfills several needs with its small 300 mm wide and 260 mm deep design. The stand is not attached to the work station, allowing it to be transported easily. Visible storage is built into the bottom of the stand, which can be spun around for complete access. The height can be adjusted and it holds a monitor weighing up to 18 kg.
---
3
Flo Monitor Arm
Flo creates a variety of monitor arms, but the single-screen Flo Monitor Arm is the focus here. Having won multiple awards and recognized as a top pick across the world, it is compatible with a monitor, tablet, or laptop. It clamps to the surface and uses a 3-point cable management system. Known for its ergonomic design, it can be adjusted to a variety of heights and angles.
---
4
Fellowes Monitor and Laptop Stand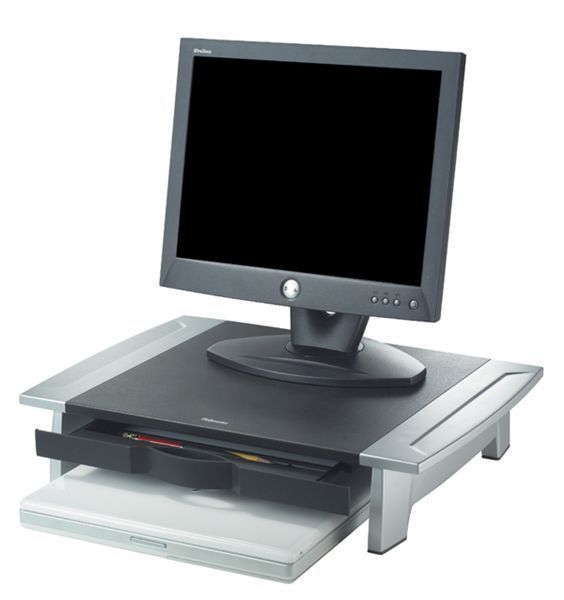 This is a unique monitor stand that can accommodate a desktop monitor or a laptop, has a storage drawer, and an arm for holding documents. Users who want a stand and arm combination that can serve multiple functions will be pleased with the versatility of the Fellowes Monitor and Laptop Stand. The height can be adjusted at 5 different levels, ranging from 101 mm to 165 mm. Laptop users can even tilt the stand, and store the laptop or other small electronics underneath the stand.
---
5
Ergotron Neo-Flex Extend LCD Arm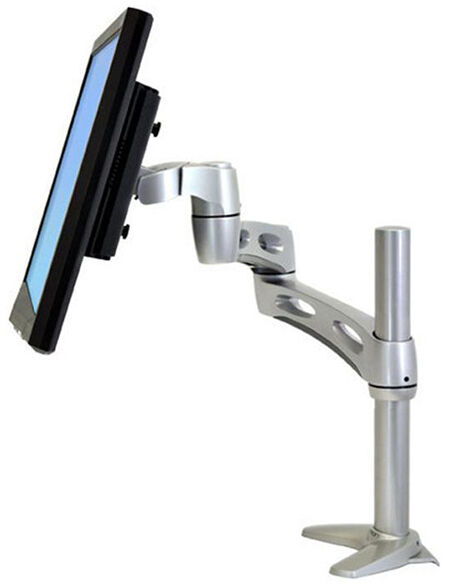 Featuring three points of movement, the Ergotron Neo-Flex Extend LCD Arm clamps to a work surface and offers an impressive range of motion. It can extend forward 490 mm, adjust up to 424 mm high, and hold a monitor weighing a maximum 8.16 kg. It can also rotate or pan a full 360 degrees, and tilt up to 80 degrees. Users can even install select sections of the arm when the full range of movement is not needed.
---
6
Brateck Dual Horizontal Monitor Stand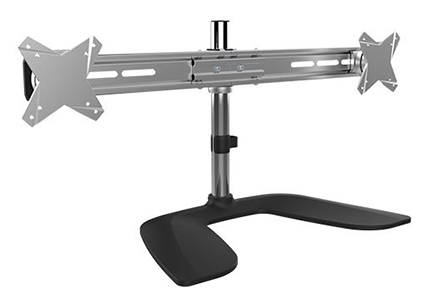 The free-standing Brateck Dual Horizontal Monitor Stand is a top choice because it can be used anywhere without having to clamp or mount. Its durable design can accommodate two horizontal monitors on a crossbar stand, weighing up to 8 kg each. Fitting two 13-27 inch screens, the stand can adjust for height and tilt.
---
7
Chief Kontour Dual Dynamic Desk Clamp Mount
Chief Kontour computer monitor stands and arms are known for their aluminium design which adds to the aesthetic and durability (each arm can hold 11.3 kg). The Dual Dynamic Desk Clamp Mount can be used to hold monitors horizontally, vertically, or both. Heights can be adjusted for sitting or standing work stations, and the quick release mechanism makes it easy to change out monitors.
---
Clearly there are monitor stands and arms to fit a wide range of use, as can be seen in this guide. Whether wanting the stationary stand of a crossbar or the flexibility of an extended arm,
computer
users will find the support and functionality needed in this list.