This guide is a basic introduction to Ball Jointed Dolls (BJD) for first time buyers. I will refer to dolls from Volks Inc. constantly.
Recently people are fascinated about new types of dolls like Blythe and Pullip, but the ball jointed doll (BJD) is the most popular. As its name suggests it has spherical joints at the arms, legs and also at the back. This structure enables it to move naturally like a human body and thus, most closely resembles a real human being.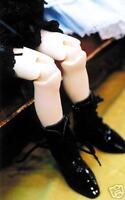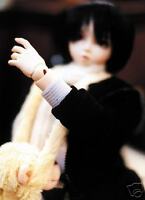 BJD was first designed as an art by Hans Bellmer, a post-realism German artist, and produced for market by Volks Inc. Nowadays, they are mainly produced by Japanese and Korean companies. BJD are not common in Australia but thanks to ebay so that we can have a chance to own one. However, the dolls are extremely expensive, because they are hand-made. That is why each has its own peculiarity and differs from other doll. Such uniqueness makes the price go much higher.
Volks (Japan) as the creator of BJD, they offer a wide range of finished dolls and parts for customising.
Finished Dolls
The most famous finished dolls of this company is the Super Dollfie (SD). Dollfie is hybrid of 'doll' and 'figure' and has a novel posing flexibility. SD are around 57cm tall and can be easily priced over $1000. A smaller version is the mini Super Dollfie (MSD). They are about 42 cm tall with lower price of $500+. Their bodies are fashioned after that of a typical teenage child. Some MSD come in assembly kit that means you have to build up the doll yourself. Basicly you have to join the articulated parts together with tools and apply makeup (or faceup as some people call it) to them if necessary. The Volks limited edition dolls are very hard to obtain. If any limited edition dolls are offered on ebay, they will be very very expensive.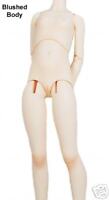 Finished dolls are not always perfect. Sometimes extra services are necessary to make it more like a real person. One example is customised makeup. Finished dolls often come to you with minimal makeup. You can demand your ideal style at extra costs ($50-$80+). Another service is seam line removal. This means the body will be sanded and covered with a special spray so that the body becomes smoother and seamless. The most demading seveice is full body blushing. It adds shades on joints (ankles elbows etc.) and nipples to achieve a cubic effect on overall body. This service is usually ordered together with seam line removal (around $130 together) . If you are buying a finished doll on ebay, make sure you ask the seller what service has been done because little extra makes big differnce in its value.
22/27cm Dollfie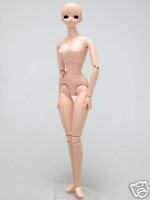 The company also offer 22/27cm dollfie parts for customising. These aparts include different types of bodies, heads, eyes, eyelashes, wigs or even different hands and feet.Some famous product are Dollfie plus base body (for 27cm figure, ie. barbie size) with extraordinary flexibility, EB Beauty (27cm) with beautiful smooth feminine bodylines and Elegant Collection with seamless bare skin. These bodies are offered in pale white, normal and tanned skin tones. You can match these bodies with optional heads, acrylic eyes, eyelashes and wigs to create a unique look.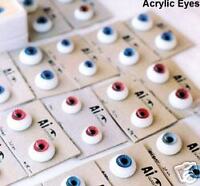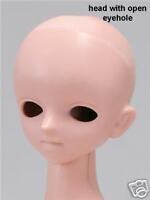 Acrylic eyes size 6-8mm and wig size 4 (Dollfie Plus wig) are perfect for 27cm dollfie. Some head such as dollfie plus head 1 and 2 and dollfie option head 3,4 and 5 with eyeholes has head cup that can be opened, so that you can fit acrylic eyes in with glue or eye putty. Other head (skin head) has no eyeholes so you have to paint yourself.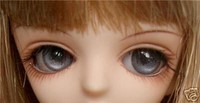 The most fun part is applying makeup to the dolls. They are often called 'faceup' because doll lovers take the faceup from just being makeup to being a piece of art. The common tools used for faceup are acrylic paint or airbrush and chalks. The colour will then be sealed with clear gloss and matt sealer to prevent it from fading.
Dollfie Fashion
These 27cm figures are so popular because they share their wardrobes with lots of other very popular dolls such as barbie, momoko or even blythe and pullip (can't share hats with blythe and pullip though as they have huge head :D). The styles available for your BJD vary just as greatly as the fashions you see in shops for people. Everything from tops, pants to lingerie, socks to belts, purse or even tattoos. Items are manufactured by diverse companies and professionals. These items cost no less than those of humans' and look just like them, too. There are cheap clothes with poorer quality for sale as well. However, I won't have my daughter wrapped in poor quality roughly tailored cloth. I'm not saying cheap are bad but it's wise to communicate with the seller about the quality of the material. To add more more fun you can customise an one off style outfit for your doll yourself. There are lots of books on doll fashion designing on ebay.

Final Suggestion
BJD are produced by other Korean based companies such as Luts with its famous Delf dolls, Dollmore with the exceptional large and beautiful 70cm model dolls, and many others. For first time buyers of BJD I encourage you to have a search on ebay and find out what are offered. Start with a small investment. You can buy a 27cm volks dollfie body (ranging from $30 to $60) first then hunt for a customised matching head with faceup ($50 to $100+), wigs ($10 to $35) and perhaps acrylic eyes as some heads do not include eyes (around $10) and finally dress it up with your favourite barbie fashion. This will keep your cost at minimal but still give you a OOAK (One Of a Kind) darling daughter. So start off and create your own BJD!