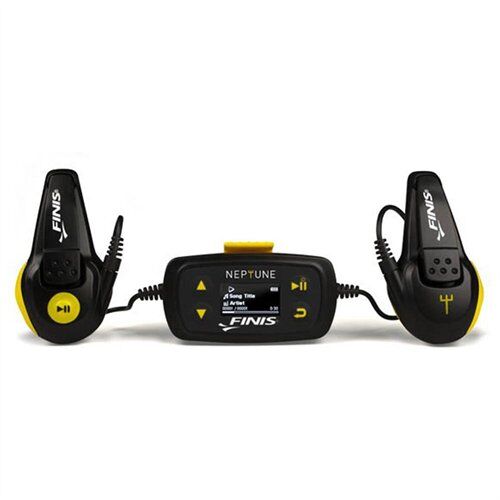 MP3 players are not just for walkers, runners, and other dry land athletes. Swimmers can enjoy their favourite music while in the pool as well. Waterproof MP3 players make it possible for a swimmer to enjoy his or her favourite tunes while doing laps. While the selection for waterproof MP3 players is limited in comparison to regular MP3 players, there are several makes and models to choose from. All models differ in terms of how they look, operate, and fit. So shoppers need to take the time to analyse the various options and features available before making a decision. When buying a waterproof MP3 player, a shopper needs to understand how the device operates, what to look for in terms of features, and how to compare top brands.
How Waterproof MP3 Players Work
Waterproof MP3 players work in the same way as other MP3 players. The music is loaded onto the hard drive of the device and the user can then carry all of his music with him. Unlike other MP3 players, waterproof devices can be taken places other MP3 players cannot go, like the water. In order for them to operate in the water, the internal working parts are made to repel water. Additionally, the outer case or cover of the device is watertight to prevent water from getting inside the device in the first place. These MP3 players often have built-in headphones to reduce the amount of connections or openings where water can enter. Because so many brands are available, it is important for shoppers to inspect the music player to see how the waterproofing works and how well it works. As with all other products, some devices work better than others. A shopper should not invest in an MP3 player that does not offer an adequate level of waterproofing for his needs.
What to Look for in an MP3 Player
A waterproof MP3 player has the same function as any other MP3 player: to play music. Thus, it is important for shoppers to consider other factors in addition to its level of waterproofing. The table below lists the features that shoppers should take into consideration and what to look for.
| | |
| --- | --- |
| Feature | What to Consider |
| Storage Capacity | Space available to store music files; ranges from 2 GB to 8 GB or more; larger capacity allows a person to store more music files at once |
| Connectivity | How the device connects to the computer; most common is USB or wireless connectivity; must ensure the device is compatible with computer before purchase |
| File Types | Some music players use file types other than MP3; shopper should inspect device to make sure it is compatible with music files on the user's computer |
| Software | Programme used to organise and transfer song files to the device; must be compatible with user's computer; should be easy to use |
The biggest issue to consider is one of compatibility. The way the device connects to the computer, the types of files, and the software used should all be compatible with the user's computer. Otherwise, the user is left with no way to move the songs onto the device and use it.
Types of Waterproof MP3 Players
While there are several waterproof MP3 players on the market, some are more readily available than others. A shopper should take the time to learn about the different types available to ensure that he selects a device that suits his needs. Reading reviews, asking friends, or even getting opinions online from venues like eBay forums can help a shopper come to a well-informed purchasing decision.
WaterFi iPod Shuffle
This device looks like a standard iPod Shuffle, but it is not. All the internal parts have been waterproofed so that the device can function underwater. The clip on the iPod Shuffle makes it convenient for strapping onto a pair of goggles for swimming. This MP3 player uses iTunes software, so people who have other Apple devices do not need to download new software. Additionally, the WaterFi iPod Shuffle can sync to other iTunes playlists so that a user does not have to spend time reorganising and choosing songs to listen to.
Dolphin Touch
The Dolphin Touch MP3 player is roughly the size of a roll of coins, and attaches to the goggles on the side of the user's head. The bands used to secure the player to the goggles are harder to put on and remove when compared to the iPod Shuffle clip. A lock on the Dolphin Touch ensures that the user does not accidently press buttons when in the water. A user must be sure to secure the headphones tightly into the port or the device is not fully waterproof.
Finis SwiMP3
Finis SwiMP3 uses different technology than other music players. Rather than needing to wear headphones to hear the music, the SwiMP3 uses jawbone conduction. The sound resonates through the wearer's jawbone, allowing him to hear the music just as clearly as if he were wearing headphones. This is the ideal choice for people who need to wear earplugs in the water. Because this MP3 player has no headphones, the SwiMP3 has fewer wires to deal with and is easy to clip onto each side of the swimmer's goggles.
Waterproof MP3 Player Accessories
When purchasing waterproof MP3 players brand new, many come bundled with accessories such as cases and earphones. However, when purchasing used waterproof MP3 players, buyers are more likely to just get the devices themselves, without any accessories. For this reason, it is important for shoppers to look for waterproof accessories that they may need to use their MP3 players in the water.
Earphones
Many types of waterproof earphones exist, and they come in all shapes and sizes. Most of these are in the form of earbuds that sit inside the ear instead of headphones that have a large strap that fits over the head. Earphones should sit securely in the ear so that water cannot enter and become trapped in the ear. Additionally, this ensures better sound quality when used underwater. Shoppers should look for earphones that have tips with different sizes as the sizes of ear canals vary from person to person.
Waterproof Cases
A waterproof MP3 player has its own waterproof housing. People who do not need waterproof MP3 players for swimming or to be completely submerged in water may consider a waterproof case. Rather than buying a new device for listening to music, there are waterproof cases that offer protection to MP3 players or other audio devices that may come into contact with water. With these cases, users can use standard or waterproof headphones to listen to music. While it is not recommended for swimmers, a waterproof case is an option for people who want to use their audio devices around water without risking water damage.
How to Buy Waterproof MP3 Players on eBay
If you are looking for deals on waterproof MP3 players, then you should be sure to browse the selection on eBay. With private sellers from all over the country offering MP3 players for sale, you are sure to find one that suits your needs as well as your budget. Start your search by entering keywords into the search bar on the main page to describe the MP3 player you want. Try to be specific to ensure that the local search engine only returns relevant results. For example, be sure to search for "waterproof MP3 player" instead of just "MP3 player". From there, you can narrow the results based on the brand, cost, condition, and other options. Be sure to take the time to look at the pictures posted by the seller as well as read the description of the MP3 player. This ensures that you know exactly what you are buying. Many sellers offer prices that are much lower than retail, but to save even more money, you should look for sellers who offer free postage.
Conclusion
Waterproof MP3 players make it possible for people to listen to their favourite music in and around water without having to worry about damaging their electronic music players. Shoppers are limited to just a few brands and models of waterproof MP3 players, but fortunately, they do differ in terms of features. This means that a shopper can find an MP3 player that meets his needs. In order to find the right model of waterproof MP3 player, a shopper should first understand how waterproof MP3 players work. From there, he can analyse the different models to find the one that fits comfortably and provides the best audio quality. Because a waterproof MP3 player is still an MP3 player, a shopper also needs to make sure that the device he chooses is compatible with his computer. Shopping for and comparing different waterproof MP3 players is simple when shoppers browse the selection on eBay.
waterproof mp3 player|mp3 player|earphones|waterproof case|music player