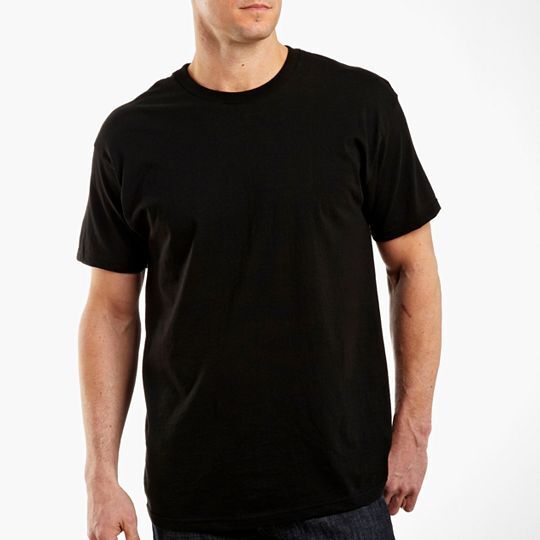 Hanes is a leading manufacturer in T-shirts and other clothing merchandise. Many people choose Hanes T-shirts for their versatility, but there are other reasons that have made it the brand of choice for so many years. eBay has an extensive range that makes it one of the most frequently visited online markets for T-shirts.
Some people are highly attached to their T-shirts and have no reason to part with their collection. Others have a rather dishevelled collection that may be all but worn out. Hanes produce plain and decorative T-shirts that may be worn as underclothing or outerwear. They provide the ideal replacement as they can be purchased so cheaply. If you would like to take advantage of the affordable clothing on eBay, all you need do is order your size.
Hanes T-shirts for Everyone
Hanes manufacture an extensive of clothing, not just T-shirts, but also other attire for men, women and children, including sleepwear, sportswear, underwear and lingerie, hosiery, camisoles, socks, fleecy tops and bottoms, and thermals. As for Hanes T-shirts, they are available in all sizes for children, men, and women, and are commonly available in large department stores. However, there is also a great range of Hanes T-shirts and other items on eBay. For the sake of comfort, many Hanes T-shirts are made tag-free.
Hanes T-shirt Fabric Types
Hanes T-shirts come in cotton and polyester fabrics. You should choose your preferred fabric type according to how you intend to wear the T-shirt. Cotton is recommended for general purpose use, but moisture wicking polyester may be advantageous for sportswear.
Hanes Cotton T-shirts
Hanes Cotton T-shirts represent the most popular choice, and are the most suitable for general purpose wear. One hundred percent cotton is a breathable fabric, and so often the most comfortable. That is why cotton is the classic fabric of choice for T-shirts, and accounts for the vast majority of all T-shirts manufactured.
Hanes Polyester T-shirts
Hanes Polyester T-shirts vary according to how they are manufactured. Being a synthetic material, polyester traditionally breathes less than cotton, making the fabric a less comfortable option than cotton, as perspiration is not absorbed. However, some polyester fabric is manufactured for its breathable moisture wicking qualities, which is more effective in keeping the wearer dry than conventional cotton T-shirts. Hence, this type of polyester T-shirt is the preferred fabric for sportswear, overtaking 100 percent cotton T-shirts, which take longer to dry.
Hanes T-shirt Styles
T-shirts may have short or long sleeves, and be a V- or crew neck. Hanes produce all of these so that you can choose the best type for your own needs. The T-shirts are cut for both slim and relaxed fit. They also vary in cotton weight, so some T-shirts are more durable than others.
Short Sleeve
The short sleeve Hanes T-shirt is the most typical format, and represents the majority of T-shirts on eBay. They are commonly worn under other shirts as an alternative to singlets.
Long Sleeve
The long sleeve Hanes T-shirt can be worn on its own or under a shirt. The slim fit variety can be worn as a skivvy, with the closer fit providing extra warmth.
Crew Neck
Crew neck is the most popular neck type and represents the style that is traditionally associated with a standard T-shirt. They can be worn as either outer or under garments. They are available in both short and long sleeves.
V-Neck
The V-neck can make a smart alternative to the crew neck and when worn as outerwear can dress up the look. Both the long and short sleeve variety make great undershirts if needed for warmth underneath an outer shirt. As with the crew neck, they may be worn in addition to or instead of a singlet.
How to Choose a Hanes T-shirt
Choose your style of Hanes T-shirt according to taste, as it is ultimately a matter of personal preference. However, when buying online, you do need to know your size as you cannot try it on. Sizes vary from brand to brand, so you need to know what size you are in Hanes T-shirts. It is recommended that you either try on a Hanes T-shirt in a brick and mortar shop before ordering online, or measure up your own size with a tape measure and the assistance of another person, and compare it to the manufacturer's own size chart.
Finding Your Size
If you are purchasing a Hanes T-shirt on eBay, the size you should choose depends on the type of T-shirt you want. The T-shirts most prone to shrinking in the wash or when drying are lightweight cotton T-shirts. If you purchase one of these, it is often best to choose one size up from your usual size to allow for shrinkage. If you choose a Hanes Beefy T-shirt, you can choose your own size, as this T-shirt is made of a heavier weight cotton that should retain its original size if properly maintained. You can also choose your normal size if purchasing a polyester T-shirt, because synthetic materials retain their original size and shape more successfully.
Use the following sizing charts to guide your size selection. These sizes refer to the widths and lengths of the T-shirts themselves, not the actual body width and length of the wearer. They are for regular fit 100 percent cotton short sleeve T-shirts in men's sizes.
| | | |
| --- | --- | --- |
| Men's sizes | Width (cm) | Length (cm) |
| Small | 46 | 71 |
| Medium | 51 | 73 |
| Large | 56 | 76 |
| Extra large | 61 | 79 |
| 2 x extra large | 66 | 81 |
| 3 x extra large | 71 | 84 |
| 4 x extra large | 76 | 86 |
| 5 x extra large | 81 | 90 |
Use charts as a guide only. All sizes are in centimetres. Note that these charts do not give actual chest measurements.
How to Buy a Hanes T-shirt on eBay
If you wish to buy a Hanes T-shirt on eBay, you can enter a broad search, such as "Hanes T-shirts", or a more specific search such as mens Hanes T-shirts. You can also extend your search to include many of the T-shirts available on eBay deals. When you have found your size and style preference, compare it with similarly listed items. This may help you to make a more informed choice. Read all the information given carefully, and ensure your designated seller has a returns policy.
You should also check that the seller you intend to buy from has a good reputation on eBay. Take note of their customer feedback score and see if they have an eBay shop that can increase your shopping options even further. You can also look for sellers with a Top-rated Seller certificate, who have a proven long history of providing good service to a large number of customers.
Conclusion
There are many places from which you can buy Hanes T-shirts online, but eBay offers perhaps the broadest range of both new and used items for prices that are hard to beat. In addition to the T-shirts, eBay offers many other complimentary Hanes products to enhance your collection of casual wear. The versatility of Hanes T-shirts is key to their popularity. You can choose a slim fit polyester T-shirt that hugs your body and keeps you warm, making it ideal as an undershirt, or you may choose a relaxed fit cotton shirt that looks great with a printed design. Many people buy their T-shirts plain and screen print them later. Doing so enables you to transform something quite generic into something that is your very own.