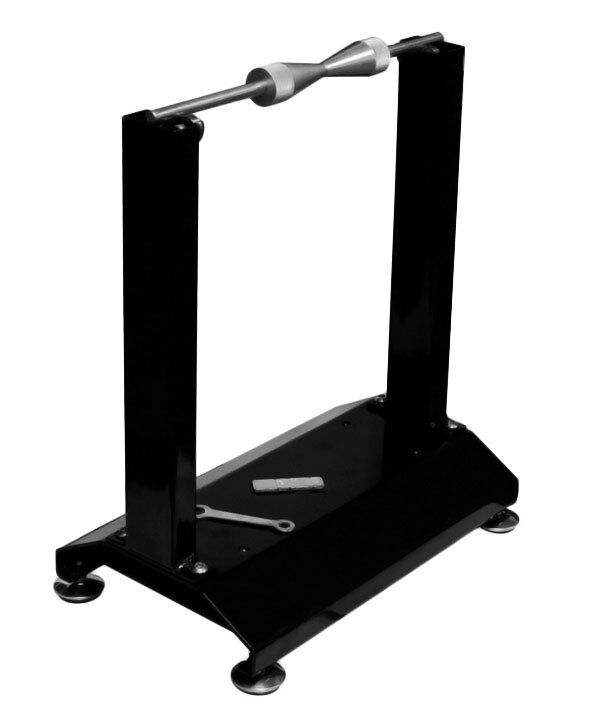 Balancing motorcycle wheels is an imperative part of motorcycle maintenance, helping maximise both performance and efficiency, and in turn, ride quality. Balancing the wheels also helps reduce wear and tear, improving the wheels' life expectancy. If the wheels are out of balance, motorcyclists may begin to experience pulling or drifting in addition to rapid or uneven tyre wear.
While many motorcyclists ask professional mechanics to balance their bikes' wheels, some like to perform the task themselves with the assistance of a motorcycle wheel balancer to drastically reduce the maintenance costs. When purchasing an affordable motorcycle wheel balancer at retailers such as eBay, buyers should consider the different types and understand the various aspects that help form a well made decision.
Types of Wheel Balancing
There are several types of wheel balancing, including static, dynamic, and permanent. When searching for a motorcycle wheel balancer, buyers should keep in mind the characteristics and features of each to help them form the best possible decision.
Static Balance
Static balance, or bubble balancing, implies the use of a machine with a bubble level to balance the tyre. This is the oldest type of wheel balancing machine. To avoid a dynamic balance, the machine operator must be highly skilled in this field. The tyre remains stationary during this process. Buyers on a budget should consider a static balancer, as it is an affordable option. However, static balancers are not nearly as accurate as dynamic balancers.
Dynamic Balance
Bike owners or mechanics can perform dynamic balancing, or spin balancing, whether the tyre is on or off the vehicle. During this process, the operator securely clamps the wheel onto the machine and sets the wheel dimensions. As the dynamic balancer spins the tyre in order to generate motion similar to what the wheel experiences on the road, it calculates the location and the amount of weight that it needs to apply to the rim to correct the balance.
Many people prefer this type of balancer and mechanics often use it in workshops because of the speed at which the machine can balance the wheel. In addition to speed, dynamic balancers require less input and are easy to use, even by those untrained in the field. On the down side, a dynamic balancer is more expensive than its static counterpart and necessitates greater maintenance and calibration. There are several ways to achieve dynamic balance. Operators can either use a clip-on lead weight, which is attached to the lip of therim, or shave rubber away from the tyre.
Permanent Balance
Although not as common with motorcycles as it is for long haul trucks, permanent balance is an option buyers can consider. Permanent balance consists of using either liquid or dry powder inside the tyre and external weighted balancing rings between the wheel and the hub. Wheel-mounted balancing rings are popular because liquid and powder wheel balancers can lead to clogged valve stems.
Wheel Balancer Comparison
Choosing the correct wheel balancer is essential for a motorcycle rider. By using the chart below consumers can easily see the different types of motorcycle wheel balancer available.
Types of Wheel Balancing

Characteristics

Tyre remains static while being balanced

Inexpensive to purchase

Not as accurate as other wheel balancers

Dynamic Balance

Can be performed with tyre on or off the bike

Tyre is spun to replicate how it rides on the road

Easier to use than other balancers

Permanent Balance

Uses liquid or powder inside the tyre

Uses weighted balancing rings externally
Using the chart above consumers can understand the types of wheel balancers available and their features.
Affordable Motorcycle Wheel Balancer Characteristics
There are many aspects to consider when searching for a motorcycle wheel balancer. These aspects include size, weight and portability, adaptability, and bearings. Keeping in mind these factors helps buyers locate a model that is within their price range.
Size
When searching for a motorcycle wheel balancer, buyers should consider size. Those who have a limited amount of storage space should opt for a wheel balancer that is compact, while those with plenty of garage storage space may decide on a larger model. Buyers should also keep in mind how often they plan on using the machine.
Weight and Portability
Buyers should keep in mind the weight of the motorcycle wheel balancer as well as its portability when selecting a device. If only planning to use the wheel balancer within the confinements of one's own garage, portability may not play a huge role in the decision-making process. However, those that plan on transporting their wheel balancer, whether to the races or to their friends' house, should opt for a model that is lightweight.
Adaptability
When searching for an affordable motorcycle wheel balancer, buyers should take into account the number of wheel mountings that the manufacturer offers. This helps ensure that the balancer is compatible with their model bike as many mountings are wheel specific. Buyers should also consider adaptability across models in the event that they decide to purchase a new motorcycle. This helps keep costs to a minimum, as buyers do not have to purchase a new motorcycle wheel balancer should they invest in a new set of wheels.
Bearings
When searching for an affordable motorcycle wheel balancer, buyers should consider the type ofbearings that support the axle as quality tends to vary. The bearings should be of a low drag design, yet protected from the elements. There are several types of bearings, including ball bearings, sealed bearings, and shielded bearings. Because sealed bearings have rubber wipers, they are better able to protect the bearing from water and dirt than ball bearings; however, sealed bearings produce drag and friction. On the other hand, shielded bearings use a steel cover on their sides to protect them from dirt. These bearings, however, do not generate any drag.
How to Buy a Motorcycle Wheel Balancer on eBay
Buying a motorcycle wheel balancer on eBay offers you a wide variety of choice in any price range to meet any specific budget. You can easily search for motorcycle wheel balancers by using eBay's keyword search. Alternatively, you can use eBay's advanced search function to limit your search by condition, price, or distance from seller location. Before you make a decision, you can also check the eBay Deals section, featuring the best prices of the day on motorcycle accessories. With so many motorcycle wheel balancers to choose from on eBay, you are likely to find an affordable option.