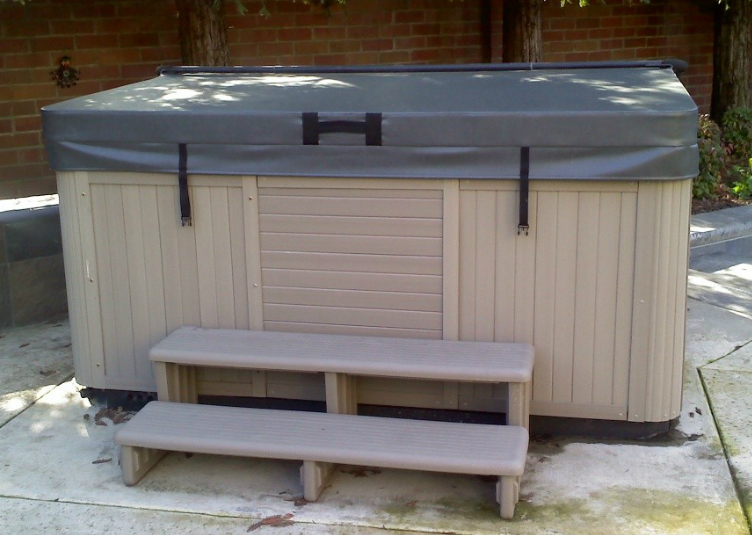 A spa, also known as a hot tub, is an excellent addition to any garden, and can offer the user a unique and invigorating way to relax. Spas use heated water and bubbles to perform hydrotherapy, and some have jet stream capabilities for massaging purposes. Although many people would love to have their own spa, many will find that this is not possible due to the expensive price.
However, buying a used spa is a smart way to circumnavigate this problem, and buyers who use eBay to search for a spa will find an unbeatable selection. This guide will explain the various factors buyers should be aware of when shopping for a used spa, and will explain how to find a suitable model on eBay.
Spas
Spas can be constructed from a number of different materials that are able to contain heated water without reacting to the temperature. Spas can be heated by a number of sources including electricity, propane or solar power, and it's a good idea to spend some time considering which of these power sources would be most suitable. Notable spa manufacturers include Onga, Davey, Zodiac and Bestway.
Types of Spa
Spas are categorised by the material used to construct the shell, and each material has its own advantages and disadvantages. All buyers are advised to buy a cover for their spa. Using a cover will insulate the spa and greatly reduce power costs. The following are the most popular shell materials.
| | |
| --- | --- |
| Cedar Spa | Wooden spas are made from cedar as this wood is very strong and naturally resistant to decay and moisture absorption. It's a good idea to search for cedar spas as these are made from natural materials, and are friendlier to the environment. The cedar wood is naturally smooth and has a distinctive and pleasant aroma. However, cedar is not as durable as synthetic materials, and it is not possible for spas made from this material to have integral seating. The cedar also requires regular maintenance to keep the wood clean and conditioned to the water. |
| Acrylic Spa | These are without a doubt the most popular spa option on the market, and can be found in homes across the world. As an acrylic spa uses a hollow shell, all the heating piping and mechanisms can be stored within the spa. The pipes and mechanisms can be easily accessed through panels in the side of the shell, and the shell itself is generally maintenance free. Acrylic spas are extremely durable, lightweight and are available in many models. However, acrylic spas can be quite difficult to install without the assistance of a professional, and as these spas are not very well insulated buyers may notice a rise in their electricity bills. |
| Fiberglass Spa | Fiberglass is an extremely strong and lightweight material, which is ideal for use in the manufacturing of spas. This material is extremely water resistant, and can be conformed into a variety of shapes including steps, seats and ledges. The shell of a fibreglass spa is constructed in once piece, reducing the likelihood of cracks or defaults. This material has excellent insulating properties, which means buyers will not have to use as much energy to heat the spa as they would with spas made from other materials. Buyers should be aware though that larger models can be quite difficult to move, and repairs will require professional assistance. |
| Steel Spa | Steel spas are common in households due to their low price and excellent heat absorption. Steel is an incredibly durable material, and buyers that purchase a spa made from steel will find that it is very long lasting. However, steel spas can have potential instability, and lose heat quickly if not continually powered. A steel spa is more suitable for use in warmer climates. |
Used Spas
Buyers may be put off by the idea of purchasing a used spa for a number of reasons. They may be concerned about the condition of the spa, and how long the parts will last for. Although these are noble concerns, most buyers will find that used spas sold on eBay are in excellent condition. However the main thing to be concerned about is the shell of the spa. The shell needs to be in good condition or it's going to cost a lot of money to repair or replace it. Buyers who are handy with tools and plumbing should have no problems fixing motors or pumps that break down.
Buyers need to check the 'Description box' on the item page of a spa listing for details regarding the condition of the spa. They should also visually inspect any photographs of the spa and should look for things like rusted parts or cracks in the shell. Additional information and photographs can be requested using the 'Ask A Question' feature, and it's also advised that buyers check the seller's history, and avoid those that have large percentages of negative feedback.
Purchasing Used Spas on eBay
eBay has an unbeatable selection of new and used spas, and products sold on the site are done so at much lower prices than those found in home department stores and on spa retailer websites. As with all items bought on the Internet, it's a good idea to spend some time beforehand researching into different spas and reading customer reviews. This will give the buyer a good idea of what it is they are looking for, and will speed up the browsing process. Once buyers have an idea of what they are looking for, they should log onto eBay.com.au to begin their search.
· Once the home page has loaded up, click on the Home & Garden heading found to the left of the search bar.
· Next, scroll down to the Outdoor Living tab found towards the bottom of the page, and when the drop down menu has opened up click on the Pool, Spa, Beach title.
· Buyers should next click on the Spas link that is found towards the bottom of the 'Categories' table on the left hand side of the page. This will load the Spas listings page, and from here buyers can begin a search for a suitable spa.
· The next thing to do is scroll down and click on the Used filter found under the 'Condition' heading. This will list used spas only. Buyers can then proceed to type the name of a specific brand or style of spa into the search bar and press enter.
· The eBay Deals section of the site contains a number of spa and pool related products for sale at reduced prices, and it's always a good idea to check these items out. To do so, simply click on the Deals link found at the top of every page, followed by the Backyard title within the Outdoor tab.
Conclusion
Buying a spa can provide the occupiers of the home with a relaxing and soothing way to unwind after a long day. Spas are specifically designed to utilise hydrotherapy to help calm the user, and a number of spas can massage via jet streams. However, for the majority of people these products are too expensive to justify spending money on, and in this case it is advised that the buyer look for a used spa.
Used spas are sold at much lower prices, and most sold online are in excellent condition. Always remember to read the 'Description' box on the item page of a spa listing, and request additional information and pictures using the 'Ask A Question' feature.