Seller Hub
Manage, review and grow your business with one free tool.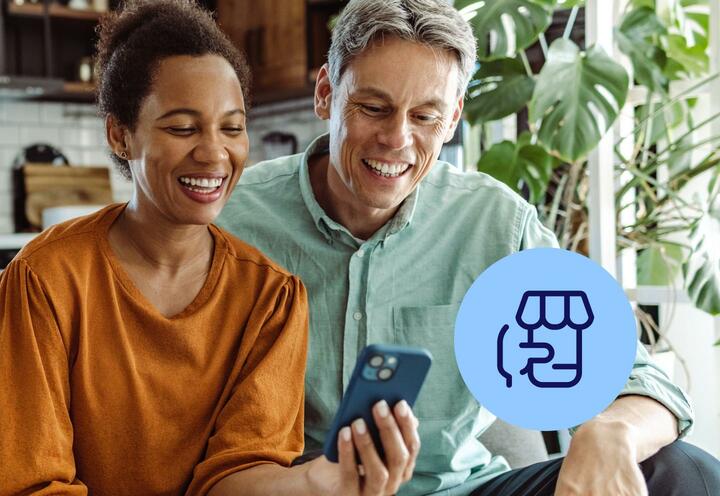 What is Seller Hub?
Seller Hub is the place to go for a full, updated view of how your business is performing. We've brought together all the tools and data you need to help you run your business more efficiently.

Manage your listings

– Find all the listing, reporting and order management functionality of My eBay, Selling Manager and Selling Manager Pro.

Monitor your business

– Create custom dashboards to track listing activities, sales, costs, traffic data and more.

View payouts

– If you're a seller whose payments are being managed by eBay, you can view previous payouts, see when you'll receive your next payout and check if you have any funds on hold.

Analyse business performance

– Receive personalised insights, and tips to improve your business.
The Seller Hub is organised by tabs so it's easy to navigate. Learn more information about each of these tabs below.
If you're not already, opt-in to Seller Hub now.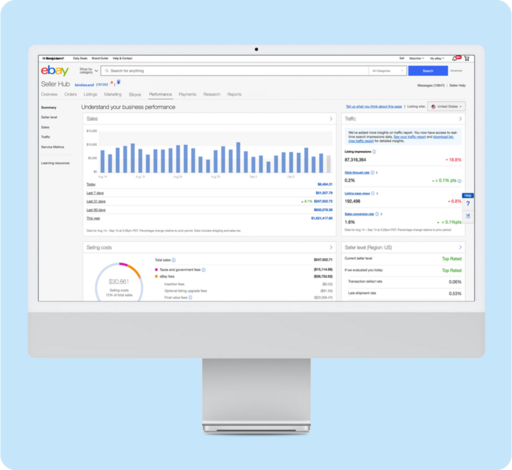 Overview tab
View a personalised snapshot of how your eBay business is performing. There are 15 modules on this page that you can tailor to display information that's most important to you.
Keep an eye on the 'promotional offers' section of the overview tab for any listing or selling offers you can apply to your business.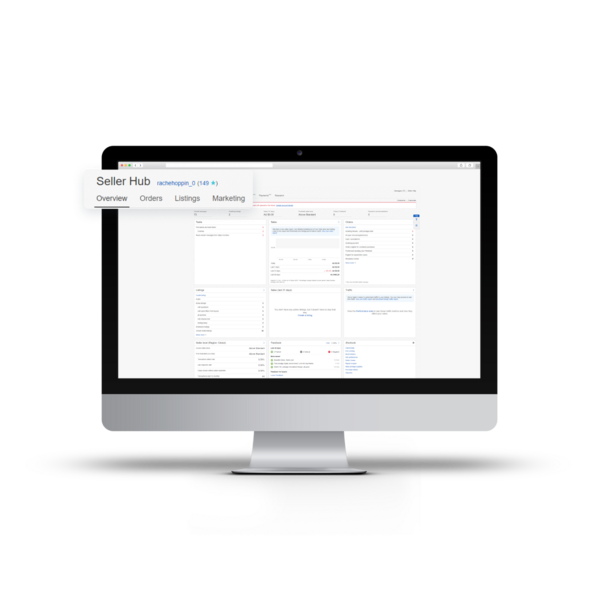 Orders tab
See all your selling activity on one screen. View orders within a specific time period or filter by:
Awaiting payment

Awaiting dispatch

Paid and dispatched

Cancelled orders

Return requests

Resolution centre requests
To edit a sold listing(mark it as dispatched or leave feedback, for example), tick the box beside the listing(s) and choose your action from the drop-downs.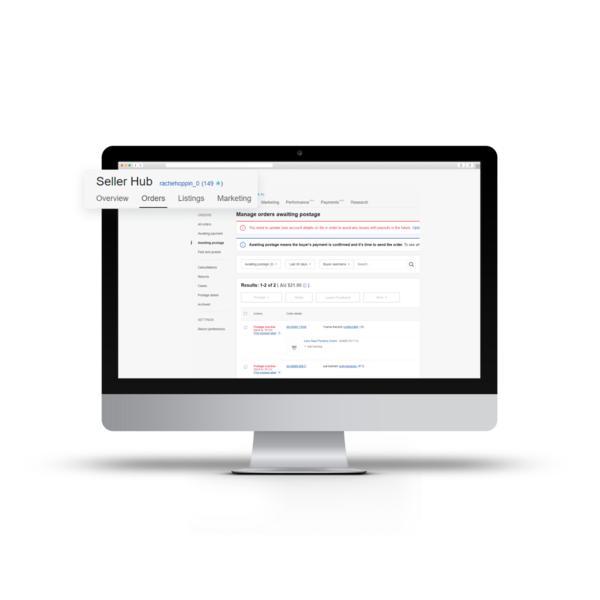 Listings tab
Our advanced listing tool helps you list your items quickly and easily. From the listings tab you can:
Enter all of your information into a new, streamlined listing form

Add photos directly to your listing

Easily add variations for multi-variation listings

Edit multiple listings at once for greater efficiency

Have up to 5,000 drafts or scheduled posts at a time
Note: Your draft listings will expire after 30 days if not published.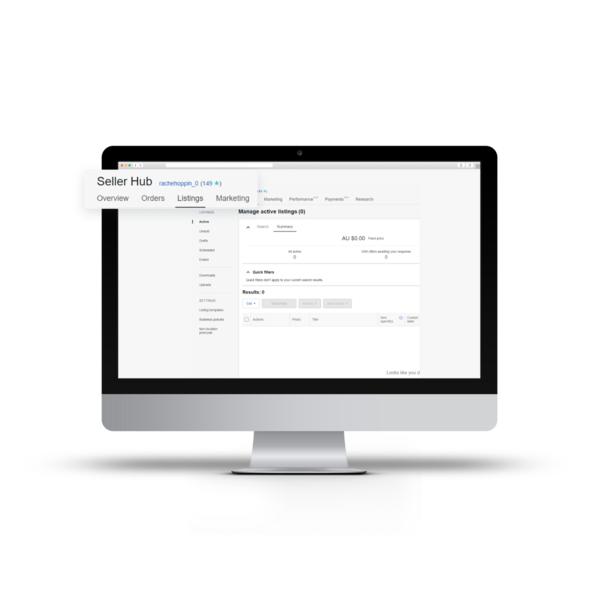 Marketing tab
Access and personalise your eBay Store, promote your listings and use our Promotions Manager tools.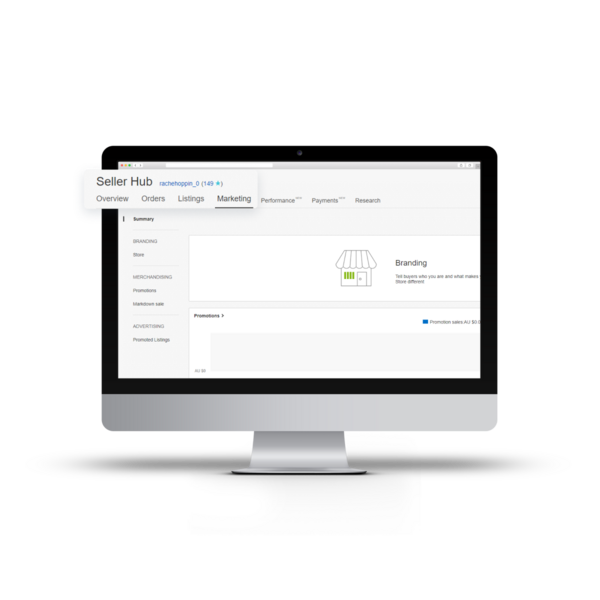 Performance tab
Dig deeper into your business performance with detailed analytics on sales, traffic to your listings and your current seller level.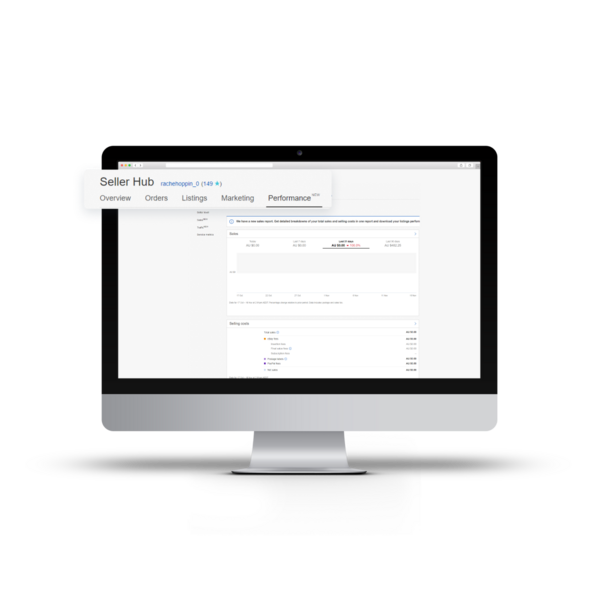 Payments tab
For sellers who have eBay help  manage their payments, the payments tab in Seller Hub is the  place your can manage your eBay payouts, expenses and transaction reporting. See your pending and available funds and change your bank details or payout schedule. Find more information on eBay managing payments.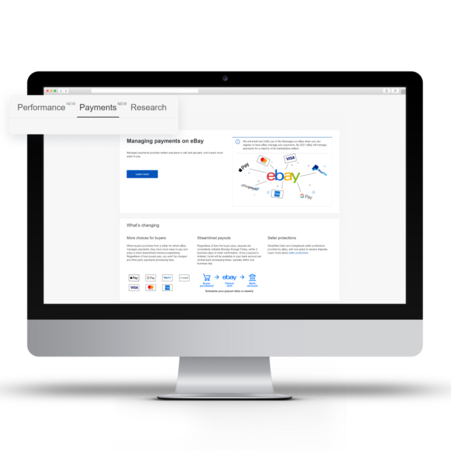 Research tab
All sellers have free access to a research tab with insights about what, when and how to sell on eBay, powered by Terapeak. With Terapeak Product Research, you can find out  what your competitors are doing, how they're doing it, and how you can improve your own listings on eBay.