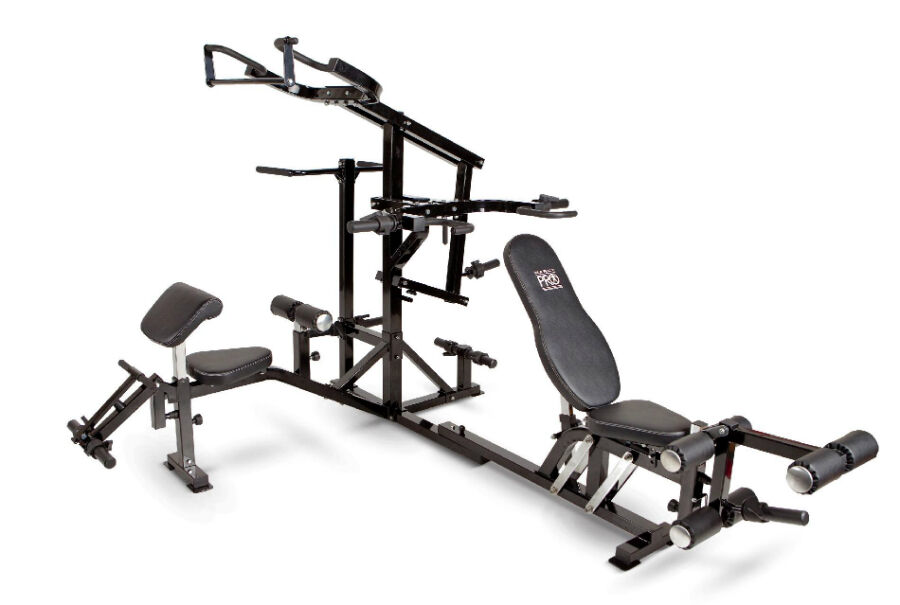 For those who hate working out at the gym, a multistation gym is a dream come true. Because multistation gyms contain various pieces of equipment in one machine, they allow the user to tone and sculpt different parts of the body without the need to buy separate machines. Popular with both men and women, multistation gyms are available from many leading fitness brands such as Powertec and Healthstream.
When shopping online on websites such as eBay, it is easy to find multistation gyms at reasonable prices, whether looking for a new or used machine.
10 Safety Considerations When Using a Multistation Gym
It is always important to consider personal safety when using any piece of workout equipment, and a multistation gym is no exception. Here are 10 safety considerations to bear in mind when using any multi-gym:
| | |
| --- | --- |
| Safety Considerations | Why Consider |
| Have a health check before exercising | For those new to exercising, it is essential to undergo a health check with a doctor before beginning a workout program, to ensure there are no underlying health problems. |
| Ensure the machine parts including the cable system are in working order | Carrying out regular checks on the equipment will ensure it is safe to use. As the cable system controls the weights, it is important to always check it is functioning properly. Spare cables can be purchased on eBay if required. |
| Try to purchase a multistation gym which has shrouds on the weight stack for protection | Shrouds covering the weight stack and moving parts will protect the user whilst working out, and also keep children's fingers safe from harm. |
| Read the instructions carefully to ensure the equipment is being properly used | Multi-gyms come with instructions for assembly and usage and these should always be followed to the letter. |
| Be careful during assembly of the multistation gym – ideally two adults should assemble the equipment together | Because the gym includes heavy weights and equipment, two adults should always be present during assembly for safety. |
| Ensure that the multi-station gym has been assembled correctly and is stable before use. | If the gym has not been assembled properly parts could come loose and cause injury. |
| Perform exercises slowly and carefully to avoid pulling muscles or causing injury | Lifting weights and doing resistance exercises should always be carried out slowly so as not to strain or pull muscles. |
| Increase weight and resistance slowly to avoid injury or strain | It can be tempting to add too much weight at once for fast results – a gradual increase is best. |
| Make sure the multistation gym is clean and free of grease or water that could cause a slip or damage equipment | A dirty multistation gym is not only unhygienic, but could also cause an accident. |
| If specialist clothing such as gloves for weights are included always wear them | Some people like to wear gloves for weightlifting or other exercises, and if these are included with the multi-gym, it is a good idea to wear them. |
Assembling Your Multistation Gym
Most multistation gyms will come either completely or partially disassembled, so will require some degree of assembly before use. It is important to ensure that all the correct tools are to hand for assembly, although some multistation gyms simply require the use of an Allen key. If tools such as a screwdriver and spanner are required for assembly, these can often be found for reasonable prices on eBay and purchased at the same time as the machine.
Assembling a multistation gym is not a difficult task, but it is recommended for safety purposes that two adults are present for assembly. This is because the weights and other parts of the machine can be incredibly heavy and may require someone to hold them in place whilst the other person tightens fittings. It could be dangerous for one person to assemble the gym alone in case weights fall on them. It is important to ensure that the gym is solidly constructed and secure before using it for the first time. Most multistation gyms will come with an instruction booklet that will help with assembly.
The Importance of Following Exercise Instructions
There are a few basic rules to remember before working out using the multistation gym for the first time:
Have a health check before taking up a new workout or exercise program
Always read the exercise instructions which come with the multistation gym equipment and follow them carefully
Always perform exercises slowly and in a controlled manner, to avoid pulling or straining muscles and causing injury
Ensure that the clothing worn is suitable for a workout – track pants and a top are ideal. Never workout wearing a scarf or anything which could become tangled in the weight stack or moving equipment.
Some people might not think that it is important to follow the exercise instructions that come with the multistation gym. Those experienced in using this type of equipment probably already know how to use the machine properly, but for anyone new to using a multistation gym, the instructions should be read and followed to ensure the equipment is being used properly. Most new multistation gyms for sale on websites such as eBay come with instructions, but always check whether used machines include these too.
Gloves and Other Multistation Gym Accessories
There are plenty of accessories to purchase for use with the multi-station gym. Here are a few of the most popular accessories which will make any workout safer and more comfortable:
| | |
| --- | --- |
| Accessory | Benefits |
| | Protects the hands and provides grip when lifting weights |
| | Tracks heart rate so the workout intensity can be monitored |
| | Can be used to time reps |
| | Can be used alongside the multi-station gym for floor exercises or underneath the machine to protect the flooring |
| Fitness supplements such as protein or Creatine | Great for building muscle and weight training, these can be found on eBay for a reasonable price. |
By purchasing these accessories on eBay, it is possible to find a great price compared to buying them at a fitness store.
Carrying out Safety Checks on Your Multistation Gym
It is important that safety checks are carried out regularly after the multistation gym is purchased. The pulley and cable system needs to be regularly checked before a workout to make sure it is running smoothly and joints may need to be oiled occasionally to maintain their health.
By carrying out regular safety checks and cleaning the multistation gym, it will remain in good condition and allow workouts to be completed safely. eBay has a range of accessories to help maintain a multistation gym, such as cleaning cloths and WD40, which can be used to lubricate the machine's joints if required.
The Importance of a Health Check Before Using Your Multistation Gym
Before starting any exercise regime, it is vital to have a health check. This will involve a visit to the doctor's surgery and the following will usually be carried out:
Weight check
Height check
Blood pressure check
A health check can sometimes also involve other checks such as a blood test. The doctor will normally ask the patient questions about their lifestyle such as current exercise habits and whether they drink or smoke. This will allow the doctor to assess the patient's health and give the patient an opportunity to discuss their plans for exercise using their new multistation gym with the doctor. A health check rules out underlying health problems and ensures that the patient is fit to begin exercising.
How Buy a Multistation Gym on eBay
If looking for a multistation gym from one of the leading brands, the best place to head is eBay, where a wide range can be found. Click on the drop-down menu 'Shop by Category' at the top left of the page, located next to the main logo. Click on Sports & Recreation to bring up a list of all the available categories. Then, scroll down to Sporting Goods and click on 'more'. From here select Fitness, and click on Multistation Gym Machines. All the available machines will be displayed.
With so many brands and models available to choose from, it can be difficult knowing where to start. On eBay, narrowing a search is easy if looking for a specific item. Just type the words related to the search, such as 'Healthstream Gym' into the search bar, and a list of available items will appear.
Conclusion
When using exercise equipment, it is important to always consider personal safety, and using a multistation gym is no exception. The above safety considerations will help users to have a safer and more productive workout. Safety should always be taken seriously when using fitness machines, and users should ensure that they keep their multistation gym in good working order to protect their own safety and prolong the lifespan of the multi-gym.
Buyers will find a huge range of multistation gyms from leading brands such as Powertec on eBay, often at very affordable prices. By shopping on eBay, it has never been easier to find a great deal on fitness equipment and multistation gyms.