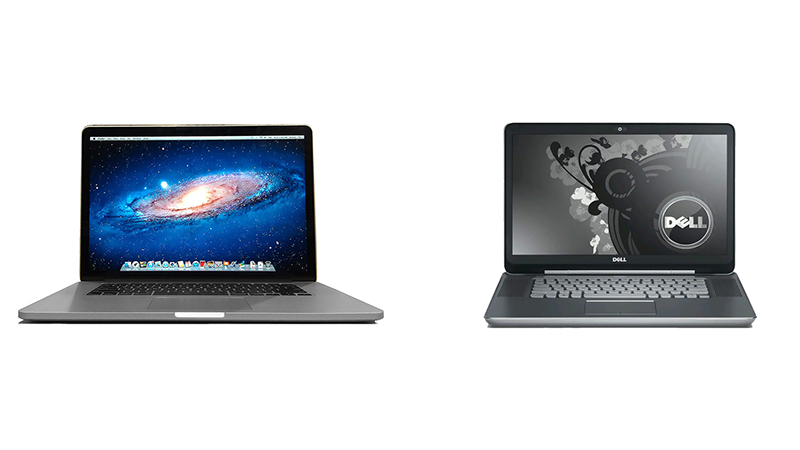 Apple refreshed the MacBook Pro Retina in August 2014, and its sleek design and crisp Retina display make it the default choice for many buyers looking for a premium laptop. However, consumers can also choose from some impressive Windows-based alternatives like the Dell XPS 15, which offers high-end features and outstanding display.

2014 MacBook Pro Retina
Many people consider the MacBook Pro Retina as setting the benchmark in laptop design. Not only do the models look good, the serious hardware and processing power satisfies the most discerning users. On the software side, the iOS Mavericks operating system is intuitive and easy to use, with excellent built-in security because of the UNIX build.
Design
The 2014 MacBook Pro Retina design is unchanged from the 2013 model. It comes in 13-inch and 15-inch sizes that look identical other than the different dimensions. The design is instantly recognisable with the back-lit Apple logo and minimalist silver aluminium construction, which has been a staple of MacBook models since 2008. As expected, the build quality is unrivalled with no creaking or loose components. It includes one MagSafe 2 adapter port, two ThunderBolt 2 ports, two USB 3 port, an audio headphone jack, and dual built-in mics.
Display
The Retina display comes with a native 2560 x1600 resolution with 227 ppi on the 13-inch model and 2880 x 1800 resolution with 220 ppi on the 15-inch model. Text and small icons are rendered with extraordinary clarity on this display. However, a slight criticism is that the glossy screen picks up fingerprints very easily.
Specifications and Performance
The 2014 MacBook Pro Retina upgrade features Intel's highly battery-efficient Haswell processors, which means these models can easily last from eight to 12 hours on a single charge. The 13-inch model's dual-core CPU has been bumped up to 2.8 GHz from the previous 2.6 GHz and up to 8 GB of RAM. The 15-inch model's quad-core CPU is available up to 2.7 GHz instead of 2.6 GHz. They both come with a Turbo Boost feature that can significantly increase processing speeds for demanding applications by reallocating underused CPU resources. All MacBook Pro Retina Pro models come with solid state hard drives ranging from 128 GB to 512 GB for storage.

Dell XPS 15
The Dell XPS 15 has a rather unassuming design but boasts some eye-watering specifications that surpass almost anything else available in 2014. It also has a screen resolution equal in clarity to that of the MacBook Pro with Retina display.
Design
Although the XPS line is Dell's premium range of laptops, the matte-grey slim design is somewhat underwhelming. The design shows its age; Dell hasn't updated it in a few generations, and there's little to signify that it's a premium product. However, this unassuming nature could be appealing for some users who don't want to draw too much attention to fact they're in possession of an expensive piece of hardware. It also offers a wide range of connectivity options.
Display
The XPS 15 comes equipped with a 3200 x 1800 resolution display with 235 ppi. This is marginally higher than either the MacBook Pro Retina 13-inch or 15-inch models. However, the difference is virtually indistinguishable to the human eye.
Specification and Performance
Under the hood, the Dell XPS 15 packs some seriously impressive specs. It comes with a 3.2 GHz, quad-core Intel i7 CPU and 16 GB of RAM. There is one 1 TB, 5400 rpm hard drive and an additional 32 GB solid state drive. This powerful combination unsurprisingly delivers flawless performance that is more than a match for the 15-inch MacBook Pro Retina; the Dell comes at a cheaper price with a long-lasting battery life. It's a sensible option for those who need top-of-the range performance on a Windows machine or those looking for a future-proof laptop that will remain fast for years to come and for those who value performance over style.

Verdict
Before searching for great laptop deals on sites such as eBay, many potential buyers most likely know which model they want. While the MacBook range is capable of running Windows 8, the choice for most essentially boils down to whether a person is primarily a Mac or Windows user. From a design perspective, the MacBook Pro with Retina display is the clear winner because of its sleek, ultra-thin design, and superior build quality. However, the Dell XPS offers better value for money when it comes to specs. The display is equal in resolution, while the CPU delivers similar performance at a better price point.