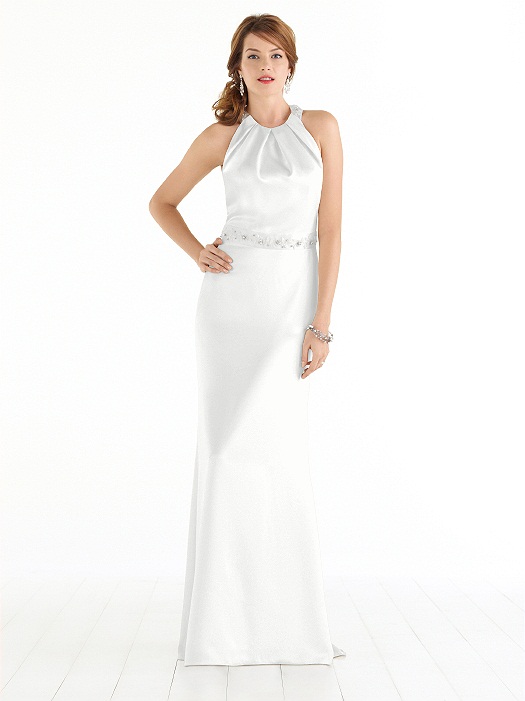 Smart brides can find a gently used wedding dress for a fraction of the gown's original retail price. While most bridal gowns are only worn once, some 'used' dresses were never even worn once but still cannot be classified as new. Brides-to-be can browse bridal magazines or online resources to research the styles, labels, colours, and fabrics of appealing gowns. It is a great idea to keep a notebook with photos and notes about each type of dress and the associated retail prices to ensure they find the best bargains. Once the bride-to-be identifies her must-have and her nice-to-have features in a gown, she can keep these items in mind while searching for the ideal dress at brick-and-mortar bridal resale shops or online through eBay.
Factor 1: Budget
After finding the love of a lifetime, the bride's second priority when planning a wedding is the budget. In addition to setting a budget for purchasing the dress, the bride should keep in mind associated costs, including cleaning, alterations, shoes, veil, and accessories like gloves, petticoats, and lingerie. When pricing used wedding dresses, the rule of thumb is to look for price points that are about half of retail for most gently used gowns. Recent styles and designer and couture gowns command a smaller discount of between 25 per cent to 40 per cent. If a used wedding dress has stains, tears, worn patches, or other defects, a bride can expect to receive up to 90 per cent off the original retail price.
As with every other aspect of planning a wedding, it is a good idea to purchase the wedding gown as early as possible. Variables that may strain the bride's schedule include cleaning, altering, and finding attendant dresses, shoes, and accessories to complement the wedding gown.
Factor 2: Gown Style, Fabric, and Colour
Just as each bride has her own personal style, each bridal gown offers its own distinctive style. Wedding dresses are available in sleek, strapless styles as well as A-line princess gowns. Other brides seek casual gowns that are well suited for beach ceremonies, cruise ship weddings, or simple ceremonies at home. Full-length and mermaid gowns are good matches for formal weddings and receptions. Wedding dresses are also available in short, ballerina-length, and tea-length styles, which are appropriate for garden weddings or ceremonies held at historical sites or other unconventional venues. The consumer should be aware that while an extravagantly fluffy, princess-style gown looks stunning on a tall, professional model, it may overwhelm a petite bride. When selecting a dress style, a bride is best served by choosing a dress that flatters her height, figure, and personal style.
Brides can select wedding gowns in classic white, ivory, ecru, gold, black, and a variety of vibrant colours. An integral part of a wedding gown's style is the fabric from which it is made. A high-gloss satin gown is a great choice for the bride who prefers a sophisticated look, while a simple silk chiffon gown with a crystal bodice presents an elegant, understated flair. The design style, cut, length, fabric, and colour of the gown is an integral part of the overall wedding, and the bride should consider whether a gown she adores fits the style of her wedding. Of course, if she finds the perfect gown does not match the wedding style, she and her fiance may consider modifying the ceremony to suit the gown.
Factor 3: Proper Size
When shopping for a used wedding gown, it is vital for the bride to be measured professionally by a seamstress or tailor. Among the important measurements to be taken are the bust, waist, hips, sleeve, and waist to floor. To ensure the most accurate fit, the bride should wear the same bra during the measurement session that she plans to wear with her gown on her wedding day.
When seeking a wedding gown online, the consumer should ensure the measurements are included in the listing. Sizes used by wedding gown designers differ from standard retail clothing. Because many wedding gowns fit closely in the bodice, hips, and sleeves, the time for gathering measurements is not the time for optimism. It is better to use realistic measurements to purchase a properly fitting gown than to buy a dress that is too small and then bear the expense of having to let the gown out prior to the wedding. If a gown is available in a size that is slightly too large and one that is slightly too small, the bride should always select the slightly larger dress. It is always easier and more cost effective to take a gown in than to let it out.
Furthermore, a too-long dress can be shortened with ease, but there are limitations to lengthening a gown, including hem marks and insufficient fabric if it must be lengthened too much. If the dress is available in a different size scale, such as American or European, the consumer should be sure she converts the measurements correctly. Unless the bride is a perfect designer size, it is likely that a wedding gown needs to be altered to fit.
Factor 4: Designer Choice
One of the great joys of shopping for a used wedding dress is being able to consider a designer or couture gown that might otherwise be too costly when purchased new. Brides can choose gowns from designers like Vera Wang, Vivienne Westwood, Maggie Sottero, and Jennifer Regan. To ensure the gown being considered looks and fits perfectly, the consumer may try it on at a brick-and-mortar shop before searching for a used example online. When selecting a designer gown, the bride should keep in mind the dress style for her attendants. Some wedding gown designers offer complementary styles for bridesmaid dresses in their collections.
Factor 5: Consider a Vintage Dress
While some brides dream about wearing fashion-forward wedding dresses, other brides love the charm and elegance of vintage wedding gowns. A vintage wedding dress is often a budget-friendly option for a bride without sacrificing style and quality. Depending on the gown's fashion era, a vintage wedding dress may be hand sewn or decorated with lovely individual touches that are not always found on contemporary creations. Other options include a lovely wedding suit or a classic dress made of materials like shantung silk, georgette, or vintage lace. The bride may wish to shop for vintage accessories to match the dress. If she is unable to find wedding shoes to complement her gown, she can have a professional soften the white wedding shoes with a subtle ecru or tea-coloured dye.
Factor 6: Cleaning and Preservation
When the consumer has selected a potential dress, she should ask about the gown's condition. If the seller's wedding was held outside, the gown may have been exposed to grass or other foliage, smoke, spilled food or drink, or pets. The buyer should determine whether the gown was taken to a cleaner that specialises in wedding dresses and whether the gown was preserved properly using acid-free paper and a box large enough to prevent creases. Additionally, the bride-to-be should find out if the gown was kept in a smoke-free house and whether pets were present in the home since some brides are sensitive to pet hair and dander.
How to Purchase a Used Wedding Dress on eBay
To shop for a used wedding dress on eBay, you may begin your search by entering 'used wedding dress' on any page on the site. You may refine your search by including the designer, such as 'Nicole Miller wedding dress', in the search term or by selecting other criteria, such as colour, size, and condition. If you need a dress for the honeymoon, or just because, you can review deals on dresses as well.
eBay offers thorough information on sellers, including customer comments, feedback ratings, and selling policies. If you wish to purchase your wedding gown from a local seller, simply enter your postcode and search for a seller located within a certain distance from your home. Buying from a local seller allows you to examine the gown in person and determine whether it is the ideal wedding dress for you.
Conclusion
Aside from her glow, a bride's gown is the centrepiece of her special day. A bride-to-be can find a vast selection of gently used wedding gowns on eBay and in bridal resale shops. She should be measured by a dressmaker or tailor to ensure she can find a gown that fits perfectly, and she should select a dress that is slightly larger rather than smaller since it is easier to take a gown in than let it out. She should also ask about the gown's cleaning and storage history.
Continually refreshed inventory on online sites and in resale shops generally means gowns are widely available in many styles, sizes, fabrics, and colours. The many options allow the bride to find a budget-friendly gown with ease.