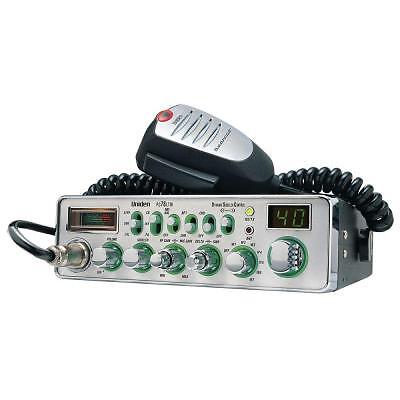 A citizen's band radio, or CB for short, is a form of short distance two-way radio connection that operates on 40 separate channels. Many people choose CB radios over other systems like the FRS or MURS, as CB radios do not require a licence and are ideal for personal or business use.
There are a number of features that can improve a CB radio's performance, and buyers should take some time to become familiar with these. This guide will detail the 8 features buyers should look for when searching for a CB radio, and will explain how to find a suitable model on eBay. The site has a great selection of new and used CB radios for sale at unbeatable prices.
CB Radios
CB radios are used around the world, and are an inexpensive and reliable form of radio connection. These devices have a maximum of 40 channels within the 27 MHz band, and all CB radios are limited to 4 watts of transmission power. This is an important fact to remember, as some people may be led to believe that an increase in price equals an increase in transmission power. The price of a CB radio will be influenced by the additional features it has, and the following are 8 that all buyers should consider.
1 - Instant Channel 9 and 19
CB radios that have this feature allow the user to quickly jump to either channel 9 or channel 19. These channels are both pre-tuned, and channel 9 connects to emergency services, while highway drivers and truckers use channel 19.
The benefit of having easy access to an emergency channel is obvious, and the advantage of having a pre-set channel used by truckers and highway drivers is that it allows users to quickly find out information about a particular route in their area. It is advised that buyers search for CB radios that have this feature, as it is of great benefit and should not dramatically increase the price.
2 - RF Gain
This is a common feature in CB radios, and buyers should avoid models that are not equipped with it. RF stands for radio frequency, and the gain is used to control the level of strength of an incoming transmission. Communicating with someone who has a stronger transmission can cause the signal to distort and this results in static and an increase in background noise.
The RF gain can eliminate this static, and it can also be used to boost weaker signals. The gain is variable and can be adjusted to the user's preference. As with the instant channel features, the inclusion of RF gain on a CB radio should not have notable effect on the price of the device.
3 - Variable RF Power
This is similar to the RF gain feature, but instead deals with transmission output rather than receiving capabilities. Variable RF power allows the user to limit the transmission field and transmit to local CB radios only. Using this feature will conserve power and is handy for users who are interested in communicating with local CB radios only. CB radios equipped with this feature are not as common as those that have RF gain, but it is possible to buy variable RF power modifications on eBay, and it is generally quite simple to attach these devices to the radio.
4 - Single Side Band
Single side band, also known as SSB, allows the user to access and use frequencies that are above and below the standard CB channels. This results in access to an additional 80 channels, and can increase the transmission power to 12 watts when the SSB is activated.
However, buyers should note that only other SSB owners will be able to hear this signal, and this feature will increase the price of the radio. CB radios with SSB capabilities are still able to communicate with other standard CB radios, and this feature is more beneficial to buyers who need to send and receive transmissions over longer distances.
5 - Weather Capabilities
A number of CB radios have a pre-set feature that can be used to receive real-time weather updates from local NOAA radio stations. This is a popular feature for truck drivers and farmers, and some models will even issue severe weather alerts when the radio is powered off.
6 - Bluetooth Integration
This feature is becoming more and more popular, and it involves merging Bluetooth cell phone technology with the CB radio to allow the user to make and receive phone calls through the radio. This is very beneficial to users who keep the CB radio in their vehicle, as it allows them to use their phone while keeping control of the steering wheel with both hands.
Bluetooth integration can cause an increase in the price of a CB radio, but there are less expensive options. However, the audio quality of these options will not be as clear as the better-built radios, so buyers should spend some time considering how much of a benefit this feature would be to them.
7 - PA Capabilities
CB radios that have this feature can be used as a public address system. An external amplifier is added to the radio, and this can be mounted onto the top of a car or truck. The PA horn needed to for this feature will be sold separately, and buyers will need to check that the horn is compatible with their particular CB radio.
8 - Backlight Display
This is not a standard feature on CB radios, and is useful to those who use the device at night. The majority of the higher end models have this feature, but buyers should check the 'Description' box on the item page for information regarding this feature's inclusion. A number of CB radios have dimmer dials that allow the user to control the backlight output, and buyers should note that leaving the backlight on for extended periods of time will drain the power.
Searching for CB Radios on eBay
eBay has a large selection of new and used CB radios for sale at low prices, and buyers searching for those with the above features should have no problem finding a suitable model. The first thing to do is head to eBay.com.au, and once the homepage has loaded buyers should click on the Electronics heading found below the search bar.
On the following page buyers should scroll down and click on the Radio Equipment title, and then the CB Radios link found in the 'Categories' table. Buyers can then type the name of the feature they want into the search bar and press enter, e.g. SSB CB Radio. Buyers are advised to check the Description box on the item page of a radio listing for specifics about features.
The eBay Deals section of the site contains items for sale at reduced prices, and buyers may on occasion find CB radios here. To access this section of the site, simply click on the 'Deals' link located at the top left of every page, followed by the Audio link in the Electronics tab.
Conclusion
CB radios are inexpensive and sturdy two-way short communication devices that offer the user a maximum of 40 channels to broadcast and receive transmissions. CB radios are available with a number of additional features, and depending on what the radio is used for, buyers will find some of these features more beneficial than others. Additional features will increase the price, but buyers will be able to find a good number of less costly new and used CB radios on eBay. Buyers should remember to always check the Description box for feature details.