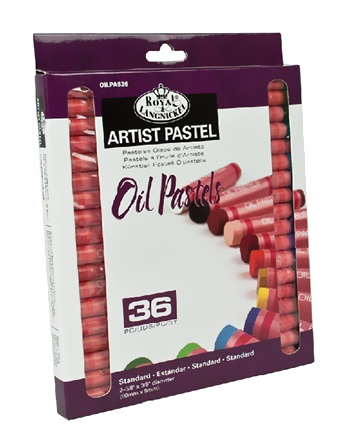 Oil pastels are an excellent medium for artists of all ages. Their creamy texture makes them spread smoothly, so they are ideal for kids. However, this medium requires some skill because oil pastels break easily and do not behave like more familiar products, such as crayons. Kids should start by gathering the equipment they need, including pencils, paper, and a drawing board. Learning the basics of using oil pastels to draw designs and blend colours helps children to create bold pictures. Shoppers can buy oil pastels from art and craft supplies retailers, stationers, and online from marketplaces such as eBay.
Additional Equipment Needed for Using Oil Pastels
Aside from the oil pastels, kids require several pieces of additional equipment to create artwork and avoid spoiling their clothes or the space around them. The table below lists some of these items.
Additional Equipment

Comment

Pencil and eraser

For sketching and changing designs

Paper, canvas, or other material

Oil pastels work on nearly any surface

Use heavy art paper because the oil in the pastels bleeds through thin paper

Smooth backing is essential

Oil pastels create rough images if used on a textured board

Cloth, wet wipes, or paper towels

Pastels transfer to hands and clothes easily

Keep the hands clean by wiping them periodically

Mat or old newspapers

Oil pastels stain carpets and flooring

Work over a mat or old newspapers to limit the mess
As children develop their skills, they may add more art supplies to the list, such as water paint. Oil pastels are a fun medium because they transfer to surfaces easily. However, that includes hands, floors, and clothing. Adults should ensure that children work in environments where the pastels cannot ruin the decor. If the weather permits, budding artists can work outdoors.
The Basics of Using Oil Pastels
Oil pastels come in a variety of shapes and sizes. Some are round and resemble wax crayons, while others are square. Kids should use the variety that they can hold comfortably and securely.
Drawing with Oil Pastels
Children can start by drawing the outlines of their designs in pencil . Kids should choose pencils with soft leads and blunt points that do not tear into the drawing paper. Oil pastels cover pencil marks completely. The pastels are soft and break easily, so children should hold them close to the tip. Alternatively, breaking off sections means that pastels are not too long and awkward for children to hold.
Colour and Composition
Oil pastels spread across paper or canvas easily. Pressing them firmly into the surface yields the richest colour. However, fine work and shading requires some skill. Kids should take advantage of the shape of the pastels to create different effects. They can turn the pastels on their sides for shading and use the tip for strong colours. In addition, children can layer one colour on top of another. This works best with colours that are next to each other on the colour wheel, such as green and blue or orange and red. White oil pastels work well as the top layer to create glowing colours and interesting shades.
Blending Oil Pastels
Oil pastels are ideal for blending. Kids should build the sections of colours from light to dark, for example, starting with yellow, adding orange, and then red. Once the whole section is coloured in, children smooth and blend the design by using the lightest hue, in this case yellow, to colour over the entire section.
Adding Outlines
Adding black outlines to a completed artwork emphasises the colours. Kids should take care not to smudge their completed pictures while adding outlines.
How to Buy Oil Pastels for Kids on eBay
With the wide variety of products available from sellers, eBay is the perfect place to shop for oil pastels for kids. To search, type a phrase, such as " kids' oil pastel set", into the field that is found on every page. Browse the listings available or refine your results by choosing the most appropriate category filters. Remember to check eBay Deals for additional listings. Oil pastels have a creamy texture that makes them easy to apply on a variety of surfaces. Children should use oil pastels on heavy paper or canvas placed on an easel or drawing board. Once they understand the basic techniques, such as holding the oil pastels, shading, and blending, they can create colourful and vivid artworks.