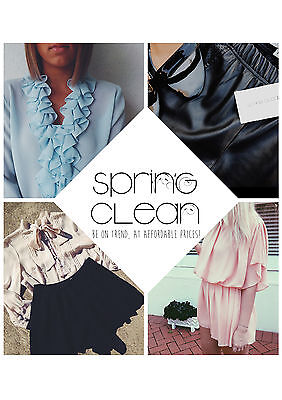 Purchase hand-picked, value for money pieces that you will look and feel great in!

We stock never worn and great condition pre-loved items that are hand-picked by our fashion savvy team from wardrobes around Adelaide so that you won't need to sift through the usual pre-loved clothing piles to find that diamond in the rough.

Each item is great quality, on trend and offered to you at an affordable price.

Our range consists of women's apparel, accessories, and footwear and are available to purchase online via our eBay store or Facebook page.

Or stop by at our next pop-up event, advertised through our Facebook page (see store homepage for address, or use user URL /springcleanfashion)

JUST LAUNCHED...
'Let us help you "spring clean" your wardrobe!"

Who's guilty of having pieces with tags attached that you keep telling yourself you'll wear? That great outfit you wore once but won't again? Or pieces that just don't work? Or is your wardrobe lacking direction and needing a make-over? Spring Clean is here to help!

SC takes the hassle of your overcrowded wardrobe out of your hands by giving you that second opinion every girl needs. we'll sift through the chaos, helping you decide what to "Toss" & "Take" while offering helpful tips along the way.

Contact details on our Facebook page!

We may even purchase some of your no longer needed treasures off of you!