Android "apad" Touch Screen Tablet computers
Since the release of the Apple iPad which is basically a large iphone there have been a torrent of copies flooding eBay from China. Obviously the apple ipad is very expensive and there is a demand for a cheaper version. These copies calling themselves such things as: apad, android tablet, epad, MID tablet (mid stands for mobile internet device) are everywhere is all shapes and sizes - this guide should hopefully shed some light on them for you.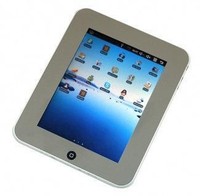 What are they?
Well it all seems to have started from the Eken M001 device which looks like this: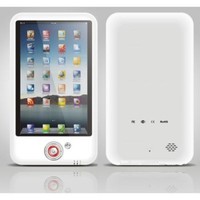 Which is basically a small touch screen computer - primarily being sold as an e-book reader with extra features. Alot of these are being sold on eBay without the Eken branding so the seller can call then whatever they want - hence the epad etc.. The Eken M001 has a 7" touch screen has built in wireless (wifi) and can read memory cards. Basically its like a large touch screen mobile phone without the mobile phone part... It measures: 20 x 12 x 1.5cms.
Processors and memory
There are lots of variations of the M001 (and copies from other manufacturers) so you end up with lots of different processor types, memory and installed flash memory sizes it can end up quite confusing if you are looking at one to buy. The original Eken M001 has a VIA MW8505 600mHz CPU (processor) which in processing speed terms nowadays looks very slow but seeing as its in a mobile device they have obviously had to do the best they can. If you are looking at all the android pads and trying the find the best processor one - let me just say you will not find one - the best they have developed so far is a 10.2" tablet using a ZT-180A CPU running at 1GHZ. Memory is normally no more than 256MB and the storage is normally no more than 2GB flash memory on the best models. You can of course add memory cards to expand your storage - normally up to 16GB (32GB on some models). At the end of the day these are not laptop replacements they are for the odd bit of web browsing, viewing the odd photo or text file and playing the odd game on. If you are looking for something high-end then you should be looking at a proper Windows Tablet PC.
Android Operating system
Android is the biggest new thing at the moment in mobile devices as its a comparative to the to Apple iPhone / iPad system software. Android is an operating system based on the Linux platform for mobile devices, it is owned by Google. The reason it is so popular is because it was released as open source - which basically means its free to use. So being free to use the hardware manufacturers can install it and don't have to pay any license fees like you would for a copy of Windows CE or Windows Mobile.
As Android is a developing system there are lots of updates and changes as it is being improved - at the time of writing this Android 2.1 was the current version. So if you are buying an Android Tablet check to see if it is the latest version.
Bear in mind some of the older 7" pads can only run older versions of Android due to hardware limitations so cannot be upgraded to the newest version. So don't think you can just buy any android pad and upgrade it yourself - you should check if it capable of being upgraded first!
Android Marketplace
Android Marketplace is an online software store where you can download applications to use on your Android device - none of the Android tablets I have seen support this so you will not be able to use it.
Ask questions!
If you are serious about getting one I suggest you take your time and research if it will do exactly what you want first. Ask the seller if it will do the tasks you want and look on YouTube for video reviews so you can actually see one being used.
I was after one to view large pdf books on and have been told by many sellers that they cannot support large pdf files despite showing they have pdf support. Also many reviews have showed the touch screens to be quite unresponsive and the system to run very slow. Obviously system performance will vary from model to model so if you can see one being used (either physically or on YouTube) then you should be able to make your own decision if its what you need.