Australian Safety Standards for Cots and Car Restraints
Standards for Cots
Buying a cot for your new baby is one of the most important purchases you will make with regards to your baby's safety.
Unfortunately the Mandatory Standards set for those who make, distribute, import, sell (new or secondhand), or hire household cots for commerce or trade are punishable by law for not complying to the standards.
The
general public
, however, who sell secondhand cots as a one off (to sell a cot they are no longer using) are not policed in the same manner. Therefore, when buying a secondhand cot it is up to the buyer to make sure that the cot complies to the
CURRENT
Australian Standards.
Second hand cots that may carry an Australian Standards Logo only means that the cot complied to the Standards at some stage. This does not mean that it complies to the Standards today. It is not mandatory for cots to carry this logo, so it is up to the purchaser to make sure that the cot complies to the Australian Safety Standards (AS/NZS. 2172.) From the 1st July 1998 all household cots supplied in trade or commerce in Australia must comply with this Standard.
In Western Australia the mandatory standard applies to all transactions for trade or commerce, which includes hire and second hand sales.
It is up to the consumer to make sure that the secondhand cot they are purchasing complies with the current Australian Standards. If you buy a secondhand cot from a private individual and the cot caused injury or harm to your baby you will find that the seller will not be held liable for damages.
It is up to the seller of NEW cots to make sure that their product complies to the Current Australian Standards. If the cot you have bought from a supplier is found not to comply you may find the cot will be recalled.
When purchasing a cot through Ebay you have to rely on the seller to give you the information that you require that can not be picked up in a photo, therefore it is important to ask lots of questions. First should be –
Does this cot comply with Australian Safety Standards AS.NZS. 2172?
If there is no indication on the cot that it complies with these standards, that does not mean that it does not. It just means that you need to ask more questions to be satisfied that you are buying a safe cot for your baby. Any cots that were made after 1998 and were approved to be sold here in Australia after this date (some imports were not) are most likely to comply.
The cot should measure up as follows:
• Minimum depth should be 600mm from the base of the mattress to the top of the cot.
Space between the bars should be between 50mm and 85mm - this is approximately the breadth of the palm of an adult woman's hand.
• Space between the cot sides and the mattress should not be more than 25mm - if a woman can fit the breadth of two fingers between the cot and the mattress, the space is too big.
• Finger traps - there should be no holes or spaces which are between 5mm and 12mm wide.
• Arm and leg traps - there should be no spaces between 30mm and 50mm wide.
• Head traps and fall through hazards - there should be no gaps wider than 85mm.
• Protrusions - there should be no protrusions more than 8mm high.
Standards for Car Restraints
When buying a new car restraint through Ebay make sure the restraint complies to Australian Standards AS 1754.
It is illegal in Australia to sell any restraint, new or secondhand, that does not comply to this standard. This standard is one of the toughest in the world, and demands an extremely high degree of protection for a child. The Australian Standards have been improved since 1991 and updated in 1995, 2000 & 2004. Older restraints will not meet new improved design features.
When buying a secondhand restraint you need to ask the owner –
Has the car restraint been involved in an accident?
How old is the restraint? Any restraint over the age of ten years should not be used. Do not use if there are a lot of stress lines, splits, cracks or broken areas. Harnessing should be free of any fraying or tearing and should have no mold or mildew.
Are fittings complete? To buy a restraint with parts missing could prove costly in the end as spare parts are not cheap and sometimes may no longer be available. This is especially relevant when buying a baby capsule that is missing the tether strap. A new tether strap can cost up to $40.00 and if it is an older style capsule, parts are no longer available for these models.
The anchorage system should be of the hook type. The older keyhole system no longer complies with the standard.
Any seat that has been purchased overseas, including seats that have an anchorage system are not legal for use in Australia as they have not been tested using the Australian Standards.
The following has been taken from information supplied by The Office of Fair Trading:
Liability
Consumers may be eligible to sue you for compensation for injuries received by a restraint if, in trade or commerce, for individual gain, or as a charity, you sell, hire a child restraint system that does not comply with the requirements of the safety Standard.
Supply only child restraint systems (infant restraints/ capsules, car seats and harnesses) that are identifiable as complying with AS 1754-1991.
Child restraint systems that have restraining straps with the "key hole" anchorage attachment and "Velcro body bands" on infant restraints DO NOT comply with the Standard and MUST NOT be supplied.
Motor vehicle child restraint systems must be made fitted with the "hook clip" attachment and 5-point harness to comply with the 1991 version of AS 1754.
If not, it is illegal to supply them.
Complying anchorage system


Old type "keyhole" anchorage system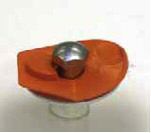 The only circumstance that allows an individual to use a car restraint that has the older keyhole type of anchorage, or the older style body band capsule is if the user is the original owner of the item (bought the item new) and wishes to use the item. The item is legally not allowed to be sold, hired or given away to be used by someone else.
Remember shopping on Ebay is a fantastic way to be able to pick up good quality new and used baby goods. Unlike most other methods of buying through advertisements, you get the opportunity to see photos and also the opportunity to ask lots of questions. This way you can have peace of mind knowing that you have picked up a bargain, and you can actually use it with confidence.