With the right system, yes, it's fantastic!
But, BEWARE – a quick Google search will show you there are a lot of unhappy customers out there, some of them with brand new 2015 cars who have crappy Bluetooth Streaming.
There are 4 Factors that will answer this question for you when selecting your new Stereo.
1.
The Audio Source
2.
The Amplification Type
3.
Bluetooth 2 point what?
Audio Source
Your MP3 Player, Phone or iPod that has the music is the first thing that will decide if Bluetooth Streaming is going to sound great in your car at any volume.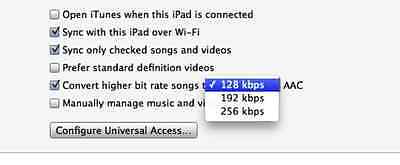 Most programs (iTunes included) will give you the choice of what quality you want to save your music at. This is measured in Kilobits Per Second or kbps.
CD quality audio that we have all been enjoying for many years now has a bitrate of up to 1,411.2 kbps. Almost 10 times the normal setting in iTunes.
This can translate into an audible loss in quality when this audio is played at serious volumes. But is extreme as humans really cant distinguish much over 700kbps.
Does this matter?
Well, considering that most Bluetooth devices stream at a bitrate of up to 264,630bps (bits per second) or 264kbps. Yes it does. (As specified in the Bluetooth Accessory Design Guidelines for Apple Products: Release 6 R6)
This is a balance between how much space you have for music and what quality you want. If you want the best quality and experience, make sure your source is at its highest. To be honest though, many people out there are perfectly happy with lower bitrate audio files. Most internet streaming bandwidths will stream in 96kbps or 128kbps.
Amplification
In most cars there are two sources of amplification. The MP3 Player, and the stereo. In some there will be other amplifiers between the stereo and the speakers but these guys should know what they are doing so I wont go into that.
The original source or MP3 Player should be set at maximum volume.
I cant tell you why but it has to do with science.
The stereo itself has an amplifier in it and it needs to be a "good" amplifier. We recommend AB Class amplifiers based on our experience with them being so damn good.
Class AB amplifiers have some of the best advantages of both Class A and Class B combined. The main benefits are sound quality comparable to that of Class A and efficiency similar to that of Class B.
Class A Amplifiers generate too much heat. Class B amplifiers don't generate the quality of class A.
Bluetooth 2.? What do I need?
There are many different levels of Bluetooth quality or standards in the market today. For manufacturers, the older ones are very cheap and very tempting to put into their stereos. When testing new devices we can hear immediately when this has been done and know that we have just wasted our money on that sample.
Most people don't know or care what the different Bluetooth standards are but it matters more than you think.
Bluetooth Features
AVRCP – A/V Remote Control Profile

Allows you to control the music through your stereo

EDR – Enhanced Data Rate

More Data = Higher Quality Audio

A2DP – Advanced Audio Distribution Profile

This allows High Quality Dual Channel Audio to be streamed
If you can confirm these with the retailer or supplier before you purchase, your Bluetooth streaming experience in the car is going to be a good one.
---
©

Copyright motorformula 2015 all rights reserved.