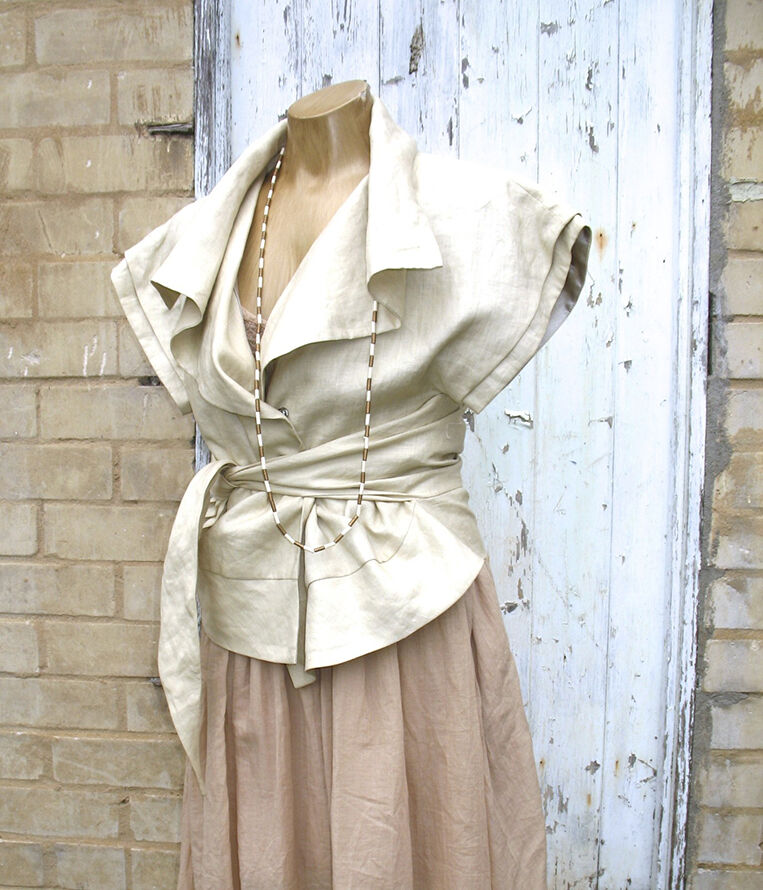 Boo Radley clothing is trendy, stylish, and adds a creative flair to any look. Jackets range from lightweight blazers to cropped jackets or full-length coats. Sizes encompass a broad spectrum to fit many body types. For women who enjoy interesting boutique looks which create a stunning style statement, a Boo Radley jacket is the perfect finishing touch to any outfit.
Layering garments makes an outfit look more put together, and a jacket is the perfect way to take any outfit from drab to fabulous. Consumers find a range of Boo Radley items for great prices on eBay or in retail clothing shops. Buyers should select the perfect jacket based on budget, personal style, and size.
Boo Radley Jacket Styles
Boo Radley stays trendy with an ever-changing variety of jacket styles, shapes, silhouettes, and lengths for any occasion. Consumers choose the right jacket for the occasion based on the weight of the jacket and the style.
Blazers
Blazers add polish to a work look, and Boo Radley blazers are sophisticated and elegant. Made with embellishments to make them more eye catching, Boo Radley blazers often have little touches such as ruffles, buttons, or gathers to take them from plain to interesting. Blazers are single or double breasted, and available in a variety of colours, such as black, dark green, cream, and red.
3/4 Sleeve Jackets
Jackets with short sleeves are fashionable and perfect for warm weather. Most jackets with cropped sleeves have 3/4 length sleeves, which fall right around the elbows. Cropped sleeve jackets also have details like a sash for the waist and intricate collars.
Cropped Jackets
Cropped jackets fall to the waistline. Some have a cinched waist and some do not. Most Boo Radley cropped jackets or bolero jackets add a chic look to trousers or skirts. Cropped jackets are short or long sleeved. Some cropped jackets look like shrugs, which cover the shoulders but are generally lightweight, making them perfect for the warmer months.
Heavy Coats
Boo Radley also makes thicker, heavy winter coats. These come in many different styles including trench coats, thick wool coats, and heavy sweater style coats. Some coats have details like sequins, flowers, ruffles, and beads, which make them more unique and stylish.
Tunics
Long jackets or sweaters which are lightweight are tunics. Boo Radley tunics are cosy and chic, and many have a drawstring to cinch in the waist. Tunics are longer than traditional jackets and fall roughly above the knees, and are versatile due to their lightweight feel and many types of designs. Boo Radley tunics have ruffled edges, ribbons, patterns, or other embellishments that add flair to the jackets. They are perfect layering pieces for spring and fall.
Boo Radley Jacket Materials
Made of high-quality materials, Boo Radley jackets are soft and easy to wear. Consumers opt for the best jackets for their needs, depending on budget, season, and style of the jacket. Heavier material is better for cooler months while lightweight jackets are perfect for slightly chilly weather.
Wool
Many winter jackets are made of soft, comfortable wool . Wool is dry-clean only, so it requires a bit more care than other materials. Made with a combination of materials such as wool and faux fur, Boo Radley jackets offer stylish and cosy options. Wool blended with cotton also provides comfort.
Polyester Cotton
Polyester and polyester cotton blends are lightweight and easy to care for. These materials make Boo Radley blazers, tunics, cropped jackets, and lightweight jackets. Polyester is soft and cotton gives it a bit of stretch, so the material is comfortable. Some jackets are made of crushed cotton, which gives the jackets a rumpled, rugged appearance.
Silk
Boo Radley silk jackets are not practical for cold weather, but they add embellishment to outfits with their beauty. A silk jacket is perfect for work or a formal event. Ruffles, ties, diamante crystals, or bows accent Boo Radley silk pieces.
Boo Radley Jacket Sets
A Boo Radley jacket set is a two-piece set that offers consumers a jacket and matching skirt, a jacket and pants, or a jacket and tunic for layering purposes. The pieces coordinate and complement each other for a polished, pulled-together outfit.
Boo Radley Jacket Sizes
Purchasing a jacket requires the right fit. Consumers should take their measurements with a tape measure before purchasing Boo Radley jackets. Jackets should fit properly without feeling too tight or too loose. Boo Radley jackets are sized S to XXL to fit a wide range of body types.
| | | | | |
| --- | --- | --- | --- | --- |
| Boo Radley Size | Numerical Equivalent | Bust | Waist | Hips |
| | 8 | 82 cm | 63 cm | 88 cm |
| M | 10 | 87 cm | 68 cm | 93 cm |
| L | 12 | 92 cm | 73 cm | 98 cm |
| XL | 14 | 97 cm | 78 cm | 103 cm |
| XXL | 16 | 102 cm | 83 cm | 108 cm |
For consumers wanting a perfect fit, it is best to measure the waist at the most narrow portion. Buyers take an accurate bust measurement by measuring the bust at the fullest portion, and the hips at the largest circumference. Most clothing styles fit accurately, but body conscious garments may fit differently. When buying jackets, consumers opt for a roomier, comfortable fit, so it is possible to go up a size if desired.
How to Buy a Boo Radley Jacket on eBay
Look on eBay to find great deals on designer brands like Boo Radley. Find new or used jackets by keying in your search terms such as " Boo Radley jackets", and filtering the search by price range, material, or colour of the jacket. Comparison-shop from different sellers to get the best deal, and ask questions about a jacket by clicking the "Ask a Question" button on the seller's page. Leave feedback when your transaction is complete.
Boo Radley jackets offer versatility and help you put together a perfect look. Invest in classic pieces like blazers or heavy wool jackets for winter wear. By shopping on eBay for designer jackets you save you money and time. Choose the right jacket to accentuate and flatter your figure, and add visual interest to your everyday style.