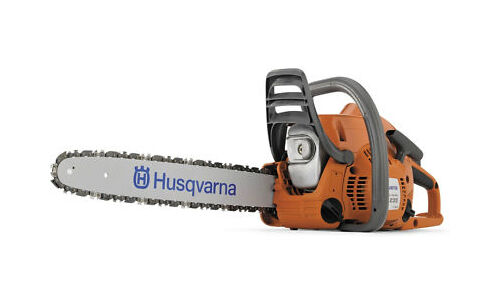 When it comes to cutting or slicing through tough materials like wood, a chainsaw is among the best tools that people can use, and with different chainsaws designed to serve distinctly different purposes, people can expect to find options to suit their individual needs. In today's world, buyers have the ability to choose between modestly priced pole saws to some high-end, petrol-powered chainsaw alternatives.
Shops that deal in gardening supplies can be a good starting point when it comes to looking for chainsaws, although online platforms, such as eBay, are known to offer customers a wider array of alternatives. In any case, before buying a chainsaw, buyers should be able to distinguish between the different types of chainsaws made available, and they should also take into account aspects such as power, size, and safety.
Types of Chainsaws
Modern day chainsaws come in varied alternatives, and the two basic options that buyers have to choose from include electric and petrol-powered chainsaws.
Electric Chainsaws
Electric chainsaws are normally lighter and more compact than their petrol-powered alternatives, and these are ideal for people who are looking for chainsaws to deal with small trees or for occasional usage. Electric chainsaws are normally quite easy to use, as a simple flick of a switch helps to power them, and another advantage is that their motors require little in the form of maintenance.
Petrol-Powered Chainsaws
Petrol-powered chainsaws are normally bigger and heavier, and they also tend to come with more powerful motors. Petrol chainsaws are designed to deal with more intensive tasks on a regular basis, and people who cut through hardwood or felling trees should be looking at these alternatives. These chainsaws are made available in two-stroke and four-stroke alternatives, and both run using a mixture of petrol and oil.
Choosing Between the Two
Choosing between the two requires that personal preferences be taken into account, and the table below should serve as a guide for any prospective buyer.
Power Source

Pros

Cons

Petrol

Varied power alternatives

Different bar lengths

Cordless

Noisier

Heavier

Requires periodic refuelling

More expensive

Electric

Quieter

Lighter

Minimal maintenance

Easier on the pocket

Need extension cords

Not very powerful
Choosing between the different electric chainsaws is not very difficult, given that they do not vary too much in terms of the power they can generate and the bar lengths they include. However, buyers looking for petrol-powered alternatives need to take various other factors into consideration.
Choosing Between Different Petrol-Powered Chainsaws
Petrol-powered chainsaws are normally recommended because they give users more freedom in terms of how they can be used; consequently, they can be used for simple as well as intensive tasks. While four-stroke, petrol-powered chainsaws are normally heavier and do not offer too much power, two-stroke petrol chainsaws are typically high-powered, compact, and lightweight. Categorising them further, buyers can expect to find different petrol-powered chainsaws designed for domestic usage, heavy usage, as well as professional usage. When it comes to tackling shrubs, plants, and small trees in a home's garden, investing in a domestic use chainsaw should do the trick.
Power, Bar Length, and Weight
Power, bar length, and weight are three factors that can be used as good reference points to distinguish between any set of petrol-powered chainsaws. Power ratings can vary from 52 cc to 72 cc, and while 52 cc chainsaws are suitable to handle small tasks, such as cutting branches, 72 cc chainsaws are the ones that are used by professional tree fellers as well as people who work with hardwood on a regular basis. The power of a chainsaw's engine has a bearing on the length of the bar that can be used with it, and more powerful motors are designed to be used with longer bars.
In addition to power, bar lengths that petrol-powered chainsaws contain also vary, typically between 14 to 20 inches, and longer bars, in addition to increased cutting area, also offer increased power and weight. Buyers should bear in mind that while lighter chainsaws are easier to use, choosing an engine that is not powerful enough can result in the task taking longer to complete. On the other hand, simple tasks that may require users to work with their chainsaws for extended periods are best handled by using lighter chainsaws, given that heavier models can tire users quickly.
Chainsaw Safety
The number of chainsaw-related accidents and fatalities continue to rise with every passing year, and this is why safety is an aspect that should always be considered. Chainsaws now come with various safety features put in place to prevent untoward incidences, and some of these include kickback protection, trigger locks, chain snagging prevention, as well as the inclusion of bar tip guards.
Chainsaw safety, however, does not end with the safety features that a chainsaw includes, and using even the safest chainsaws requires a lot of care, and knowing just how to use any given chainsaw is paramount. Chainsaw users should ideally wear snug-fitting clothes, protective gloves, work boots, as well as helmets that come with face shields. Hearing protection, given that chainsaws can be quite loud, is also something that should be addressed. Periodical maintenance is also equally important when it comes to safely using a chainsaw.
Other Aspects to Be Considered
The overall design of a chainsaw should be taken into account at the onset. Good chainsaws come with well-balanced bodies and anti-vibration handles made of rubber bushings or metal springs. Buyers should look for a chainsaw that offers easy access to its parts like the chain, spark plug, air filter, and more, as this can help save time as well as effort. A number of chainsaws now come with tool-less tensioning, which allows users to tighten chains using simple dials. Some chainsaws come with automatic bar oil dispensing units, and this feature ensures that the bar is oiled continually without requiring a user's ongoing attention. Some chainsaws contain bucking spikes, found near the bar's base, which work as pivots, helping users perform the downward motion more effectively.
Buying Chainsaws on eBay
eBay provides its users with a number of gardening tool deals from which to choose, and people looking for chainsaws truly have a number of options from which to choose. These options include new electric chainsaws and petrol-powered chainsaws with different power and blade length alternatives, as well as a range of used chainsaws. In addition, eBay users can use this platform to look for suitable chainsaw-related safety gear like boots, gloves, helmets, and more.
Shopping on eBay gives buyers the ability to browse through chainsaws manufactured by just about every leading chainsaw manufacturer in a single place, and given the number of sellers vying for buyers' attention, buyers can expect to find discounted prices from time to time. Postage and packaging costs require buyers' attention, given that chainsaws can be quite heavy, and besides, there is no fixed postage and packaging cost pattern that eBay sellers follow.
Conclusion
The first issue that a buyer should take into account is the intended use of a chainsaw, and if a chainsaw is required for a single sitting or to deal with a particular task, renting one ought to be considered. When it comes to buying a chainsaw that is going to be used from time to time, or regularly, factors like what it is going to be used for and how often it may be used should be considered. Pole saws, commonly referred to as miniature chainsaws, for instance, are more than enough when it comes to trimming and pruning branches, although they are not designed to handle intensive tasks.
Deciding between electric and petrol-powered chainsaws should be easy after taking personal requirements into account, with factors like weight, portability, power, and pricing requiring a buyer's attention. Paying attention to a chainsaw's added features is also important, as this can have a significant effect on its pricing.