HOW TO RECOGNIZE REPRODUCTIONS/FAKES/COPY'S THAT SOME SELL AND LIST AS AUTHENTIC/ORIGINALS
IF THIS GUIDE OFFENDS YOU AS A SELLER THEN STOP SELLING FAKES AS ORIGINALS THAT WILL FIX THE NEGATIVE FEELINGS YOU GIVE.
OR\ PLEASE RING 1800- I RIP OF BUYER- THEY might be able to help ya.
About Me, ( so you can choose if i have knowledge in regards to Militaria items
Name: Mervin
Occupation: Retired
I have collected military items from the past for over 32 years, i never sold any items i just kept them in a private collection, I have been to a few different country's, in search for the rare militaria items that are getting hard to find.
I now as from the 6/07/2012, have gained a well known web site (for the right price) that deals in militaria, so now im selling and buying items as a retired persons hobby. I enjoy collecting military items, but i have been saddened what i see people selling fake aftermarket cops of medals and other items as an original authentic item. This has given me motivation to make a difference in in a positive way in regards to buying and selling militaria. I also put a guide up that will help honest buyers & sellers a fighting chance to have negative feedback left that is not removed buy ebay at the buyers request.
Well enough about me, below will be a very good guide that will help collectors and dealers, improve the chance of not being ripped off by some crooks on sites like eBay and believe it or not some of the biggest crooks on eBay are Power sellers with 100% positive feed back.
Firstly insure that no matter who you are buying from, always remember to limit the chances of getting a negative experience, that we all get from time to time, by being ripped off by crooks online.
My Guide below
1. Study/read & research the military items you are looking for,the more you study the more you will learn about the item you are searching for. Experience is so important, the more you learn the more experience you will become. Also if you are unsure ask people you know questions if they are experts or experience in this field.
2. Always pay close attention to detail especially to German militaria & all 1957 West German , WW2 badges and medals these are reproduced by the millions and sold by sellers as originals for a hundreds of dollars, yet i can buy any WW2 West Germany 1957 medals and badges for under $10 in bulk.
a. Use a magnifying glass, pay very close attention to the lines in badges & medals, original ones have sharp well defined lines, unlike smooth edges & lines the reproductions have.
b. Patches/leather medal ribbons that not spent time in the air and sun tend to have sharper colours, remember soldiers wear these items so pay good attention to the fact that most reproductions spend little time in the air & sun.
c. Late to end of war differences (WW2)
One has to remember that near the end of world war 2, Germany & Japan had very sever shortage of raw materials, all most every ounce of raw materials were used to make weapons and ammunition. They did keep making medals & badges however the result of these hard times affected the quality of these late war medals & badges, & one can easily tell the difference between the medals making periods, by the feel & close up look of the end of war produced awards. This goes for all their military items, including helmets,badges & medals but not limited to these few.
TESTING PROCEDURE TO SEE IF YOUR NEW OR OLD ITEMS ARE THE REAL DEAL OR NOT
1. The good old burning test
Don't go lighting up your collection of medal ribbons and uniforms after reading this guide, but this is the most extreme test you can do to military items made of most any form of cloth .
Testing the authenticity of all militaria cloth items, can be easy done by taking a thread of the item & using a lighter or match, light the thread , one of two things will happen !!!
a. The thread will burn out in seconds ( meaning that the item is not mad of a new cloth)
b. The thread will burn slowly,"as most cloth material are treated in production to try and make the cloth fire proof" if this happens to your item, then the item is would appear to be a later made cloth item etc. Therefore a reproduction item that is not actually made out of the original cloth during Both world wars " as a example" and a fact that the 1957 West German medal ribbons were the untreated cloth material.
c. The good old black light test.
all WW2 cloth items and before that time (and the 1957 West German medals) period during the war times like the Great War "WW1" the Boer War and so on. Factory's never treated the cloth materials like they did after the cold war and around the time of the Vietnam War.Modern cloth materials are treated in the factory's that produce the cloth materials. Now war time materials under the Black Light, dating back to WW2 if the item is the real deal Authentic time peace "will not shine".were as the new cloth will shine. " easy enough fool proof test'.
STRENGTH TESTING
This procedure works with all German badges and the same for all other country's awards," ok as a example" firstly we would have to agree that the German soldiers military badges and medals were and still are being worn by the soldiers, which shows that the badges were made tuff & of strong materials. Grab the badge lightly with both hands & amply some force that will make a weaker material badge bend. ,(don't go silly & give it all you can muster) the original WW1 & WW2 as well as the West Germany 1957 medals could withstand knocks & bumps in the field of War.
Ok A note regarding the 1957 West German de-nazifield WW2 medals & Badges
These items are being flogged of for hundreds of dollars as the real deal, But almost 92% of them are late copy's
These 1957 badges and medals were made as a replacement for those who was awarded the medals and or badges during WW2, to comply with the 1956 ( not 1957) passed laws/regulations regarding Nazi Germany's insignia.
they made enough medals to supply these soldiers who needed the replacements so as they could wear them in public.
Now the hard facts that some dealers don't what you buyers to know, like these medals are being made in INDIA/CHINA/UNITED STATES OF AMERICA/ AND IN GERMANY. and other places around the world. No company or manufacturer makes original authentic German Medals, that's a fact . "but read on":.
What you the collector or buyer needs to know ( and some high selling dealers don't want you to know)is that the quality of reproduction items of this error can be extremely high, very difficult to see with the naked eye, (even harder to see as a image online) One German Company is making high quality reproduction 1957 medals/badges & selling them to dealers all over the Globe. These are not original 100% rare/scares 1957 West Germany medals & Badges, in fact even though one company is using the original molds and equipment ( update to the latest technology for reproduction on a massive scale) these medals and badges
are sold to dealers & are better quality then the cheap Chinese/India that we see every day. In saying that German company does not make 100% original badges & medals like the Iron Cross etc. The ribbons are not made of the original material, the burn test will prove that, and the fact is that the Raw material used to make the medal's is a cheaper lighter metal. Go use the burn test on the latest so called 1957 Medal ribbon.
The medals & badges them self " even though some are made by a German company" are not 100% original items of WW1 & WW2. Some are very professional German made even high quality reproductions, which i see sold for hundreds of $$$$ on
eBay, yet the wholesaler/retailer pays under $20 for, and the real value of these modern made 1957 German made items are between $30 to $40au. These dealers are not breaking any laws for selling the German made items, however some of them are very dishonest & manipulating the market knowing exactly what they are selling reproduction militaria.
This is the best part some even right reviews hand out dishonestly a COA signed by some one from some were, Hey i can give you a COA. a certificate of Authenticity, does not automatically, mean you will and are getting a authentic item.A lot of the time with militaria its not worth the paper it is writing on. In fact the same COA is signed and handed out hundreds of time over and over again. militaria dose not come with COA, and when you see a listing with a COA on any website or auction you should treat the item as suspicious.
My Advice on a COA is simple ( i can make them) anyone can produce them check with who ever signed the COA the Company that this person is from, to see if it;s the real deal or not. Every item of memorabilia that has a COA with it should be a hand signed dated COA with correct contact information attached. it dose not take long to check it out, via e-mail,phone or a written letter.
Some dealers around the world keep the same COA and just copy it and send off with a item any item. If the COA is there as a tool to get buyers to feel safe about the authenticity of a military item then almost every time you will find that the COA is worthless.
COA as a rule from the beginning of time were never produced and handed out with individuality items from a manufacturer. COA's are used for authenticity of items like signed photos and other items, not for Medals and Badges or special forces items.
Do your self a favor ring up any German manufacturer of military medals and badges and ask if they send out a COA with there items they make in their factory.
Below ill try and put a few images of medals ect that were sold on eBay and are still being sold as originals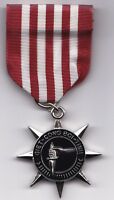 image of a Vietnam special forces medal ITS A REPRODUCTION but was sold as an original, to a friend.
in 1974/5 these medals were holted at the production line, they do not anywhere in the world produce original or authentic Vietnam Special forces medals. These medals can be bought for $10 out of the USA, and for 6cent each if 100 of these are orders China.
honestly these medals that are Original are one of the hardest to get your hands on, but i can get you a Million of them in two weeks if you want them. BUT I DON'T SELL JUNK SO I WILL NOT GET THEM"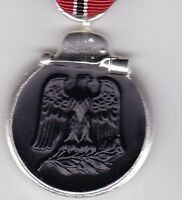 REPRODUCTION sold to a person as an original on eBay
This medal a 1957 West German Eastern front medal, know to some as the frozen meat medal ," they dont make these anymore any were in the world "not original 100% AUTHENTIC". but as above hey you can get thee for $10 from Germany and the United states or for 0.04 from china in bulk.
Anyone who states these are made today and are original 100% are pulling your leg and looking at your bank account, dont fall for here is the proof speech just say what company makes them then ring that company and ask if you can get new Authentic 1957 West Germany military medals
This is what i have found in my search when i ring respectable manufacture company's including in Germany,
Question: can i get 100% authentic military medals from you with a COA for each or any item stating that the NEW medals are the real deal and not reproductions?
Answer: HAHAHAAAAA i don't know anyone that sells new German medals or 1957 new medal for $16 each we reproduce the medals not stock original medals and badges.
Ill try and be good and leave you all with this guide and please contact me if you have a diffident opinion, PLEASE UNDERSTAND THIS IS A GUIDE NOT A ATTACK ON ANY SELLERS CREDITABLY/any individuality or person as non are named or mentioned.
Every thing written here is factual and obtained through research and contacting suppliers and manufacturer etc
.