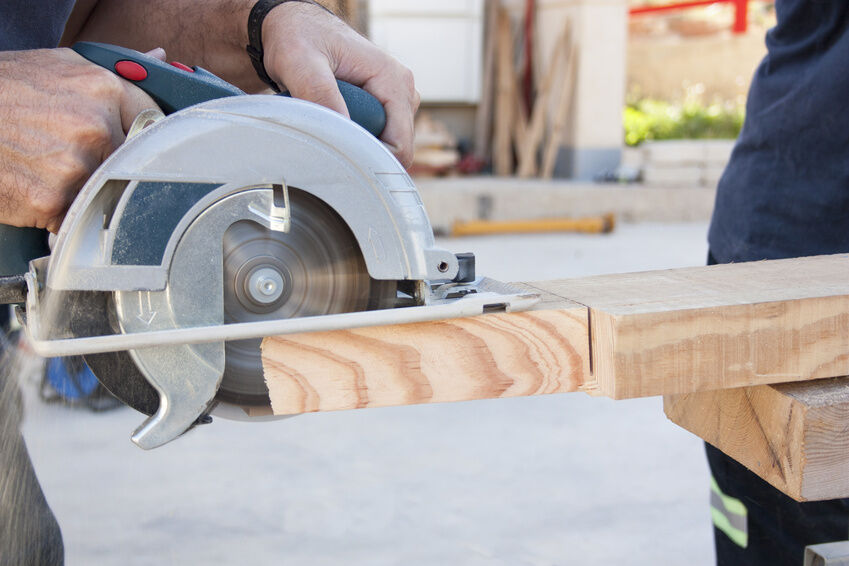 Every year, thousands of people injure themselves while operating power tools, including circular saws. Although a saw is an invaluable tool for a number of projects, taking proper safety precautions and paying attention to technique is critical to minimising risk. This includes not only general power tool and woodworking safety, such as wearing eye protection, but performing specific checks before using a circular saw and following precise procedures during its operation.
General power tool safety considerations
From saws to electric screwdrivers to sanders, the faster, stronger, and less taxing nature of working with power tools is why many people prefer them to traditional hand tools. However, when the power of the tool itself exceeds the power of its operator, a few general safety precautions are essential.
Never work alone.
Wear gloves, goggles, and dust masks.
Tie back loose hair, and wear fitted clothing.
Maintain open space around the work area.
Keep power cords untangled and out of the way.
Establishing basic safety procedures for workshop operations is the first line of defence against accidents and injury; however, when it comes the power and the particulars of the circular saw, basic safety is only a first step.
Safety before using a circular saw
Before turning on a circular saw or making any cuts, it is important to perform some basic safety checks. These ensure that the saw is in the proper condition to cut safely. An unsafe unit, no matter how skilfully operated, poses a danger.
Checking the saw
The saw's lower blade guard should easily retract and bounce back with little effort. It should also be free and clear of sawdust. Users must also check the power sources. Cordless circular saws need fully charged batteries for adequate power. Likewise, cracks or tears in the rubber encasing a power cord may cause the unit to sputter or short circuit.
Checking the blade
Users must inspect each blade they intend to use before connecting it to the saw. Blades should be sharp, undamaged, and free of rust. It is also critical that the blades are securely fastened into the saw and extend no more than 3/4 cm below the edge of the board to be cut.
Safety while using a circular saw
The final step in maintaining an accident- and injury-free workspace is to consider the specifics of circular saw operation. Properly cutting with a circular saw depends not only on equipment, but skill and technique.
Powering the saw
Plugging in a circular saw begins a process of charging the unit with enough power to make a proper cut; however, it can take time for this power to build up, so users must wait until the saw is fully powered before operation. In addition, users should never adjust or swap circular saw blades while the unit is plugged in.
Body position
It is safest to place both hands on a circular saw, and operators should stand to one side while making a cut. Ideally, one hand rests on the front handle, and the other rests in the area of trigger, but it is also important to keep fingers away from the trigger until it is time to cut, which reduces the likelihood of an accident.
Wood position
The positioning and stability of the wood has a direct impact on the safety of each cut. A single board suspended between two saw horses, for example, does not offer enough stability. This type of setup causes the wood to sag and the saw to kickback about two thirds of the way through a cut. Instead, it is always safest to use a frame table.
Using the right saw
Just because a circular saw can make a particular cut does not mean that it should. Different saws are safer and more effective for specific jobs. For example, using a circular saw to cut a stud inside a framed wall causes the saw to buck backwards. A reciprocating saw is more appropriate for this type of cut.
How to buy a circular saw on eBay
Buying a quality circular saw or the safety equipment needed to operate one is easy when you shop on eBay. Using the main search box on any page of the site, simply type a basic keyword such as "circular saw". Then, use the filters provided, which may include brand, price, condition, and more, to narrow the list of results and find the perfect match. If you are considering a used saw, contact the seller to confirm the tool's condition and that it comes with the necessary batteries, blades, and accessories for safe operation.