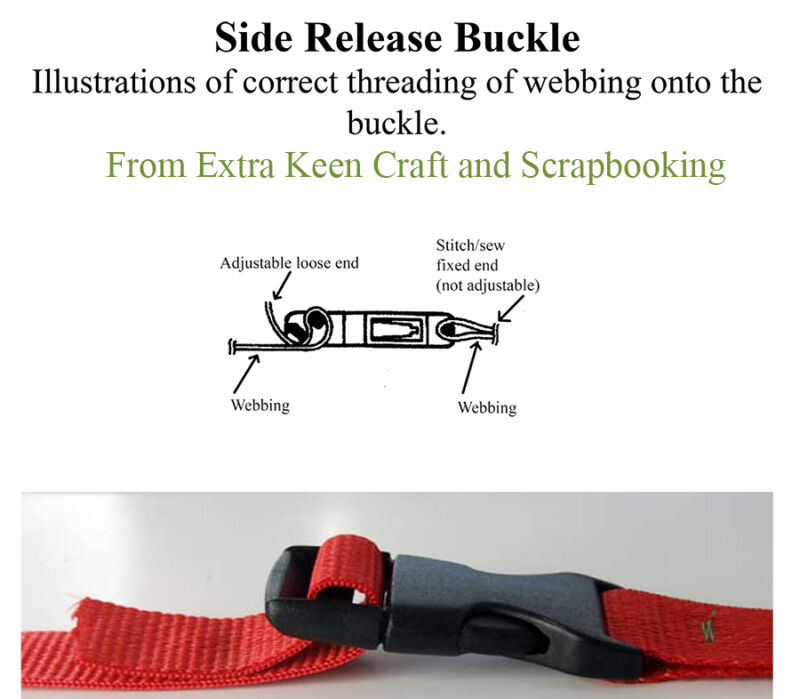 Additional information about the buckles and other products for sale in my store
These are the instructions for correctly threading a side release buckle. If the buckle is not correctly threaded it may not hold securely. A correctly threaded buckle can be tightened easily and the webbing won't slip when pressure applied to the straps. These instructions will apply to all side release buckles. The buckles in this illustration are for 1 inch (25mm) width webbing, strapping, ribbon or other narrow fabric.

These particular buckles are for sale in my ebay store along with a huge range of top quality ribbon with more than 50 colours to choose from in widths from 2mm to 100mm. Ribbon types available include: satin, organza (sheer ribbon), grosgrain and velvet as well as patterned and themed ribbon especially for sewing trim and scrapbooking or other craft projects.

Soon I will have 1 inch webbing in stock in black, red, purple, navy blue and pink. I also stock lots of browband diy products for the horse and pony show enthusiasts.

Enquiries are welcome, contact can be made via my web store.
I hope this information has helped.