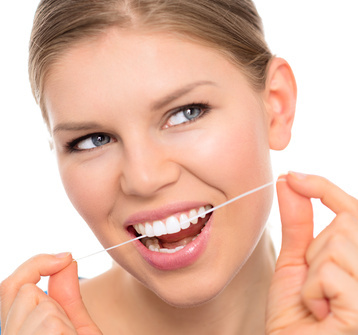 Dental floss refers to a couple of thin filaments that are inserted between a person's teeth to remove food particles and plaque buildup in order to promote excellent dental health. This is a delicate process that requires precision for optimum results, and it is important to scrape the filaments around the gums and the sides of the teeth for the maximum removal of plaque.
Dental floss is one of the most important oral care tools for proper hygiene, and selecting the right floss for your particular needs is crucial for good dental health. Incorporate flossing into your daily routine as part of your personal health and beauty techniques.
There are no hard and fast rules to buying dental floss, though varying details can mean that there are certain products that are better suited for certain individuals. It all depends on personal taste as well as the condition of one's gums and teeth. Do you have sensitive gums, or narrow gaps between the teeth that make standard flosses difficult to use? Rest assured that there are specific floss types available that can help you.
History of Dental Floss
Dental floss is believed to have been invented in 1815 by a New Orleans-based dentist known as Levi Spear Parmly, after advising his patients and the general public to use silk floss on a regular basis to get clean teeth. Floss became available on the market in 1882, when the first unwaxed silk floss was made available for adults and children. Four years later, the first patent for dental floss was given to the Johnson and Johnson Corp.
Dental floss gained huge popularity after a character was mentioned using the silk filament in the popular novel series Ulysses, released in 1918. Following World War II, nylon dental floss was introduced after being invented by Dr. Charles Bass. Due to high-end qualities such as impressive elasticity and higher resistance against abrasion, this type of floss became more popular than silk floss.
Considerations When Buying Dental Floss
Like many products in the world today, there are numerous brands of dental floss, and each brand or type comes with specific features. Finding the right type suitable for your lifestyle, needs, and preferences can be a bit tricky.
Several factors should be considered when selecting the most suitable dental floss for your needs, and when applied consistently, some of these factors will help you generate healthy benefits from good dental hygiene practices.
Environmental Factors
If you are looking for the perfect dental floss to eliminate plaque and food particles which may become stuck in your gums and in between your teeth, why not choose a type made from natural components?
While dental floss may not be the most conspicuous bathroom item, it is produced and sold in large quantities all over the world, so you can minimize the impact of these products on the environment by observing the ingredients used in the manufacturing of dental floss. Artificial dental floss is usually coated with materials developed from petroleum and other products, so if you are environmentally-minded you may prefer to stick with products that are made from natural materials. Natural dental floss is manufactured entirely from natural products and, as such, helps to protect the environment.
Dental Floss Components
The majority of dental floss is manufactured mainly from nylon, an artificial fiber derived from petroleum products. Silk is the main ingredient of natural dental floss and is produced from natural raw materials in processes that cause minimal harmful effects on the environment.
Natural Wax or Unwaxed Dental Floss
The majority of waxed dental flosses on the market are coated with synthetic wax. The type of wax that an individual chooses will be entirely up to their own personal preference, but it is good to keep in mind that often, natural waxes are a little bit gentler, and may be a better choice from those who have sensitive gums. In this case, it can be a good idea to look for natural floss products coated with beeswax or other types of wax produced from natural plant products.
Types of Dental Floss
Dental floss is an essential part of a healthy dental care routine. Only ten percent of the general population does not floss. Flossing has been linked with several benefits including the prevention of gum infections and other types of dental diseases as well as the elimination of stagnant plaque, linked with bad breath and other ill effects. The fact that flossing is easy to do and requires just a few minutes of your time makes it a great method of dental care for hundreds of millions of people. There are several types of dental floss, so knowing the options will help you make a great choice.
Monofilament Floss
Monofilament floss is manufactured from just one type of synthetic material such as plastic, rubber, or polytetrafluoroethylene. This is the most popular type of floss because of a range of benefits including high levels of strength, making it difficult to rip, compared to other types of flosses.
Multifilament Floss
Multifilament floss, just as its name suggests, is manufactured from several strands of fiber woven together. Some brands come with nylon, while natural flosses are manufactured from silk. These types of floss are available in varying degrees of thickness as well as flavors. You can findmint-flavored floss, cinnamon-flavored floss, and many more.
Dental Tape
Dental tape comes with several features common to monofilament flosses and is made up of a strip of nylon, which is usually wider and thinner than its monofilament counterparts. Many users choose dental tape over monofilament or multifilament flosses due to the fact that they can be effortlessly inserted into the teeth for quicker and more effective cleaning.
Dental Floss Accessories
Choosing the right dental floss for your needs is important to receiving the proper level of dental care that you seek. Additionally, there are numerous accessories that can enhance your ability to achieve better results from your dental floss.
| Accessory | Description |
| --- | --- |
| | Holds floss in place so it doesn't slip |
| | Makes flossing easier for people with dental braces, bridges, and retainers |
| | Used for irrigating the teeth and gum areas for easy removal of plaque |
| | Controls floss for maximum performance |
Finding Dental Floss on eBay
By shopping on eBay, you'll be able to browse through the many dental hygiene products, including professional quality flosses usually only found in dentists' offices, all in one place. If you already know exactly what you'd like to purchase, you can enter the applicable terms into the eBay search bar, which will show you those particular items; however, if you'd like to browse a variety of options, simply visit the Oral Care section of the Health and Beauty category. Dental floss will be listed on the left side of the page as well as other dental hygiene products.
As you are shopping, you will find that there are a large number of combo deals and bulk packages available. This is a great option if you are purchasing dental floss for a dentist's office, or even if you just enjoy the convenience of always having the floss that you prefer on hand whenever you need it. Packages might also include toothbrushes, water picks, or other dental accessories.
When buying an item such as a floss pick to replace standard dental floss in your oral hygiene routine, remember that these are disposable items, and that one package might not last as long as the standard package of floss. Pay attention to the number of floss picks contained within the package and use this to estimate how many days the package will last.
Conclusion
Dental floss is a great tool for preserving your dental health by working to remove plaque and other particles which may be stuck between your teeth and in seemingly unreachable areas such as under your gums. Some dental floss products may come with antibacterial products to kill bacteria and other harmful organisms responsible for tooth decay, gum disease, and other dental infections. Taking the best care of your teeth affects the well being of your whole body. Oral hygiene is important for your pets, too.