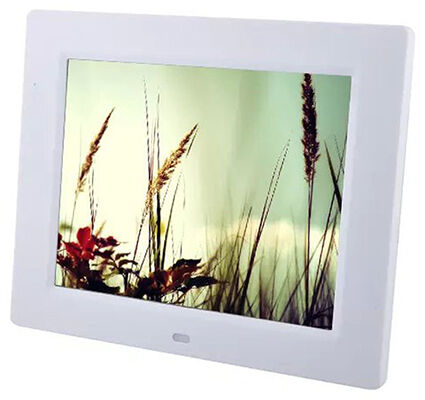 Digital cameras have not only changed the ability to take pictures, but also have eliminated the need to print every photo. Digital photo frames allow photographers to display their images in a variety of ways without printing. When buying a digital photo frame, it is important to consider the technology of the frame, various display features, picture resolution, and extra components.
Technology of a Digital Photo Frame
The technology of a digital frame heavily influences its use and ease of transferring images. Buyers need to research the memory of the frame and how images and other files can be transferred.
Digital Photo Frame Memory
Buyers can determine how much frame memory they need based on their use. Internal memory starts around 8 MB and can grow to 4 GB on average. Those using memory cards do not need as much internal memory, but those using wireless to upload and store images should opt for higher memory.
File Sharing
Digital frames make it easy to take images from your devices and display them. Memory card capability is found on most frames, commonly supporting MS, SD, and MMC memory cards. To take files from the computer, look for USB connectivity. Newer frames are outfitted with Wi-Fi and Bluetooth so that content can be uploaded onto the frame without a memory card or USB connection.
Digital Photo Frame Display
When shopping for a digital photo frame, the display is one of the most important components. This includes how you will display the frame, image display options, photo orientation, and picture resolution.
Frame Display
Digital frames come designed to hang on a wall and with a support arm so that it can be freestanding, but always inspect it when shopping to make sure that it will work with your intended display. Frame display also includes the measurements of the frame. Digital frames range from miniature key chain frames to portrait pieces measuring 50 cm. Frame measurements are similar to those for other media screens, measuring on the diagonal from corner to corner.
The material and design of the actual frame also factors into the display. Similar to traditional picture frames, digital photo frames come in wood, metal, acrylic, and plastic. Many newer models are made to mimic the look of media screens, so decide if you prefer a traditional frame design or a modern screen look.
Image Features
Aside from the ability to display many images at once, digital frames allow you to customise how those images are displayed. Images can be rotated on a steady loop, formatted into slideshows to showcase specific images, and a single image can be frozen on the screen. Along with these basic image features, accelerometers allow for image rotation that can adjust landscape or portrait orientation. Controlling images with a remote, the option to playback the previous image or images, and to print directly from the frame are more specialised options that buyers should specifically seek out if they want them.
Photo Resolution
Photo resolution remains the single most important component in choosing a frame, as a poor resolution will result in pixelated images and nullify even the most advanced features. Electronics experts recommend always choosing a resolution of 640x480 or higher.
Extra Features of Digital Photo Frames
Early digital photo frames simply displayed images, but advancing technology is allowing these frames to be a multifunctional tool. Video, audio, and alarm clock capabilities can all be found within digital frames.
Video Features
Many digital cameras have the capability to take video as well as photographs, so selecting a frame with video playback features is important in being able to display all of your recorded content. It is important to know which types of video files you want to use the frame for and make sure that it supports those types of files. AVI, MPG 1, MPG2, and MPG4 are some of the most common video file types able to be played on a digital frame. When searching for this type of frame, they can be labelled as a video and picture frame or a multimedia frame.
Audio Features
Built-in speakers have enhanced digital frames so that they can play MP3 and WMA files, while also allowing the audio of accompanying video clips to be heard as the video plays. To get the most from this feature, users can create audio files to accompany still images and create narrated or musically accompanied slideshows. Check the frame description to know which types of audio files are supported.
Calendar and Clock Features
A digital picture frame can serve even more functions with calendar, clock, and alarm features. The majority of digital photo frames come with a remote, and for those who want to be able to adjust alarm settings from across the room, make sure there is a compatible remote included with a frame before purchasing.