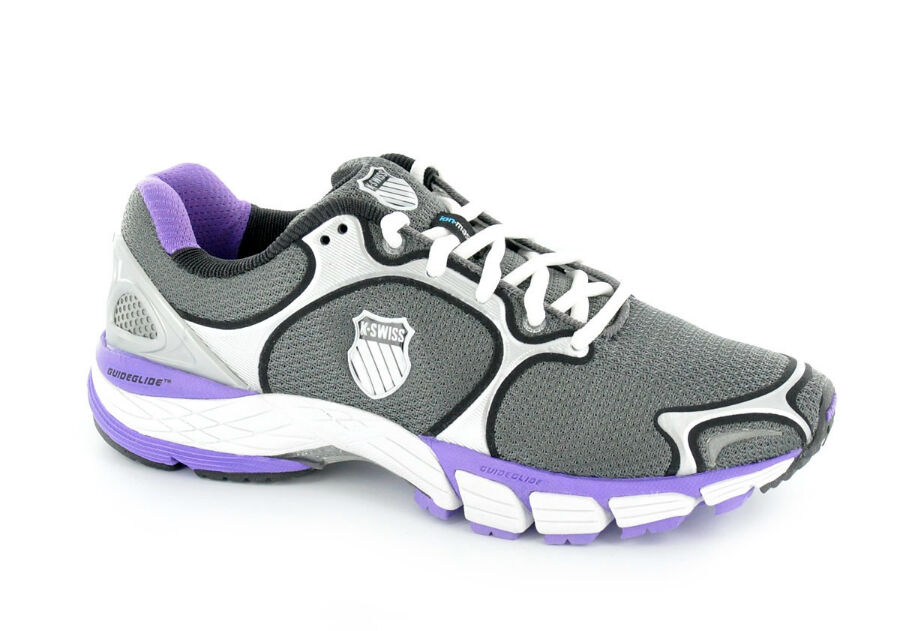 Running shoe companies appeal to buyers' sense of fashion and set off trends that unfortunately might not be the best for the type of foot they were born with. Finding the proper running shoe will add comfort to an individual's exercise routine and help to allay possible foot, knee, and lower back injuries. To avoid these problems, it is important to understand the type and shape of feet a buyer has.
Consider Foot Type and Shape
Identifying a buyer's foot type should be the very first order of business when shopping for any shoe, but especially for running shoes. It is the natural shape of one's feet that ultimately determines the type of running shoes one will need in order to have a pain-free run. There are a couple of ways to determine foot type. Buyers should get their feet measured in a store by a clerk or perform a 'wet test' at home. A wet test is simple. Wet the bottom of the foot and step onto a thick piece of paper to leave a print. By looking at the print, the type of arch should become relatively obvious.
A low arch or pronated arch generally rolls inward. A curved footprint will be obvious as the heel and ball of the foot are separated by a narrow strip along the outside of the foot.

A low to flat arch is over pronated and tends to have an excessive inward roll. This will leave a wide, straight footprint with little to no separation between the heel and ball of the foot.

Medium to high arch, or supination is spotted by an excessive roll outward. The heel and ball of the foot might have little to no connection because of the high arch.
Finding the Right Running Shoe
Whether the foot is flat or highly arched, the shape affects movement and determines the sort of shoe the foot requires in order to have a safe, effective, and comfortable run. There are various running shoes available with a range of arch supports, widths, and materials, which contribute to the overall shoe weight. Popular brands such as Nike, Adidas, New Balance, and ASICS carry a large selection that cater to all types of feet.
Shoe Type
The three most common types of running shoes to choose from cater for cushioning, motion control, and stability. Each style of shoe affects the foot differently, depending on the stride and type of foot. Every time the foot strikes the ground, it can roll inward, outward, or hit flat, which can cause injury. Choosing the correct running shoe based on the right foot type will help alleviate many common injuries runners experience.
Shoe Cushion
These shoes are for those whose feet do not roll inward or outward, but pronate normally. The cushioning provides shock support by absorbing some of the impact of each stride.
Shoes that Control Motion
Running shoes that control motion are an excellent idea for those whose feet tend to roll in one direction or another with each stride. For over pronators or supinators, these are the ideal choice to avoid sustaining injuries. They are also a good choice for runners who are just beginning a regime, but have little control over ankle support when they begin.
Shoes for Stability
Stability shoes provide cushioning as well as support on all sides. They help reduce over pronation by providing enough support to help guide each stride taken.
Shoe Shapes
The 'last' refers to the shape of the running shoe. The straight 'last' is wide and helps to control the inward motion of the foot. Runners that over pronate or have flat feet are best suited with a straight last shape. Underpronators or supinators are best suited with a curved last shoe. For runners with normal pronation, a semi-curved last is the best choice.
Sizing the Shoe
When figuring out the appropriate shoe size, remember to compensate for swellings, socks, and the manufacturer's size charts. It is best to size the feet at the end of the day, when they have been moving around for hours and are likely to be at their largest size. Pay close attention to the areas that rub or seem tight because these are potential blister spots once the wearer begins to run. Wear running socks when trying the shoes on, just to be sure that the fit is solid and not too loose or tight.
How to Buy Running Shoes on eBay
It is easy to find a large selection of top brand running shoes on eBay. Begin by typing 'running shoes' in the search bar and selecting refinements from the left side of the page. You can choose from men's, women's, and children's shoes and easily navigate to the desired section. Buyers should read descriptions of each shoe and compare seller ratings to find those that eBay has designated as Top-Rated Sellers with the most solid reputations.