Using Your Spotlight in the Most Convenient Way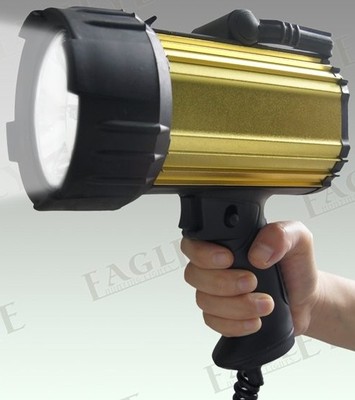 A spotlight is one of the most important accessories that you need on a camping or hunting trip. However, in different situations you need different kinds of light. For example, when hunting an animal you might need a light that is not too bright, whereas you would need a high intensity light to find your way through the woods. And you certainly do not want to carry more than one spotlight; that would be a burden.
What you actually need is the Hand Held Halogen Spotlight as your all-in-one spotlight companion. This is a handheld compact spotlight with a gun-like handle, giving you a strong grip. It also has a rubber coated power switch right where your index finger lies, so control of your spotlight is completely yours. The biggest advantage of the handheld feature is that you can turn and aim the spotlight at any point and cast light on it in an instant.
Your trusty handheld spotlight comes with three interchangeable bulbs which can be easily replaced depending on your requirement. The spotlight is shock and waterproof, and also durable, meaning that you can forget about it getting damaged in any way during your adventures. All you need to do is plug in the curly power cord to the cigarette lighter socket of your vehicle, and the spotlight is at your disposal. The spotlight can be attached to a numerous number of mounts, meaning that you can prop it up in any way to suit your lighting needs.
CLICK HERE
to see our range of spotlights