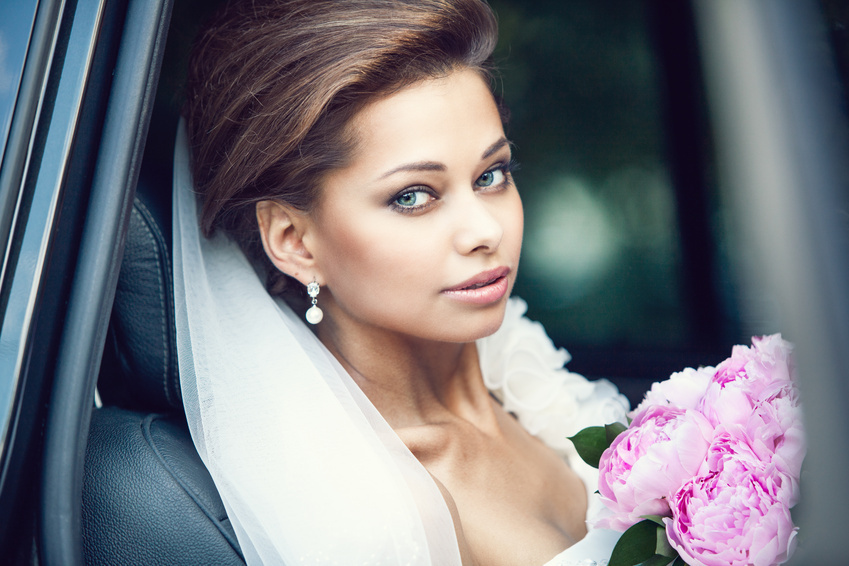 On their wedding day, most brides want to look as beautiful as possible. Whether the bride wants a natural 'no-makeup' makeup look or a glamourous face done up with the works, having a good idea of the products and colours she wants to use helps every bride approach wedding day makeup with a sense of serenity. Moreover, it is not necessary to break the bank on wedding makeup if you know where to find reasonably priced cosmetics and how to use them properly.
Finding the Right Makeup Style
Even the most makeup-novice bride can find an easy makeup style to replicate on her big day. Brides can choose from several styles of increasing elaboration and can mix and match styles to personalise their look.
Makeup Area

Minimal

Natural Glam

Skin

Tinted moisturiser

Powder to reduce shine

Light blush to enhance colour

Light foundation

Powder

Light blush

Eyes

Naturally shaped brows

Light mascara

Eye shadow if desired

Shaped and combed brows with pencil definition if desired

Thick mascara application with partial false lashes

Eye shadow in one or two shades

Subtle brown or grey eyeliner if desired

Lips

Light gloss or tint

Strong gloss or tint

Long-wear lipstick in subtle colour (pink, peach, light brown)

Nails

Short, well-groomed natural nails

Clear or pale polish (nude, peach, pink)

Short or long well-groomed natural nails

Pastel or light polish (sheer brights, pastel blues, bright baby pink, lavender)
Defining a style is especially helpful for brides who are not used to putting makeup on themselves. It also helps those who want to have a friend or professional makeup artist do the job for the big day. A test run or two is a good idea to prevent any last-minute surprises or disasters.
Selecting the Makeup
Once a style is determined for each makeup area, picking specific shades and products is the next step. Deciding on specific shades of lipstick, nail polish, eye shadow, and blush may take some trial and error. Selecting the right shade of tinted moisturiser or foundation may also be necessary, especially if the bride does not ordinarily wear these products.
Practise Application
Whether the bride plans to apply her own makeup, have a friend do it, or hire an artist, she can buy her own products to ensure she has the right colours and formulas. This is a particularly good idea for a test run to make sure the colours look right on the face and nails. Occasionally, makeup can look different out of the bottle or on different skin tones, as well as in different lighting conditions. Brides who are completely new to makeup or who plan to try a specific technique should research tutorials on the subject and practise application prior to their wedding day.
Applying the Makeup
On her wedding day, the bride should start with a clean face in order, providing a good canvas for the makeup application process. She can apply nail polish the day before or after the makeup application is complete. She should also take care to ensure her nails dry fully before she puts on her dress to avoid smudge disasters and a stained gown.
By this point, she should be familiar with application techniques thanks to earlier research, and can apply makeup as needed. Ideally, she applies the makeup before she puts her dress on. If this is not possible, brides should make sure to protect their dresses from any potential drops or spills. To avoid too-light or too-heavy application, she should do her makeup in lighting conditions that duplicate her ceremony and reception.
How to Buy Bridal Makeup on eBay
eBay sellers offer a wide variety of new or never-used makeup that you can purchase for reasonable prices. This includes brand-name makeup from companies such as MAC, Clarins, Laura Mercier, and Christian Dior. Simply type the makeup you seek into the search box on any eBay page. Take care to purchase wedding makeup with enough time to ensure delivery and leave enough time for a few trial runs before the wedding day. With the right planning and smart shopping, every bride can have the makeup style she wants without breaking the bank.