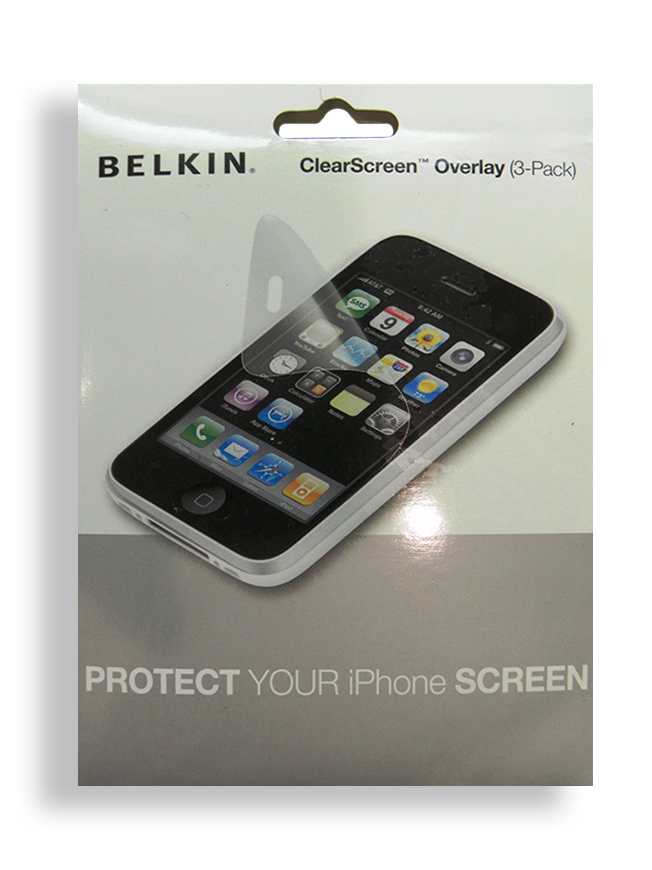 Adult technology consumers own an average of two to three devices with touch screen technology. Although manufacturers use Gorilla Glass for screens, it is still vulnerable to damage from accidents. Constantly repairing screens adds up when there are several devices in one household. A Belkin screen protector is a preventive plastic film that is easy to apply. Learning about how to choose the right protector for the screen, apply it, and what aftercare steps yield optimal performance helps consumers with their purchasing decision.
Purchasing the Right Belkin Screen Protector
Selecting the correct model of Belkin screen protector for a tablet or smartphone ensures the product's effectiveness. Belkin offers five different screen protector designs for numerous touch screen products. These protectors offer differing levels of visibility and anti-smudge characteristics, and they also come in matte or shiny display finishes.
TrueClear Protector Type

Advantages

Disadvantages

Transparent

Higher visibility than most standard products

Shiny display

No anti-fingerprint capability

Anti-Smudge

Protects against smudges and fingerprints

Minimised display distortion

Matte display

Only 88 per cent transparency

High-Definition

95 per cent transparency

Anti-smudge technology

Shiny display

None

Damage Control

Smooth screen protection

Liquid technology fills in scratches

93 per cent transparency

Shiny display

Some anti-smudge

High Definition for Retina

Maximum display light visibility

HD formula

Shiny display

Some anti-smudge
To find the right size screen protector, use the touch screen's brand and model number. For example, a popular tablet brand is iPad, but each iPad has a specific model number. It is important to use the correct information for sizing as even a minimal change in specifications can mean a difference in protector size.
Applying a Belkin Screen Protector
Applying a new screen protector is simple and following these installation steps ensures a longer life for the device.
Wipe the screen with the cleaning cloth that comes with the screen protector. Remove any oily or sticky residue with an alcohol-only wipe and use tape to remove any dust or particles left behind. This step helps prevent bubbles underneath the protector.
Peel back the first tab halfway and align along the long edge of the device. Once the edge is secure, slowly peel back the remaining portion of the tab while pressing the protector to the device.
Remove the second tab using the same procedure. If necessary, press the protector down while drawing back the second tab to prevent air bubbles.
Use the smoothing card to draw any bubbles out to the edge of the screen. Use a credit card or other plastic card as a substitute for the smoothing card.
Wipe away any fingerprints or smudges using the cleaning cloth.
Realign the protector as necessary to ensure it completely covers the screen. Gently peel from one corner to lift the protector and reposition it. Remove any bubbles by using the same smoothing card.
Caring for a Belkin Screen Protector
A Belkin screen protector still requires some cleaning. The methods to keep a screen clean can also keep the protector clean. Alcohol wipes are a good option to remove oils and grime, or you can purchase a Belkin cleaning system for maintaining a protector. If there is a bubble containing dust, remove the protector while cleaning the screen and replace again.
How to Buy a Belkin Screen Protector on eBay
You can view and compare the different sizes and models of Belkin screen protectors quickly and easily by browsing the listings on eBay. Find a variety of options by typing 'Belkin screen protector' into the search bar on any page. Narrow the options by screen brand, size, or protector model. You can also purchase bundles of Belkin products that include multiple screen protectors, cleaning systems, and other accessories for your smartphones, laptops, and tablets. Select Belkin products to ensure the protection of your devices and to prevent damage to the screen.