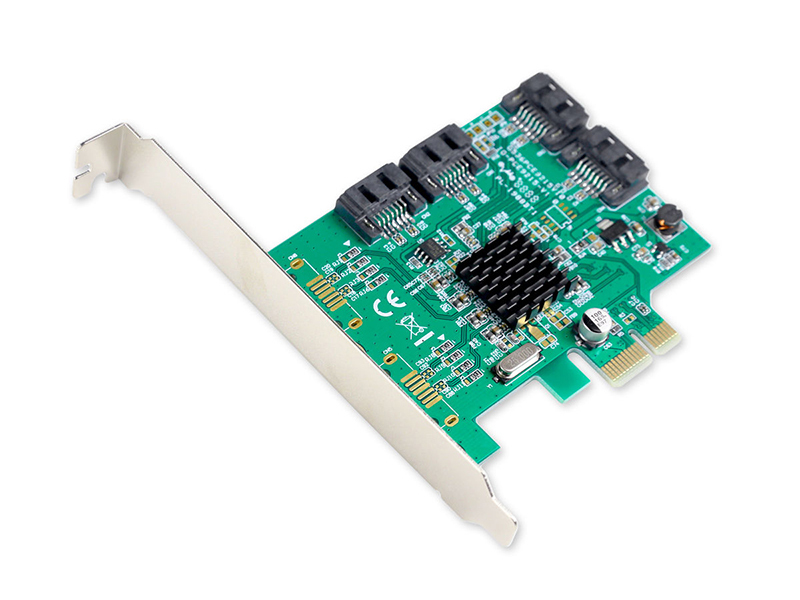 When it comes to connecting internal storage devices to a computer motherboard, users have two options: IDE connectors or SATA connectors. For decades, IDE (also known as ATA or PATA) was the popular option used with most computers. However, by the early 2000s, SATA (Serial Advanced Technology Attachment) overtook IDE (Integrated Drive Electronics) as the preferred interface for new desktop computers and laptops. Users can find these components from electronics retailers or online sources such as eBay.
SATA Basics
SATA experienced this boost in popularity because of its faster transfer rates and direct motherboard connections. Owners of systems with IDE drives can improve the performance of their computers by redirecting their systems to boot using SATA interfaces.
Setting Up Systems to Boot from PCI SATA Cards
Technically, computers do not boot from PCI SATA cards. Systems boot from the storage devices connected to the cards. That means to boot using PCI SATA technology, owners must have compatible SATA hard drives installed. When it comes to buying a SATA hard drive, the two popular options are SSD and HDD drives.
| | | |
| --- | --- | --- |
| Features | HDD | SDD |
| Cost | More affordable | Less affordable |
| Noise | Low whirls and clicks | Silent with no vibration |
| Capacity | Up to 4TB | Up to 1TB |
| Power | Uses more power | Uses less power |
SSD drives are good choices for shoppers who want to optimise their systems for speed. Computers with SATA SSDs take an average of 22 seconds to boot, while systems with HDD drives take up to 40 seconds. On the other hand, HDD is a good fit for shoppers who prefer a lot of storage and low cost over computing speed.
Preparing the Hard Drive
Computer users can switch their systems from booting using old IDE drives to newer SATA hard drives by following a few simple steps. First, they must get the appropriate drivers for the SATA cards. Most manufacturers offer drivers as free downloads on their websites. They simply download and store the files and software to special folders on their hard drives. If systems do not already have PCI SATA cards, users can easily install them by simply plugging the cards into any open PCI slots on their motherboards. They should disconnect computers from power sources before completing this step.
SATA Cables
With the IDE hard drives still in place, users connect the new SATA drives using SATA cables. They can then restore power and boot to the operating system. When operating systems launch, they should automatically detect new SATA cards and initiate installation of the correct software. When prompted, users select the location of the necessary drivers.
Post-Installation Checklist
After installation, it is important to ensure computers correctly detected both the SATA hard drives and the SATA controllers. Users can check this by accessing the Device Manager Window and reviewing the list of installed components. Cloning software performs easy cloning of the contents of IDE hard drives to new SATA hard drives.
Configuring the BIOS
To complete the switch, users need to configure their computers to boot from SATA hard drives. This involves logging into the BIOS and making some changes. They log into the BIOS by restarting the computer and pressing a particular button during the start-up process. The button varies with different models and is often one of the 'F' keys.
Most computers display a prompt like 'Press [X] to Enter BIOS' during the early seconds of the boot, and users simply need to watch for this prompt. After the BIOS loads, they log into the Boot menu and change the Boot order to make the SATA drive the first choice. They then save the settings and restart.
How to Buy a PCI SATA Card on eBay
On eBay, you can find everything you need to configure a computer system to boot from a PCI SATA card. This often involves purchasing and installing a new SATA hard drive. To help with your search, every eBay page features a convenient search tool that allows you to search for general categories or very specific items. If you plan to buy a refurbished computer or refurbished computer components, you can save a lot of money, but be sure to read the descriptions carefully. If faster computing speed is what you want, a new SSD hard drive with a PCI SATA card is exactly what you need.