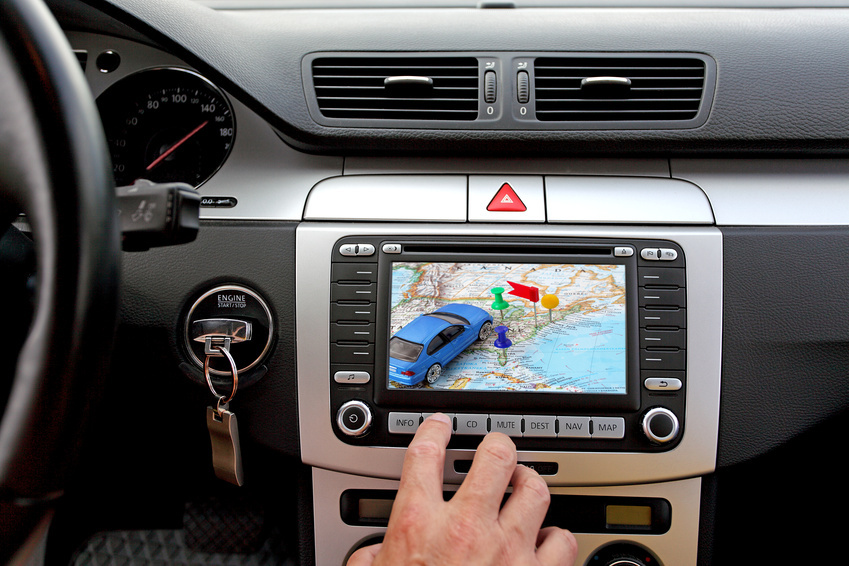 If you plan on traveling outside of a zone covered by your current GPS maps, then you need to buy additional maps. Most people tend to purchase maps for vacation, but depending on the area covered in the original map purchased with the GPS, it might also be necessary to purchase new GPS maps for another area for a move, or even visiting another part of the country. Whatever the reason, it is important to research and find the correct GPS maps for the GPS unit.
Maps for GPS systems are available in a variety of formats, including digital downloads, microchips or SD cards, which can be placed inside of the GPS, and sometimes a CD format that must be installed on a computer and then installed onto the GPS. Digital downloads should typically only be purchased from the manufacturer's website, while the other two options can be purchased from anywhere, including eBay. The following information can be used to find and purchase additional maps for a GPS.
Is the GPS Compatible with Map Upgrades?
Not every GPS unit is compatible with map upgrades, so it is important to check before going out to purchase one. Chances are that any major brand such as TomTom, Garmin, Navman, Uniden, or any brand sold internationally is compatible with international maps. However, smaller local brands or unbranded GPS systems might not be compatible with a map upgrade.
Consider Branded Maps
An important thing to consider when purchasing maps for a GPS is that the maps should be branded. It is not usually possible to purchase any GPS map to use with a brand. For this reason, anyone who owns a TomTom should purchase maps sold by TomTom, and likewise with Garmin and Garmin maps, or any other brand. This is because the GPS might not be able to read maps from a different brand, and the software might not even be able to see it or support all of functions and details from another brand. This rule applies to SD card and CD purchases as well as to digital downloads.
Choose the Right Map for Your GPS Unit
There are many types of maps with different levels of detail but what is available depends on the GPS brand. Many brands offer a range of different maps with different levels of detail, day and night views, and coverage of different areas. Choosing one should depend on the drivers, where they are going, and what type of map they need.
Select the Map Area
While some maps are available for worldwide coverage, this is very rare. Most maps are sold for a specific country but some are also sold for specific areas. Some maps also offer some coverage of an area or country but do not cover the entire area. For example, a map of Europe might only include Western Europe rather than Eastern Europe, and so on. For this reason, it is usually important to pay attention to the exact covered areas available. Some GPS brands, such as TomTom, might also sell maps per country or per continent, which can save money to anyone who is only traveling to one area.
| | |
| --- | --- |
| Map Area | Typical Coverage |
| Country | One country |
| City | One city or city area |
| Continent | Full continent |
| Oceania | 14 Oceania countries, including Australia, New Zealand, Papua New Guinea, Fiji |
| Western Europe | Nine western European countries |
| Eastern Europe | Most eastern European countries |
| Africa | Most African countries |
| Americas | North America, South America, and Canada |
| United States | 50 states and one federal district |
| North America | North American countries |
| South America | 12 countries in South America |
| Central America | Seven countries in Central America |
| Middle East | 18 to 38 countries in the Middle East |
| Asia | 49 countries in Asia |
Importantly, most people do not need full continent maps but should instead choose individual country maps based on where they are going. For example, someone travelling to Thailand could save a lot of money by looking for and purchasing a GPS map of Thailand rather than of all Asia. However, anyone who plans on driving across multiple countries might actually benefit from the full continent map. For example, many people choose to tour Europe, in which case a full European, Western European, or Eastern European GPS map might be appropriate, depending on the planned route. Anyone who plans to travel to New Zealand and Australia might want a full map of Oceania so that they can use their GPS wherever they are.
Other Considerations when Buying Maps for Your GPS Unit
Choosing a GPS map should depend on several things, including the area. Most buyers should decide on the area the map needs to cover, any features that they prefer the map to have, and then check a couple of basic things. These include the type of screen, the age, the resolution, the brand, and the model number of the GPS unit that the maps are intended for. Each of these factors is important because some maps are not compatible across models from the same brand, while others might be designed for a larger or smaller screen, which means that they might appear distorted. Usually, a good option is to look for maps by the exact model of GPS and then to ensure that those maps are for the correct brand. Finally, take into account future travel plans as well as any instance where more maps might be necessary.
Know the Available Map Formats
GPS maps are formatted for different types of systems. Possibly the easiest version to install and use is simply a micro SD or SD card, which can be placed into a GPS unit with a card slot. It is important to check to ensure that the GPS unit has this slot before buying this type of additional map for the unit. The second type of GPS map can be purchased on a CD and then installed onto the GPS unit via a computer. Finally, digital downloads are also available for purchase but should usually only be downloaded via the official web shop for the GPS brand. Depending on whether or not the GPS is WiFi capable, these digital maps may be downloadable directly onto the GPS but might also have to be downloaded onto a computer first.
How to Buy Additional Maps for Your GPS Unit on eBay
While it is not possible to purchase digital downloads on eBay, it is possible to purchase SD card and CD map upgrades on the site. For the most part, this is very easy to do as long as you keep the make and model of your GPS unit in mind, and then remember to check the age and compatibility of the GPS map being sold. For example, a map dated from a few years ago might not have been updated with any road or area changes.
If you are purchasing additional maps for your GPS, you can search via the brand of your unit to find the maps. You can also try including the area you would like the maps for, such as 'Garmin New Zealand maps', or ' map of New Zealand for TomTom', depending on what you are looking for. You can browse through results to find the best result or best deal but remember to compare any features and to read the full description to ensure that the map is compatible with your GPS. Finally, check the estimated shipping time before purchase if you need the map to arrive before a certain date.
Conclusion
Buying additional maps for a GPS unit is usually very simple but does require that the buyer decide exactly which maps they need, and that the GPS unit have those maps available. All international brands feature maps around the world but some might not offer worldwide service and some might offer only limited maps of some areas. Buyers should also choose how much of a single area they would like to have maps for and then look for the GPS upgrades.
Most maps are only compatible with the same brand and model, so it is important to purchase maps according to the model owned. A TomTom is only compatible with TomTom maps, for example. Finally, it is always a good idea to check to see if the GPS unit has an SD card slot before purchasing a map as some maps are available on SD, on CD, and sometimes as digital downloads.
GPS Unit|Map|Vehicle Electronics|Mobile Gadget|GPS