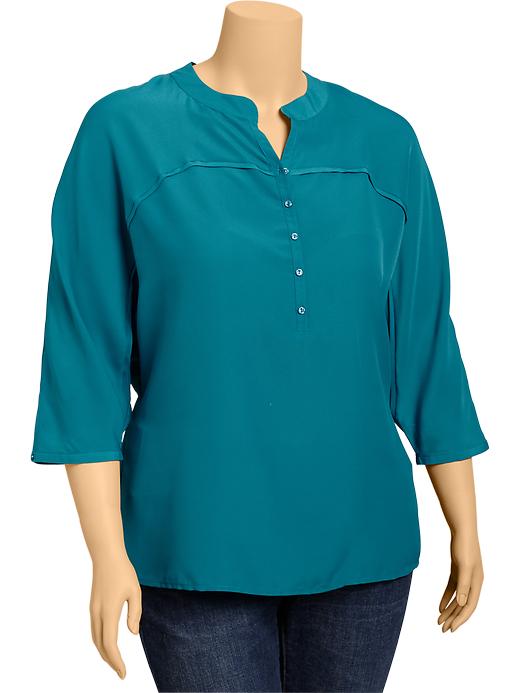 A blouse is a semi-dressy or dressy top that blouses out when ladies tuck the shirt in. It can also be any flowing top that does not hug the torso. Women wear blouses with casual trousers such as jeans, or dress up with a pair of slacks or a skirt.
These shirts are great for every woman to have in their wardrobe because they are appropriate for so many different occasions. Ladies wear them at their work place, to shop, and to go out to a nice evening dinner. Having several blouses can definitely come in handy. Learn about the various kinds of styles and how to find the right size before shopping for bargain blouses.
Blouse Sizes
Whether shopping online or in a shop, ladies need to know what their size is. Since blouses are supposed to poof slightly out, it is important that they fit well, otherwise it is noticeable. To figure out what size a person is, they only have to measure their bust and their waist. Next, use the chart to see which size is the closest to those measurements.
| | | |
| --- | --- | --- |
| Bust Measurement (cm) | Waist Measurement (cm) | Blouse Size |
| | 58 | 4 |
| 78.5 | 60 | 6 |
| 81 | 63 | 8 |
| 86 | 68 | 10 |
| 91 | 73 | 12 |
| 96 | 78 | 14 |
| 101 | 83 | 16 |
| 108.5 | 90.5 | 18 |
| 116 | 98 | 20 |
It is also possible to try on blouses and just see which size is the one that fits. However, this only works for that particular brand because many manufacturer sizes tend to vary slightly from each other. When purchasing online, it is always wise to check the manufacturer's own sizing chart if possible.
Types of Women's Blouses
Since there are several styles of women's blouses, it's easy for shoppers to find something that is perfect for them. To start, learn about the types of blouses and then consider how dressy the top should be and whether it would go with the other clothing in the wardrobe.
Button-Down Blouse
The button-down blouses look a lot like men's dress shirts, but the shape of the blouse is more suited to the figure of the woman. In addition to that, the collar is not tailored to a woman's neck and the fabric is usually more lightweight and less stiff. The cuffs and sleeves are also general sizes rather than being specific to the length of a woman's arm.
Button-down blouses are casual, dressy, or professional, depending on the material and design. Casual button-down blouses may not have a collar at all and the material is something simple like cotton. The top may even have a fun pattern on it. Dressy button-down shirts often have embellishments on them such as lace or frills. Professional blouses have a collar and the material is stiffer like the men's dress shirts. Generally, ladies are supposed to button up the professional tops when they wear them.
Vintage Blouses
The ability to buy vintage blouses is an option that many women often forget about. Vintage apparel has a unique appearance as well as a special appeal. Those who enjoy dressing differently from other people often enjoy the challenge of shopping for vintage clothing. In addition to this, purchasing vintage clothing is environmentally friendly because the clothing is re-used rather than being discarded and having new shirts bought in its place. Sometimes shoppers can also find great bargains on vintage blouses.
Some people shy away from vintage apparel because they assume that it is not in good condition. However this is a common misconception. Ladies can easily find vintage blouses that have been maintained if they know where to shop and what to look for.
Vintage Blouse Sizes
The biggest problem that women run into when they shop for vintage clothing is the sizing differences. The clothing sizing standards changed throughout the years. A vintage shirt labeled small may not be the same size as a small shirt size today. Usually vintage clothing is smaller than today's clothing. Be sure to get modern day measurements before buying anything. Many sellers are willing to measure their vintage blouses if asked to. If the blouse is in a shop, then just ask to try it on.
Dirndl Blouse
Dirndl blouses are characterised by their lightweight fabric such as silk, satin, and thin cotton. Usually the tops have a lot of fancy embellishments such as ruffles and buttons. They go with cultural clothing and some have to be worn over the top of another shirt because they only cover the chest.
Peasant Blouse
The peasant blouses can be casual or dressy depending on the material and pattern. The shirt came from the clothing style seen during the 1960s in small European countries. The peasant blouse has puffy sleeves, thin material, and loose body. However, the hem of the blouse cinches in around the waist. Many of them have embroidery, beading, ruffles, or lace. Even with the embellishments, the tops are usually casual and supposed to have a carefree appearance.
How to Buy
Shopping for bargain blouses is easy to do online. To find great sales visit the eBay Deals page everyday to see what is there. It is also possible to shop from thousands of sellers on eBay and find deals from them as well. Some even offer free postage. To see what is available, use the eBay search bar to look up any item. For example, you can type " vintage blouses " and then browse through the list that comes up. Be sure to look at product pictures carefully and read the seller's product description to learn as much about the shirt as possible. In some cases, the seller may even have several colours of the blouse available.