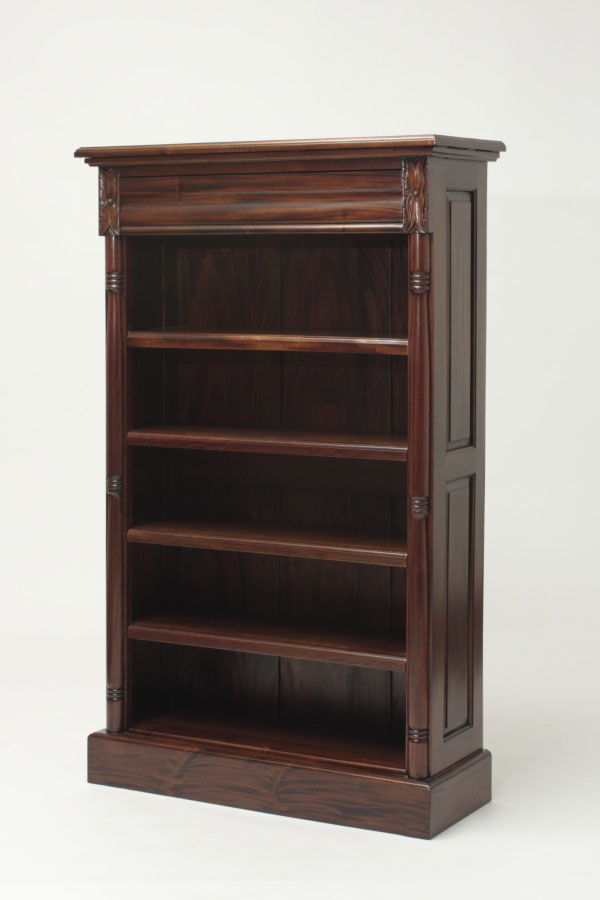 Using a bookshelf is a handy way to keep a room looking tidy and free from clutter. Bookshelves come in a variety of designs and can be made from a number of different materials, so it's a good idea for buyers to spend some time browsing for shelves that will suit that room they will be put up in.
This guide shall detail some of the more popular styles of bookshelf, and will explain how to find suitable models on eBay. The site has a large selection of new and used bookshelves for sale at low prices, and all buyers are advised to use it for their home improvement needs.
Bookshelves
Bookshelves do not have to be used exclusively for storing books, and many people use them to store a combination of books and other small items like ornaments. What can be stored on the shelves will depend on the weight of the items and how much support the shelves have. Most bookshelves come with a rough guide as to what kind of weight they can support, and buyers should avoid exceeding this amount.
Bookshelf Materials
Bookshelves can be made from a number of different materials, and what is used to manufacture the shelves will influence the price and the weight it can handle. It's a good idea for buyers to search for bookshelves that tie into the room and correspond with the design and style of its surroundings. The following are the most common materials used to manufacture bookshelves:
Wood

Wood is easily the most popular bookshelf material, and can be sanded, varnished and even painted to suit the buyers taste. There are three types of wood used in bookshelf manufacturing, and these are solid wood, hardwood and softwood.

Solid wood means the shelves have been made from lumber planks, while hardwoods are made from deciduous trees, and softwoods from coniferous. The harder the wood, the stronger and more resilient it will be to scratching. However, harder woods are heavier and if using a single standing shelf more support may be required. Wood shelves suit most room designs, and can be used to match wooden floors.

Plywood

Another popular material, plywood bookshelves are generally less costly than those made from solid wood and are made to be very strong. Plywood is suitable for sanding and varnishing, but buyers should take care when doing so, as this material is layered and excessive sanding will damage the finish.

Particleboard

Particleboard is the least expensive bookshelf option, and is created by gluing wood chips together. The result is a strong material that can be made to mimic solid wood.

Metal

The benefits of using metal bookshelves are that the material has a strong resistance to moisture and fungus, and has a very high strength-to-weight ratio, allowing for the storage of multiple heavy books. Metal bookshelves are also quite inexpensive, and can be bought in a range of colours, shapes and finishes. Metal shelves suit rooms with contemporary or minimalist designs.

Glass

Glass bookshelves are easily the heaviest on this list, but are long lasting and have a high strength-to-weight ration. Buyers should search for tempered glass shelves, as these are the strongest, and work well with contemporary rooms.
Types of Bookshelves
Modern bookshelves come in a variety of shapes and designs, and there is an abundance of types to choose from. The size, design and capacity will influence the price, so be aware of all three factors when making a decision.
| | |
| --- | --- |
| Wall Shelves | Wall shelves are the most common style bought, and utilise one or more shelves made from one of the above materials mounted onto a wall and kept in place using brackets. An advantage of using this style is that it does not take up much space, and multiple shelves can be mounted beside or above one another. This is also the least expensive option, and the one that offers the most freedom of choice for placing. |
| Ladder Bookshelves | These are extremely popular, and are an easy way to keep books stacked and neat. Ladder bookshelves have an open design that resembles a ladder, with shelves in place of rungs. Ladder bookshelves have no back, and most models are built with between four to eight shelves. The simple design means these work with almost any room. |
| Barrister Bookshelves | Also known as lawyer bookshelves, barrister bookshelves features shelves that are enclosed behind glass doors, which give the shelving unit a sophisticated look, making it ideal for use in an office or study. Barrister bookshelves tend to be made from wood, and the glass keeps the books safe from dust and dirt. These units can be expensive, but lower priced used units can be found. |
| Cabinet Bookshelves | Very similar in design to barrister bookshelves, but these do not use glass doors and are often less costly. Cabinet bookshelves can be used to keep books or clutter free from sight, and are an effective hidden storage option. |
| Leaning Bookshelves | Leaning bookshelves work as excellent focal points in a room, and can be used in rooms with unusual furniture or works of art. However, the majority of leaning bookshelves are more suitable for storing decorative items like vases or sculptures, rather than actual books, as the shelves tend to be too slim to provide adequate space for a book. |
| Corner Bookshelves | Another type of bookshelf that works well in rooms with unique furniture, the triangular design of corner bookshelves allows buyers to maximise space in a room. Due to the shape buyers may find they are not able to store as many books as they would like with a more conventional design. |
Buying Bookshelves on eBay
To find bookshelves on eBay, take the following steps:
· Log onto eBay.com.au and click on the Home & Garden title, found on the left hand side of the page.
· Scroll down and highlight the Furniture tab, and click on the Bookshelves link, which is found in the drop down menu.
· Use the 'Material filter' to list bookshelves made from Glass, Oak, Pine and other materials.
· The 'Colour' filter can be used to list bookshelves of a specific colour, including Black, Brown and White.
· Buyers searching for a specific bookshelf unit design should type the name of the desired design into the search bar and press enter, e.g. 'Leaning Bookshelves'.
· Buyers can use the 'Condition' filter to list New or Used bookshelves only.
· The price slider is a great way to quickly list bookshelves that fit within a specific budget.
· eBay Deals often contains bookshelves and related furniture items for sale at greatly reduce prices, and buyers should check here before deciding on a product from the main site. Simply click on the Deals link found at the top of the page, followed by the Furniture link found in the Home & Lifestyle heading.
· Buyers are advised to always check the 'Description' box on the item page of a bookshelf listing for measurements, assembly instructions and mounting details. If any of the required information is missing then it can be requested using the 'Ask A Question' feature. It's important to make sure that the unit will fit in the intended space, so always double check that the measurements given fit with those of the area the unit will be kept in.
Conclusion
Bookshelves are a great addition to any room, and can be used to store books and clutter, while adding to the aesthetic value of the room. Bookshelves can be made from a number of different materials like wood, and come in a variety of designs, and both of these factors will have an influence on the price. Buyers should spend some time browsing through the various bookshelves listings on eBay, and make sure the measurements of the unit are appropriate for the space it will be kept in.