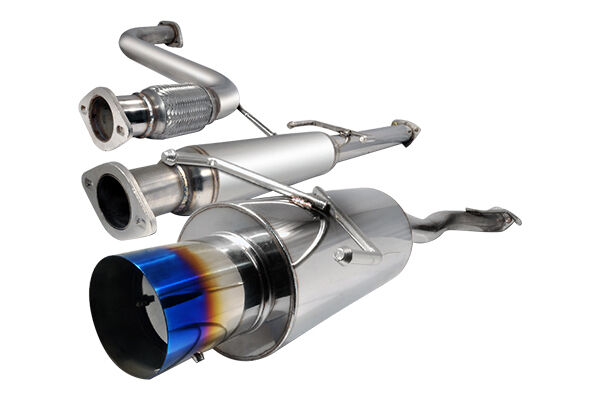 A reasonable number of car and truck owners look for aftermarket exhaust systems and this demand is more than enough to keep this section of the automobile industry flourishing. People are known to look for complete exhaust systems for different reasons, with increased performance and a change in sound being main reasons.
Turning to eBay when looking for complete exhaust systems is a good idea given the large number of alternatives made available by multiple sellers. However, buyers should start by understanding how to look for the right kind of exhaust system, learn about the different kinds of exhaust systems, take into account aspects such as the material used to make these systems and the sound they produce, and if improved performance is the main aim, then buyers should also think about investing in aftermarket headers.
The Basics
Cars and trucks can vary significantly in how they are made and aspects in which they differ include both engine capabilities as well as chassis design. Car and truck exhaust systems depend on both of these factors, which is why an exhaust system that works on one vehicle, in all likelihood, may not work with many others. Aftermarket exhaust systems are typically designed to optimise the flow of exhaust gases out of the engine, and given the toxicity and high temperatures that they have to deal with, they have to be designed and fabricated with great care. Buyers should not base their eBay search for complete exhaust systems on price alone, and factors like materials used, durability, weight, sound, performance, and how easy or difficult they are to fit should also be taken into account.
Different Types of Exhaust Systems
When looking for complete exhaust systems on eBay, buyers are required to choose between different types of exhaust systems, which includes choosing between axle-back and cat-back systems as well as single exit and dual exit systems.
Axle-Back or Cat-Back Exhaust Systems?
Cat-back systems are so-called because they begin at the end of the vehicle's catalytic converter, running all the way, in most cases, to the rear bumper. A complete cat-back exhaust system comprises of an over-axle pipe, an intermediate pipe or mid-pipe, a tailpipe, a muffler, as well as an exhaust tip. Vehicles that come with typically restrictive exhausts can benefit by getting a performance-based cat-back exhaust system, as this can help the engine improve horsepower as well as mileage. Axle-back systems, as the name suggests, begin only at the rear axle, and these normally comprise of over-axle pipes, tail pipes, mufflers, and exhaust tips. Performance-wise, they aren't as good as their cat-back alternatives, given that they replace fewer parts, although they are typically cheaper.
When it comes to choosing between the two, the first thing buyers should know is that cat-back systems cannot be used with all cars and trucks, and in such cases, axle-back systems are the way to go. In addition, if a car or truck's existing exhaust system offers good enough flow of exhaust gases, then resorting to using an axle-back system can help save some money.
Single Exit or Dual Exit Exhaust Systems?
When it comes to looking for complete exhaust systems on eBay, buyers also need to choose between single exit and dual exit exhaust systems, and the table below helps to illustrate how they differ from each other.
Exhaust System Type

Characteristics

Single exit

One muffler, one tail pipe, one tip

Aftermarket variants offer improvements in torque, power, and mileage

Dual exit

Two mufflers, two tails pipes, two tips

Can offer better torque, power, and mileage improvements
Both single and dual exit exhaust systems for automobiles can be fitted on the rear or side of vehicles in accordance to the design for which a buyer opts. For vehicles that run using single exhaust systems, wherein a single pipe runs from the engine to the muffler, installing dual exit exhaust systems generally results in no more of an increase in torque and horsepower as compared to installing single exit variants, and in such cases, they offer little more than aesthetic value.
Vehicles that actually rely on dual exhaust systems are those that come with two sets of everything, from catalytic converters to pipes to mufflers to tailpipes, and more. Referred to as "true dual exhaust systems", these are normally found on V6 and V8 engines.
Material Used to Make Exhaust Systems
Exhaust systems that buyers may find on eBay are made using different materials, and most modern exhaust systems are made using different grades of steel. While materials, like chrome, may seem like good alternatives, buyers should know that recent developments in this field point to stainless steel being the best alternative. Stainless steel is favoured over other materials because of its ability to withstand the mixture of gases that are emitted by the engine as well as nature's elements in the form of moisture, dirt, grime, and others.
Different Grades of Steel
Steel is often the chosen material when it comes to making exhaust systems for cars and trucks because of its ability to resist corrosion, deterioration, and rust. What buyers should know, though, is that exhaust systems are made using different grades of steel, which include aluminised steel, 409-L stainless steel, and 304 stainless steel.
Aluminised steel exhaust systems offer good alternatives and are ideal for people who want that aluminium finish without having to worry about added cost or maintenance. Exhaust systems made using 409-L stainless steel offer better corrosion resistance and increased durability and strength in comparison to most stock alternatives and are fairly cost-effective. The best exhaust systems, however, are 304 stainless steel exhaust systems, and while these exhaust systems are typically more expensive, they also offer the highest levels of durability as well as rust and corrosion resistance.
The Sound of an Exhaust System
A number of people looking for complete exhaust systems on eBay cite looking for a change in sound as their reason, and this change in sound is not limited to being louder; it can also be sportier. Since most aftermarket exhaust systems increase air flow, a change in sound is something that should be expected, and in most cases, this sound is louder than that which a vehicle's stock exhaust system produces. People looking to change just the sound of their vehicle don't necessarily have to look for complete exhaust systems; they can easily make do with replacing just the muffler. The kind of sound and intensity that aftermarket mufflers result in varies from muffler to muffler, and buyers can find sounds that suit different sensibilities.
Buying Complete Exhaust Systems on eBay
eBay gives its users scores of options to choose from when it comes to buying complete exhaust systems. Buyers can expect to find exhaust systems designed to work with just about every make of car or truck, be it Chevrolet, Holden, Ford, Nissan, or Toyota. The fact that a number of sellers use eBay to sell their products gives buyers a plethora of options to search through in a single place; and in addition to the number of sellers that use this platform to sell their products, buyers are also presented with a number of automotive deals to browse through.
Given that complete exhaust systems can be quite heavy, paying attention to postage and packaging costs that accompany each eBay order is suggested, and the fact that a number of sellers offer free shipping certainly helps.
Conclusion
Replacing complete exhaust systems can help drivers get their vehicles to perform at optimum levels in terms of power and torque, which is accomplished by doing simple things like changing pipe diameter, minimising pipe restrictions, improving engine scavenging, and so on.
Compromising on quality when looking for a complete exhaust system is not suggested, given that the exhaust of a vehicle plays a crucial role in how well it performs. Identifying if a complete exhaust system is required or if a simple muffler replacement is sufficient is something that buyers should consider from the start, as this has a significant bearing on expenses.
When it comes to improving performance, a number of people who replace their vehicles' exhaust systems also choose to completely replace factory-fitted headers, which helps minimise exhaust-related turbulence and improve torque and power.
Exhaust System|V8 Engine|V6 Engine|Tailpipe|Muffler