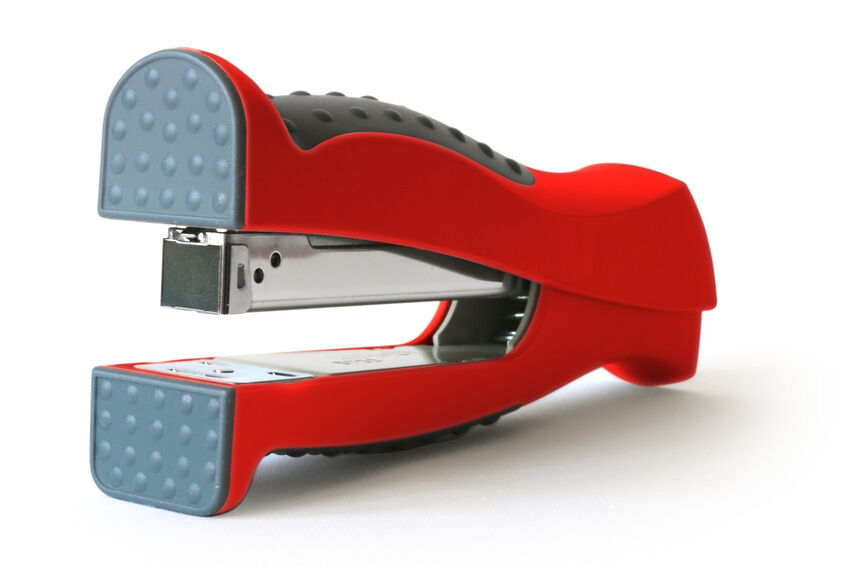 There are many ways to reduce paper clutter in an office or around the home, but very few are as effective as a stapler. With one action, you can bind several sheets of paper into one item that can stow your information neatly without losing important pieces. And one staple can secure documents in a more orderly and efficient way than paper clips or heavy duty binder clips. Staplers can also be used to build and fix items as well.
Types of Staplers
Along with paper, staplers can be used to fasten items onto walls and bulletin boards (serving a similar purpose as tacks), can be used in building and construction and are even used in surgery to close and hold together wounds. The power of staplers vary considerably, from handheld manual staplers used in offices to electric staple guns used in home construction and maintenance jobs. Their performance makes them a go-to gift in many situations.
Before buying a stapler, it's important to figure out the type of stapler you want and the tasks that you need that stapler to fulfill. Here are the most common types of staplers that can be purchased.
Manual desk staplers
This type of stapler is easily the most commonly purchased stapler, as these staplers are handy in binding a few pieces of paper together such as notices, tax documents or other sorts of documentation that needs to be secured. That makes them perfect for people with office jobs, school teachers or just for general use around the house. Swingline staplers are the most well-known of this brand of staplers, which can be used in a rapid-fire manner and can bind up to 20 sheets of paper together at a time.
Electric staplers
Electric staplers are necessary when one needs to bind large amounts of paper, as the electric motor within the stapler can not only handle a larger staple, but can inject it with the power necessary to break through a thicker surface. Along with handling larger stacks of paper, an electric stapler can be used to fasten items to softer surfaces such as bulletin boards or dartboards, as they have more mobility and power than manual desk staplers.
Saddle stapler
Also known as a booklet stapler, a saddle stapler is too large to be hand-held; instead, it rests on a desk or a table and is plugged into a wall. These heavy-duty staplers are best used when binding large quantities of paper in an organised fashion, such as when putting together a book. A saddle stapler can not only handle a large workload, but it can inject multiple staples at the same time and can even be adjusted to fold paper to produce books with printing on both sides of the paper.
Staple gun
These staplers exist in a variety of styles, from a lightweight, manual device that can fasten paper items to soft vertical surfaces to a high-powered, electric device that can fasten large items to hard surfaces such as plaster and wood. While the power of staple guns vary, the design is pretty standard, as they are handheld, possess a specific handle for gripping and a trigger or lever that releases the staple. Safety is essential when using a staple gun, especially for heavy-duty construction purposes, so be sure to have work gloves and safety goggles handy.